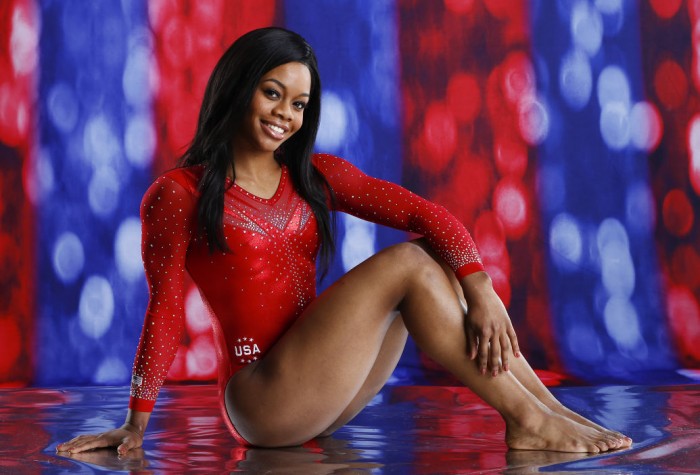 Things are starting to heat up as the competition to make the USA Women's Olympic Gymnastics Team has reached a boiling point.
Today, Team USA won the City Of Jesolo Trophy, an annual team competition that takes place in Jesolo, Italy. It was USA's eighth victory in the nine year history of the event, and their seventh straight victory. They defeated Brazil by 14 points. In a weekend where upsets seem to be making all the headlines, Team USA's victory was as much of a sure fire lock as you can get.
The team was lead by 2012 Olympic gold medal winner Gabby Douglas. Fresh off her victory at the American Cup, Douglas continues to perform at an elite level in the lead up to the Olympics. Considering her competition was stronger at the American Cup, her all-around victory at the Jesolo Trophy was expected. She finished at 59.650, .600 points ahead of the second place finisher. All in all, it was another great event for Team USA and for Gabby Douglas, who could be teammate Simone Biles' nearest threat to the gold medal.
The rest of the all-around competition, however, shows that team coordinator Marta Karolyi is going to have her hands full.
Olympic veteran Aly Raisman was also sent to the Jesolo Trophy competition and was expected to medal in the all-around; however, after a weak vault and strong competition from the rest of her teammates, Raisman was only able to manage a disappointing sixth place finish. Likewise, World Championship veteran MyKayla Skinner finished in fifth place, though her dominating victory in last week's Glasgow World Cup showed she should get at least some consideration.
The story was a pair of 15 year olds. The City Of Jesolo Trophy was the first senior competition for Laurie Hernandez, the former junior World Champion that is seen as the future of women's gymnastics. She has already committed to the University of Florida, and will likely be making many national teams in the future, but her third place finish at the Jesolo Trophy shows that she can stand and compete with the best in the world without intimidation.
The biggest surprise, however, was Ragan Smith, who finished just .600 points behind Douglas and .500 points ahead of Hernandez. While Hernandez was discussed as a possibility of making the Olympic Team since last year, Smith's strong performance is happening a lot faster than expected.
Who Will Make The Team?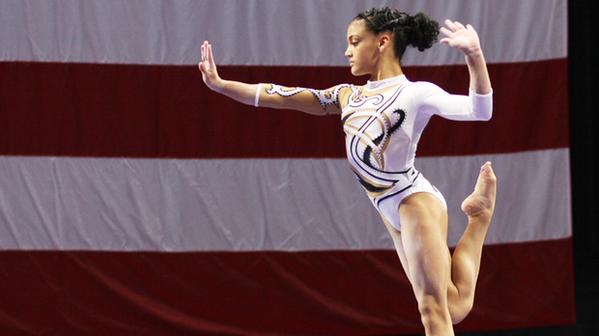 (source: FloGymnastics)
While officially only the all-around champion at the Olympic Trials is guaranteed a spot on the team, there are a few names we will be seeing in Rio.
You can pencil in Douglas and Biles. In fact, you can write it in pen or chisel it in stone. Simone Biles and Gabby Douglas are the two best gymnasts in the world, and they will be on the US Olympic Team come August. Likewise, Maggie Nichols is a very likely candidate to make the team, as well. "Swaggie" Maggie has proved, both in her performance at the team competition at the World Championship as well as her silver medal finish at the American Cup, that she is an incredibly talented gymnast that can work almost any apparatus. She has definitely earned her spot on the team.
From there, the situation gets complicated.
Aly Raisman looked to be a favorite to make the team entering the Jesolo Trophy, but her performance showed her weaknesses. Raisman can get high scores when she is on, but she is also inconsistent. The plus side is that she has plenty of experience and leadership, which could come into play if Karolyi and the selection committee can't decide who to take.
Madison Kocain was on the last two World Championship teams, and in the most recent event, she took home gold on the uneven bars, which many believe to be Team USA's weakest event. Bringing in Kocain would not only give Team USA a solid competitor, but also give them a potential medal on the uneven bars.
Hernandez and Smith have a ton of upside, and they could both potentially by medal contenders come Rio, but their inexperience on the senior level makes them a true question mark. If Karolyi decides to take one of the new seniors, she will likely only take one. There are too many great gymnasts in the United States to forsee two gymnasts with no previous World Championship experience making the team; however, if Smith and Hernandez continue to perform at an incredibly high level, and if they both show greatness at the Olympic Trials, Karolyi might be tempted to take them both.
This doesn't even take into account Skinner, or Brenna Dowell, who both have elite level experience, or even Bailie Key, who had a disappointing end to 2015 but has a ton of upside and is seen as a strong competitor on the uneven bars.
The US can send a team of five, so the Olympic Trials will be crucial in seeing who fills out (what appears to be) the remaining two spots. Karolyi is going to have tough decisions to make. Luckily, it is an embarrassment of riches for the United States, as so many gymnasts are worthy of the selection.