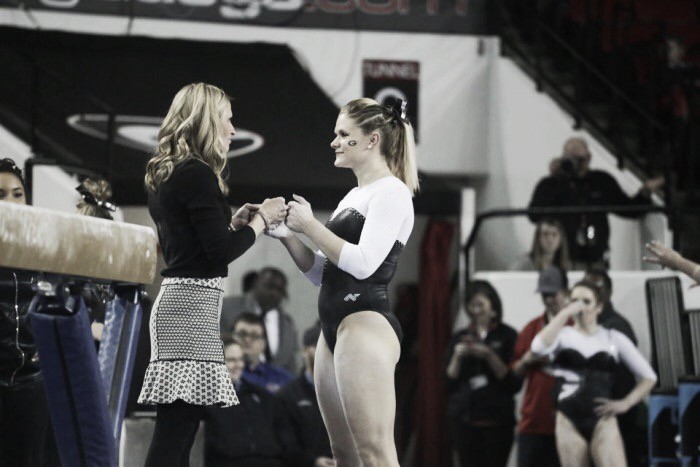 University of Georgia head coach Danna Durante discusses the Gymdogs' Super Six birth, their performance in semifinal one, and how the team has progressed since the start of the season in January. Durante, in her fourth season at Georgia, has lead the Gymdogs' to their third Super Six appearance in four years and 19th in program history.
Durante discusses team's improvement
"I'm so incredibly proud of this team," said Georgia head coach Danna Durante. "No question we've had an up and down season. I think a lot of people counted us out long ago, but that just speaks to what this team is really about. They're tough, they're resilient and they're incredibly tight-knit. We had no doubt, and it was absolutely a blast to watch them start on beam and build momentum from there."
When asked about her gymnasts Brandie Jay and Brittany Rogers event titles, Durante said, "I'm so proud of them. They have both worked incredibly hard. They've both been very unselfish for this team, so to see them cap off their senior year with not only making Super Six but being national champions in both of their favorite events it's incredibly exciting and a great way to finish their careers."
Durante added, "There are so many amazing gymnasts that came before this team," said Durante. "For these guys to add to that tradition and that success and that history is phenomenal. I'm excited to put new names on that national champion wall."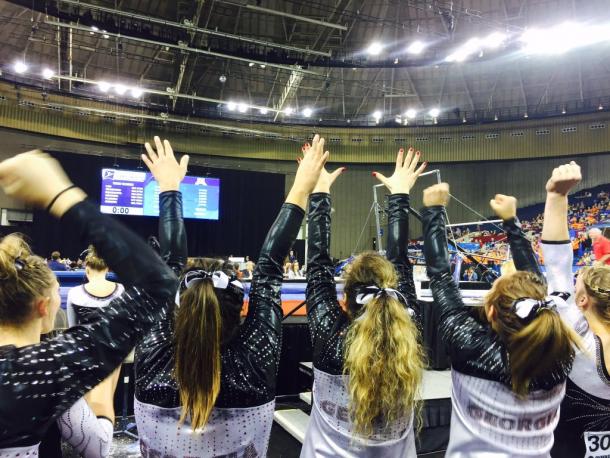 Jay and Rogers discuss vault and uneven bars titles
Senior Brandie Jay received a 9.950 for her vault, while fellow senior and Canadian national team member Brittany Rogers also posted a 9.950. Jay said, "It's really exciting. It's really indescribable because you work so hard and here at nationals to hit your stride and hit that moment - it's irreplaceable."
Rogers, who competed last weekend at the Pacific Rim Championships for Canada, said, "It's pretty self-explanatory that I'm super excited about coming out on top on bars," said Rogers. "It's my favorite event, so winning my favorite event is definitely icing on the cake. It's an incredible honor to do it with the team behind you and the team moving on to Super Six."
Jay and Rogers will look to us their vault and uneven bars prowess to help lead Georgia to an 11th national title.