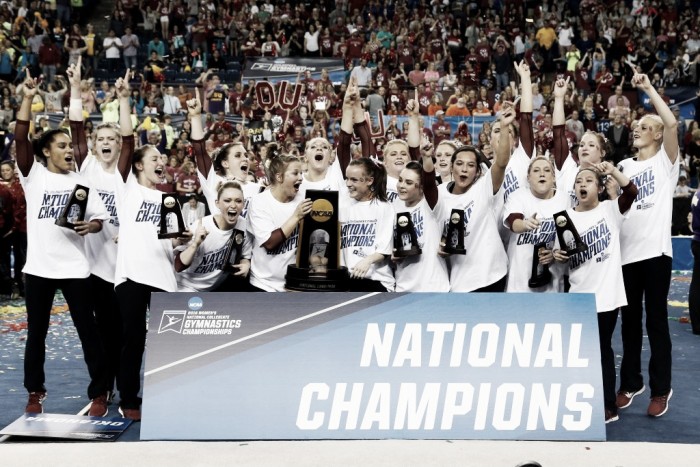 The Oklahoma Sooners capped off a dominant season in emphatic fashion, winning the NCAA Women's Gymnastics Championships to take their second national title in program history. Oklahoma made history, not just winning the championship in women's gymnastics, but also men's gymnastics, where the Sooners picked up their tenth national title in program history. Oklahoma scored a 197.675 overall, with LSU coming in second with a score of 197.450. In third and fourth were Alabama and Florida with overall scores of 197.4375 and 197.350 respectively. UCLA and Georgia finished fifth and sixth with overall scores of 196.825 and 196.8125.
Oklahoma claims second national championship
After winning their first national title in 2014 tied with Florida, the Oklahoma Sooners captured their second championship, snapping Florida's streak of three straight from 2013 to 2015. As the number one team in the nation, the Sooners began on vault, where anchor AJ Jackson received a 9.900 and Haley Scaman put up a 9.850. With vault behind them, the Sooners then headed into the locker room with a bye before bars. On the uneven bars, the 2014 co-national champions put up some sky high scores, most notably a 9.925 from Chayse Capps and a two 9.900s from Nicole Lehrmann and Haley Scaman.
With two of four events behind them, the Sooners then went to the balance beam, the critical event where most championships are decided. Oklahoma put up solid scores on the beam, most notably a 9.9375 from Chayse Capps and a 9.925 from Natalie Brown. With the Sooners now having survived the make or break balance beam, they went into their locker room for a final bye before their last event of the night on floor exercise.
In the final rotation with the championship on the line, the Sooners had an incredible five scores in the 9.900 range, just about locking up the championship for them. Chayse Capps and AJ Jackson posted impressive 9.9125s, sealing the deal for Oklahoma. With the championship already in the bag for the Sooners, Haley Scaman put up the highest floor score on the team to cap off an extraordinary night of gymnastics for the Sooners.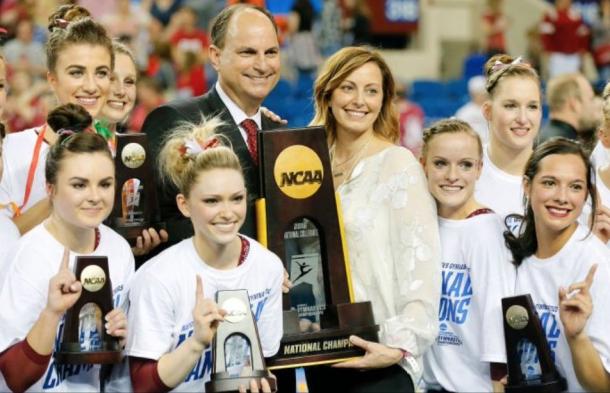 Oklahoma head coach KJ Kindler on the win
"[I'm] just so proud of them. This is something, obviously, that they've wanted, that they've worked so hard for. Everyone in that room has worked hard, but this group in particular has a little extra something when it comes to their chemistry that I can't really describe," Kindler said. "I've always believed that chemistry wins championships. They certainly are technically good. They certainly executed well. But, I really feel like that heart and that chemistry is what put them over the top at the end," added the 10th year Oklahoma head coach.
Kindler added, "Vault was not what we're capable of, but instead of letting it break 'em down, they came back stronger and fought on bars, beam and floor all the way to the very end," Kindler shared. "It was a fight. That meet was super close. I don't know if they knew or felt how close it was. We certainly knew as coaches, and we tried to stay loose, of course, and give them the best opportunity to just go free and do what they could do."
LSU takes second, highest finish in program history
The LSU Tigers claimed a historic second place finish, achieving the best ever Super Six finish in program history. After falling in the semifinals last year, the Tigers came alive this year with a new motivation and hunger for success. LSU began their historic meet in the locker room with a bye, before going to bars for the second rotation. Sophmore and third all-around finisher Myia Hambrick posted a 9.850, before Ashleigh Gnat, a last minute sub-in for Randii Wyrick, received a 9.8375. LSU then traveled to the balance beam, where Kylie Moran and Myia Hambrick both received 9.8875s.
Halfway through the meet for the Tigers, DD Breaux's squad went back into the locker room for their second and final bye, before going to the team's best event, floor. On floor, Myia Hambrick and Ashleigh Gnat put up impressive 9.925s to put the Bayou Bengals in solid position for a historic top three finish. With the Tigers looking to claim a first ever top three finish at the Super Six, Julianna Cannamela, Sydney Ewing, and Sarah Finnegan all put up impressive 9.900s, before the final performer for the Tigers, Ashleigh Gnat, received a 9.950, claiming a first ever second place finish for the LSU Tigers.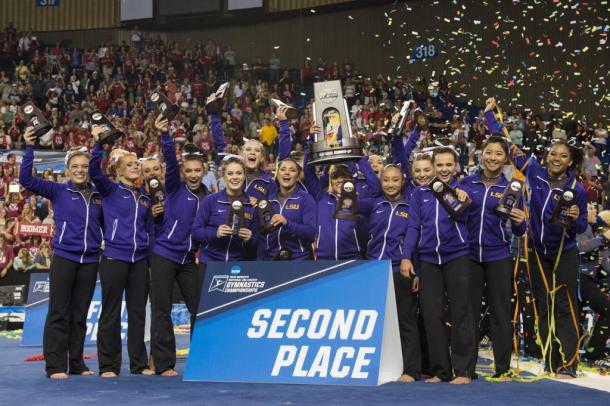 LSU head coach DD Breaux on their historic finish
"I am extremely proud of this team and the coaching staff," LSU head coach D-D Breaux said. "I am proud of the support that our athletic department and entire university have given this team, and I am so proud of the amount of maturity and the process this team has stayed in. There is nothing that has detracted from this team doing the very best they could, and they showed there is always a fight in these Tigers."
When asked about the incredible team atmosphere of the team, senior Randii Wyrick said, "This season the message was to 'Geaux Together,' which is to respect each other, take care of each other and pick each other up when one of us is down. It's been amazing to be a part of something so great, and I couldn't be more thankful for that. To be able to represent such an awesome university like LSU and everything it embodies, it has been such an honor to wear those three letters on my chest."
"I am so excited and so proud of our team," said junior Ashleigh Gnat. "We brought so much collective energy and stayed together throughout the meet. We wanted to win the national title, but I am proud of our effort to come back and finish second. The future is so bright too, and I can't wait for next season."
Alabama ends topsy-turvy season with third place finish
While the Alabama Crimson Tide suffered a rocky season with various un-expected losses along the way, the 2012 national champions achieved the end goal of making it to the Super Six. The Tide placed third, upsetting the defending champions Florida, who came in fourth. Alabama is now the only program in the country to finish in the top four at the NCAA Women's Gymnastics Championships the last eight years in a row.
The Crimson Tide started off in the locker room with a bye, before going to floor to begin their meet. On floor, Fort Worth native Kiana Winston and senior Lauren Beers posted impressive 9.900s to kick off the meet for the Tide. Alabama then went to vault, where Lauren Beers received a 9.900 and Nickie Guerrero posted a 9.875 to put the Tide in good stead going into their second bye.
After regrouping in the locker room, Dana Duckworth's squad went to the uneven bars. On bars, Kiana Winston and Mackenzie Brannan both put up solid 9.8875s to send the Crimson Tide to their final event of the night, beam. On balance beam, Mackenzie Brannan and Aja Sims both received 9.900s, before anchor Nickie Guerrero recieved an outstanding 9.950 to seal a third place finish for the Tide.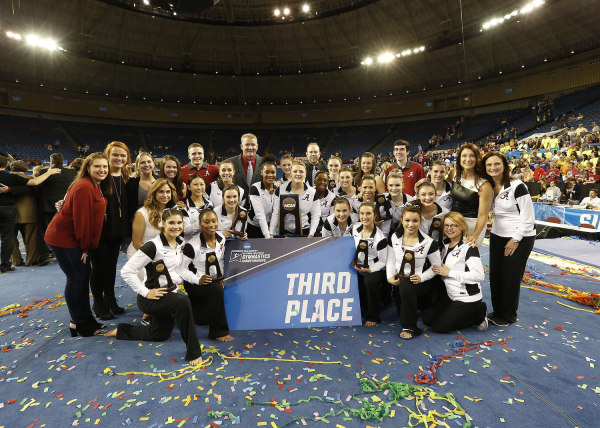 Alabama head coach Dana Duckworth on her team's success
"What an amazing experience," Alabama head coach Dana Duckworth said. "That's what a championship is supposed to look like."
"That was a very tough competition and we knew it was going to be a tough competition coming in," Duckworth said. "What we're most proud of is how our ladies just trusted themselves."
"We had fun, we were dancing, we made it exciting and we were here at the Super Six with a chance to win a national championship and that's our goal every year," Duckworth added.
Sophomore and north Texas native Nickie Guerrero said, "To close out on beam and to finish as strong as we started, going 49.450 and having our last athlete go 9.95, the highest score of the meet -- that kind of fight, that kind of drive on the last event, on beam -- I could not be more proud of our ladies and the grit they showed tonight."
Oklahoma also wins Men's Gymnastics championship
While Oklahoma's women's gymnastics team won their second national title in Fort Worth, in Columbus the Oklahoma men's gymnastics team won their tenth NCAA Men's Gymnastics Championship in program history. The Sooners scored an overall score of 443.400, while Stanford came in second with a score of 434.050, and Ohio State placed third with a 433.050.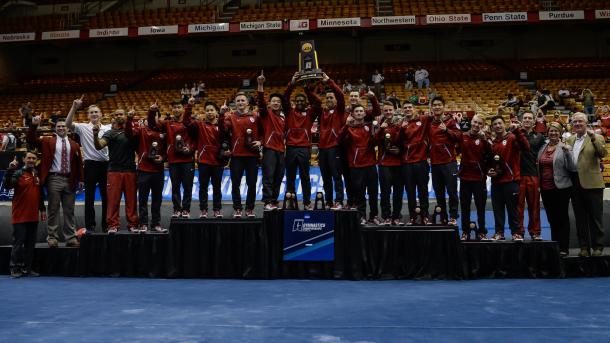 The Sooners have now won back to back titles four different times, a feat rarely achieved in collegiate gymnastics. OU becomes one of few teams to complete a perfect season, going undefeated all year, and even more rare, becoming the first college to ever win both the women's gymnastics and men's gymnastics titles in the same year.