Karsten Warholm put in arguably one of the most impressive performances of the World Athletics Championships to take the 400-meters hurdles title on Wednesday, holding off late charges from both Yasmani Copello and Kerron Clement to win Norway's first track gold at the Championships in 30 years.
Warholm had impressed in both his heat and semifinal run but was generally unfancied to take the title, with America's Clement, twice a World Champion, and Olympic champion last summer, the strong favorite to take gold. However, the Norwegian got off to an incredible start and remained strong down the back straight to take gold in a time of 48.35 seconds. Copello took Turkey's first medal of the event, winning silver in a time of 48.49, whilst Clement took the bronze in a time of 48.52.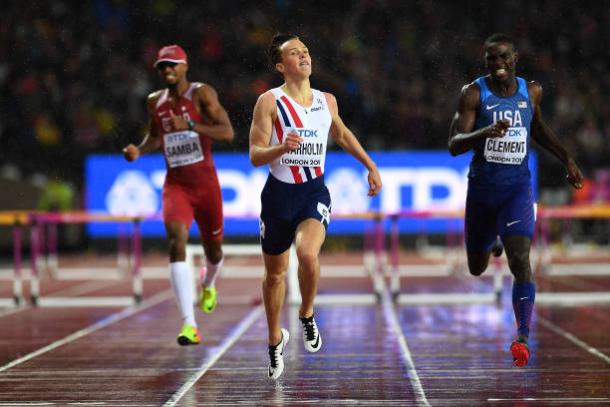 Jamaica's Kemar Mowatt finished in fourth place, finishing 0.01 seconds ahead of America's TJ Holmes who had to settle for fifth. Juander Santos of the Dominican Republic finished in sixth place, with Qatar's Abderrahman Samba finishing down in seventh after disastrously clipping the final barrier. Kariem Hussein of Switzerland finished in eighth place.
Warholm holds on to take gold after phenomenal start
There was no doubt that Warholm, a former decathlete, was a medal contender heading into the final, though he undoubtedly caused a slight shock as he became the first Norwegian since Ingrid Kristiansen in the women's 10,000-meters back in 1987 to take a World Championships gold on the track.
The Norwegian got off to the best start of anyone in the field and was noticeably in the lead by the first barrier. The likes of Clement and Copello, as well as Samba, were also off to strong starts and were racing well, though Warholm continued to pull away and was fully in control of the race with just 150m to go. Clement caught Warholm in the semifinal following a similar start for both men, and it seemed he could close the Norwegian down to take gold.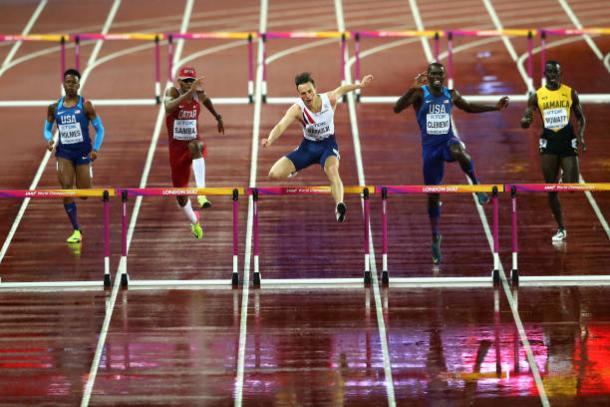 However, with three men closing down on him, Warholm found an extra something in the home straight. The Norwegian remained clean over the barriers and heading into the final hurdle it was clear that he would hold on for a remarkable victory. It was Copello who had come the closest to the eventual champion, and in his desperation to try and catch the Turk, Samba clattered into the final barrier and eventually went backward, putting Clement comfortably into third place. Neither him or Copello could get closer to Warholm, with the Norwegian capturing potentially the first of many titles.