There was another huge shock at the World Athletics Championships, with Emma Coburn upsetting the likes of Hyvin Jepkemoi and Ruth Jebet to take gold in the Women's 3000-meters steeplechase title in London.
Coburn finished third in the Olympic final last year though was only an outsider for the title here, with the likes of Jepkemoi and Jebet considered the favorites, though in a dramatic race the American stayed calm to set a new Championship record with a time of 9:02.58. Furthermore, Courtney Frerichs caused arguably an even bigger surprise to take the silver medal in a massive new personal best of 9:03.77, with defending champion Jepkemoi forced to settle for bronze.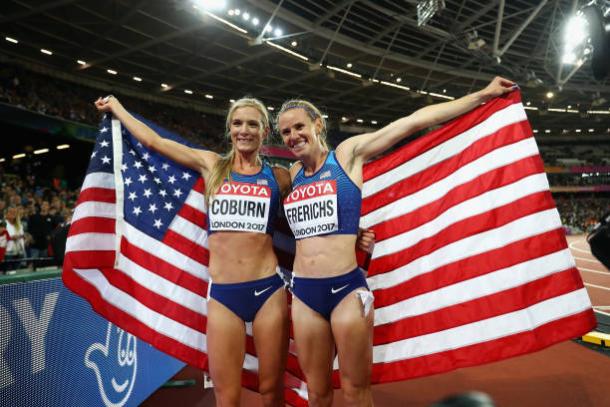 Kenya's Beatrice Chepkoech, who caused so much drama within the race, finished in fourth, with world record hold Jebet finishing down in fifth in the 15-strong event. However, it was all about Coburn and Frerichs; the former put herself as sixth on the all-time list for the event in terms of time, with the latter just one spot behind in seventh. Coburn's victory was also the first Championship record of the event.
Coburn remains calm to take surprise world title
There was no doubt that Coburn was a potential medal contender heading into the final, though both her and Frerichs remained calm and composed throughout to secure a surprising American 1-2 in London.
The race started fairly quickly, with the likes of Chepkoech, Jebet, and Jepkemoi all near the front as expected. However, it was on just the second lap that the drama began to unfold, with Chepkoech losing ground after forgetting about the water jump. The Kenyan then fell at a barrier shortly after, causing several to lose ground, though fought back to join the leading group around halfway through the race despite falling back by a large amount.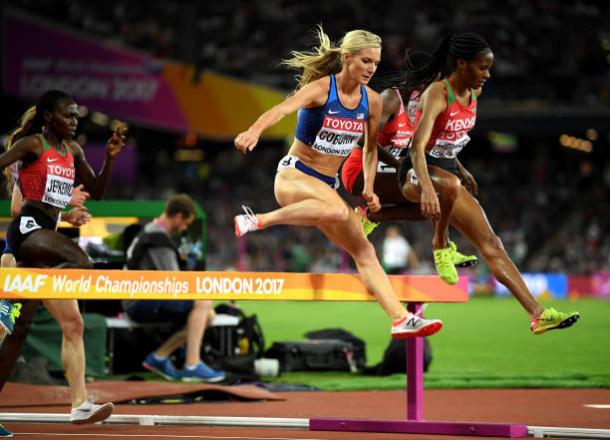 Amidst all that it was Jebet who was controlling that pace, with Jepkemoi sitting behind her and with the American duo both sitting in comfortable positions. With two laps to go, 18-year-old Cellephine Chespol began to fall off the pace, meaning there were five women facing off for three medals.
Surprisingly, on the final lap it was world record holder Jebet who began to fall away first, and with Chepkoech falling behind at the water jump, it was here when Coburn made the decisive move. The American moved ahead of Jepkemoi and Frerichs and remained calm as she stormed down the straight, pulling her countrywoman along for the silver medal.