Six years after her first world title in the event, Sally Pearson struck gold once again as she won the 100-meter hurdles title at the World Athletics Championships in the same stadium where she won the Olympic title five years ago.
Pearson was considered the main challenger to world record holder Kendra Harrison heading into the event, and with the American putting in a messy performance it was the Australian who took her second world title in a time of 12.59 seconds, adding to the one she won in Daegu back in 2011. Dawn Harper-Nelson, who finished second behind Pearson in this stadium five years ago, took another silver medal in a time of 12.63 whilst Pamela Dutkiewicz continued her breakout season to take bronze in a time of 12.72.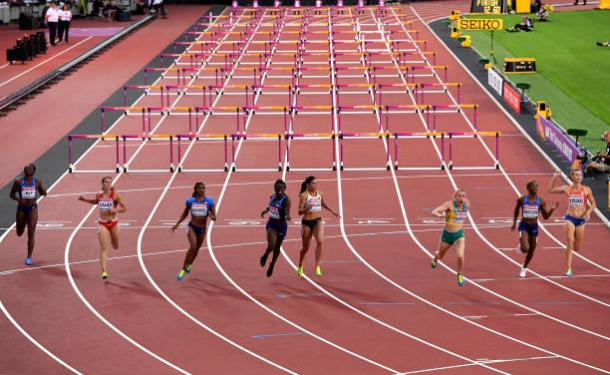 Harrison, the favorite coming in, disappointed and ended up in fourth in a time of 12.74 and is still without a global outdoor medal. Fellow American Christina Manning finished narrowly behind the world record holder to take fifth, ahead of 2015 medallist Alina Talay in sixth. Heptathlete Nadine Visser finished in seventh place, with America's Nia Ali finishing in eighth.
Pearson completes incredible comeback with second world title
The Australian was already seen as one of the greatest hurdlers of all time heading into this final, though her triumph here after a fractured wrist in 2015 and a hamstring injury in 2016 seeing her miss the World Championships and Olympics respectively will only add to her status as an all-time great.
It was arguably Harrison and Pearson, in lanes two and three, who got off to the best starts, though as Harrison hit the first hurdle Pearson remained strong and edged ahead of the rest of the field. The Australian sailed beautifully sailed over the hurdles and pushed away from Manning, who was at this point in second place. However, the American was overhauled by strong finishes from Harper-Nelson and Dutkiewicz (and eventually Harrison, who finished in fourth after a strong final two hurdles) though no one could get close to the Australian, who took the victory.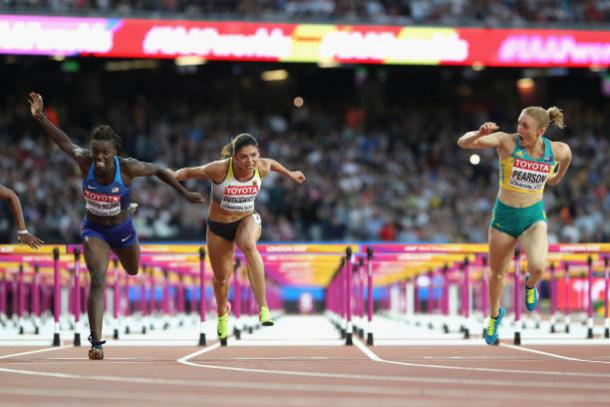 Pearson's winning time was actually slower than in her semifinal, in which she breezed to victory in a 12.53, though it seems unlikely that the two-time World champion will be too bothered as she capped off her return from injury with one of the sport's biggest prizes. Her confidence will be sky-high after previously considering retirement, whilst Harper-Nelson, at the age of 33 has another medal in an illustrious career which includes the Olympic title nine years. In contrast to the experience of Pearson and Harper-Nelson, this is just Dutkiewicz's second senior medal, though the German will be confident heading into the European Championships in her home nation next year.