Before the start of the High Jump competition, there were talks of a potential medal for a British athlete, Katerina Johnson-Thompson, and Morgan Lake who both qualified quite comfortably.
Russia's Maria Lasitskene, Yuliya Levchenko, and Kamila Licwinko all qualified as the three best jumpers in the field, clearing the height at 1.92m along with Britain's Johnson-Thompson and USA's Inika McPherson in fourth and fifth.
The gold went to Lasitskene, becoming the first Neutral Athlete to place first. She also retained her World Championships title from two years ago with a jump of 2.03m. Ukraine's Levchenko took the silver, clearing 2.01 as Licwinko went home with the bronze jumping 1.99m for Poland.
Britain's Johnson-Thompson finished in fifth place, clearing 1.95m and Morgan Lake also clearing the same height but finishing sixth on countbacks.
Lasitskene claims gold again; retains her gold from Beijing
The first round of jumps saw all athletes clear the opening height of 1.84m with only McPherson choosing to pass that height. With the bar now set at 1.88m, ten of the 12 competitors went clear including the two British athletes; Johnson-Thompson and Morgan Lake.
In the third round, Russia's Lasitskene running as a neutral continued to go strong and cleared the height of 1.92m along with Ukraine's Levchenko, Germany's Marie-Laurence Jungfleisch, and Britain's Lake. Licwinko and Johnson-Thompson needed a second attempt to clear the height.
The Russian and the Ukrainian continued to ease past the competition, clearing the 1.95m without any failures so far. Jungfleish joined them two by clearing the bar at the first time. But once again, Johnson-Thompson and Licwinko needed a second chance to pass the height. As did Morgan Lake, her first failure.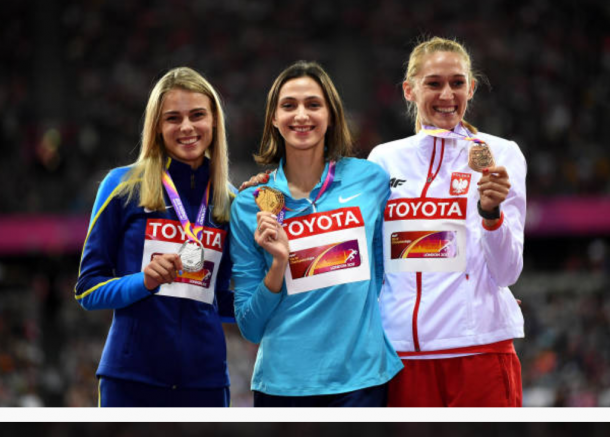 The German and both British athletes crashed out in the next round with the bar set at 1.97m with the Polish athlete needing her third attempt to scrape by. The two out in front by a distance, Lasistkene, and Levchenko progressed with ease again.
Reaching the business end of the competition, Levchenko and Licwinko cleared 1.99m while Lasistkene failed her only attempt at this height but chose to pass to 2.01m. Which she cleared along with Levchenko on her second attempt. The Pole failed twice but then passed at this height.
The Russian continued her near flawless performance and cleared the bar of 2.03m with Levchenko and Licwinko falling at this height. This meant the Russian won gold extending her win to 25 competitions. The Ukrainian took silver and Polish bronze. With a title sealed, Lasistkene then upped the bar to 2.08m, which would be a Russian National Record but she failed her three attempts, ending the competition.