The USA capped off a fantastic World Championships by claiming their 30th and final medal by winning the 4x400m title.
The quartet of Quanera Hayes, Allyson Felix, Shakimba Wimbley, and Phyllis Francis won in a world leading time of 3:19. Great Britain, in front of their home crowd, came away with a silver medal while it was Poland who got the bronze in a season's best time while Jamaica once again failing to finish the race.
France also earned a season's best time as they finished in fourth. Nigeria finished in fifth, Germany sixth and Botswana down in the eighth position.
America win gold to end the Championships
With Bolt pulling up in the men's 4x100m final, it was the same for the women in the 4x400m as Anneisha McLaughlin-Whilby pulled up injured whilst in second place. This then left Great Britain and Poland to battle it out for the two medals with the USA ahead.
Following the first leg, USA had the lead with Hayes, Jamaica was in second and Nigeria found themselves in third place after a terrific run from Patience George. However, just 50m into the second leg for Jamaica, McLaughlin-Whilby pulled up, which left the silver and bronze up for grabs.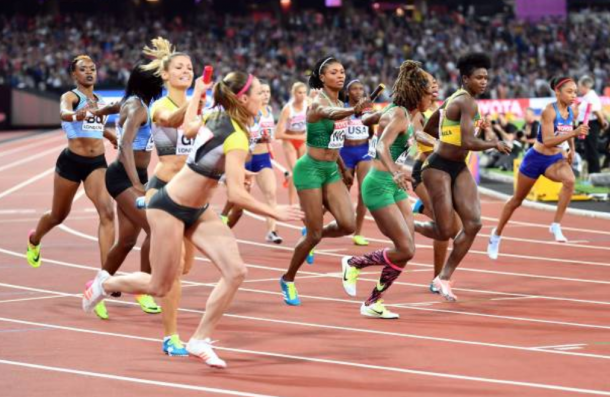 Britain's Laviai Nielson ran a storming leg, putting the home nation in second, taking full advantage of the Jamaican's misfortune. Poland was in third place at the moment with Germany in fourth and hoping to make it a more interesting race. Felix for America ran a 48.64, the fastest of all the runners in the field.
The USA continued to lead through the third leg of runners whilst Eilidh Doyle had fended off serious competition from the Polish athlete who was quickly attacking the home nation.
400m winner Francis Phyllis continued the USA's dominance to clinch another gold. Emily Diamond ran a composed leg to help Britain to a second place finish ahead of Poland who ended in third place by a few seconds. For the Brits, they upgraded their bronze medal from Rio last year.