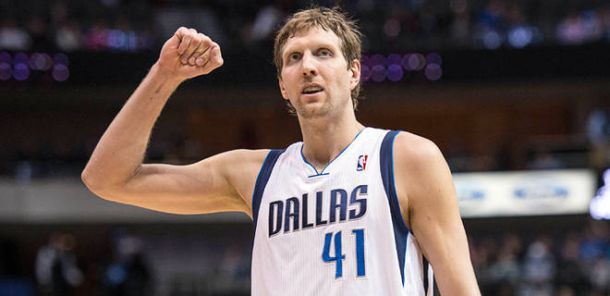 Dirk Nowitzki has agreed to re-sign with the Mavericks for 3-years $25 million with no player option in the third year as previously speculated. Nowitzki took an even bigger paycut than was what was expected, in order to help the Mavericks after the team signed Chandler Parsons.
The Mavericks will have an extra $2 million above what they previously assumed which they will use to try to add another veteran piece or two to their roster.
Nowitzki will be the fourth highest paid player on the Mavericks roster behind Tyson Chandler, Chandler Parsons, and Monta Ellis. Nowizki also reportedly received two max contract offers from both the Houston Rockets and the Los Angeles Lakers but declined both in order to stay in Dallas.
To put it into perspective, Kobe Bryant will make $25 million next year alone. For a franchise player like Nowitzki to take such an enormous paycut, it allows the Mavericks to maintain financial flexibility and continue to build a championship roster around him.
This may put the Mavericks in the running for Carlos Boozer, who is expecting the Chicago Bulls to amnesty his contract. Point guard Mo Williams is another player that also remains high on the Mavs target list.
The move allows Dallas and owner Mark Cuban to make even more moves before the end of costless-agency. For Nowitzki it gives him the opportunity to pursue another championship and cement his legacy as one of the most beloved professional athletes to ever play in the city of Dallas.