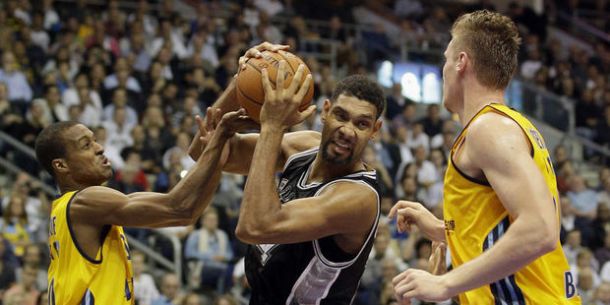 A few days ago, the defending champions San Antonio Spurs were embarrassed by Alba Berlin to say the least. However, on Saturday afternoon, they bounced back against Turkish team Istanbul Fenerbahce Ulker.
Fenerbahce Ulker featured a few former NBA players, including Andrew Goudelock, Semih Erden, and Jan Vesely. Bogdan Bogdanovic, the Phoenix Suns' 27th overall pick in the 2014 NBA draft, was also featured in Saturday's game against the Spurs.
The Spurs were playing in yet another close game, but they were in control for the most part. After Fenerbahce Ulker took a 10-8 lead at the 7:16 mark of the first quarter, the Spurs outscored them the rest of the quarter 21-11 to gain an 8-point lead at the end of the period.
From there on, the Spurs never gave up the lead. They led 47-40 going into intermission. Fenerbahce Ulker cut the Spurs lead down to one late in third quarter, but that is the closest they ever got. The Spurs held off Fenerbahce Ulker and closed the game out, winning 96-90.
Gregg Popovich gave heavy minutes to Tim Duncan and Tony Parker once again with Duncan playing 35 minutes and Parker 36. However, Kawhi Leonard, Danny Green, and Tiago Splitter were all rested this game. In their place, Austin Daye, Marco Belinelli, and rookie Kyle Anderson started.
Tim Duncan led the Spurs in scoring with 23 points and also added 7 rebounds on 9-for-13 shooting. Tony Parker followed with 22 points of his own along with 7 dimes and 7 boards. Parker was efficient as well shooting 7-for-12 from the field. Manu Ginobili was the only other Spur in double figures in scoring with 12 points and 8 rebounds.
On the other side of the ball, Andrew Goudelock, the former Los Angeles Laker, led all scorers with 30 points. Ogus Savas added 15 and Luke Zoric put in 11 points and grabbed 7 rebounds.
Both teams turned the ball over 19 times. The difference in this game was costless throw shooting. The Spurs were a plus-20 from the charity stripe, attempting 37 costless throws as opposed to 11 for Fenerbahce Ulker.
The San Antonio Spurs will finally return back to the States for their next game on October 16 against the Phoenix Suns at the US Airways Center in Arizona.