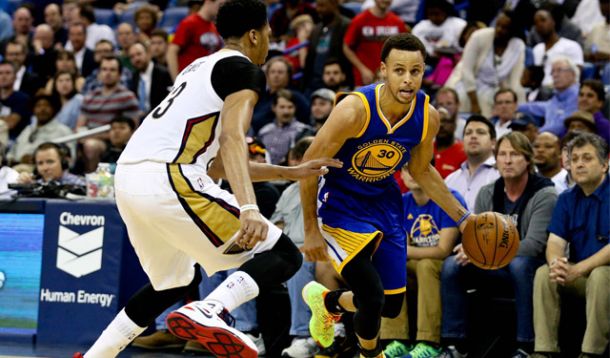 4th Q :6 - Curry is fouled with a chance to finish out the game. He hits 1-2 but the miss ran out some time and Barnes gets the ball with 1.4 seconds left and gets fouled. He hits both and the Warriors win game 1!
4th Q :19 - Klay is fouled and hits 1-2 free throws. Davis gets fouled with 9 seconds remaining. Davis hits both and the lead is now 4.
4th Q :20.1 - Gordon hits a jumper to bring the Pelicans deficit to 5 now.
4th Q :25 - Thompson is fouled as Gordon missed a floater. Thompson misses both free throws. A rare occurence.
4th Q :50 - Green hits a free throw and increases the lead to 7. This game got interesting really quickly.
4th Q 1:00 - Davis hits again!!!! It's a 6 point game!
4th Q 1:22 - Davis hits another! He's got 31 on the game.
4th Q 1:40 - Draymond Green gets a layup to go after rolling off the pick and roll with Curry!
4th Q 2:11 - Davis tips in a Cole miss and the lead is just to 9! Pelicans are playing hack-a-Iguodala. Iggy hits 1-2.
4th Q 2:26 - Davis hits two free throws. 10-point game again.
4th Q 3:12 - Klay hits two free throws. 95-85 GSW
4th Q 3:26 - Gordon hits a three! 10 point game now!
4th Q 4:01 - Davis makes another nice move and scores. Pelicans down 93-80 now.
4th Q 5:02 - Anthony Davis throws it down! He's got 19 points on the game. 93-78
4th Q 6:42 - Pondexter lays in the ball, and now it's all about milking some clock and taking good shots for the Warriors.
4th Q 7:27 - Holiday fouls Curry when he was on his way to the basket. He sinks 1-2. Warriors up 91-73
4th Q 8:28 - SPLASH! KLAY HITS A THREE! WARRIORS BACK UP 17!
4th Q 8:55 - SPLASH! CURRY HITS A THREE! He's got 30!
4th Q 9:48 - Thompson gets called for the foul and Curry will come back in a little earlier than normal.
4th Q 11:00 - Holiday hits a three and Davis hits a shot as the Pelicans go on a 14-0 run going back to the third quarter and are only down 11 now! We got a game!
4th Q 11:40 - Holiday hits a shot. Warriors 84 Pelicans 68
END OF THIRD QUARTER
3rd Q :01 - Pondexter hits a long shot just before the end of the third but the Warriors lead by 22. Onto the fourth quarter!!
3rd Q 1:47 - Pondexter connects for a layup, but the Pelicans are well out of reach of this game. Curry makes a backdoor cut and gets the easy layup.
3rd Q 3:37 - SPLASH! CURRY HITS FROM THREE. 25 from Steph!
3rd Q 4:54 - Cunningham gets an And-1 and hits the free throw. Pelicans pull within 18.
3rd Q 5:42 - Draymond Green throws it down!
3rd Q - Warriors are handeling this game now. It has looked like the type of game we thought it would.
3rd Q 6:14 - Klay Thompson hits and the Warriors lead by 23! This game is getting out of reach for the Pelicans!
3rd Q 7:01 - Anthony Davis gets his 4th foul on the game as Bogut is heading to the line. This is BIG for both teams as the Warriors need to take advantage of this and the Pelicans really need to gear up or they will lose any control they had on the game.
3rd Q - Tyreke Evans exits the game with a left knee contusion and will not return.
3rd Q 8:07 - Pelicans playing MUCH better defense this half. Slowly are digging back but still are behind by 18.
3rd Q 10:04 - Draymond Green nails the three pointer!! Warriors lead 64-43!
3rd Q 11:15 - Davis hits the floater and Bogut comes back with a tip-in off a Draymond Green miss.
14 of 24 of the Warrior baskets came on dunks or layups.
It's getting closer to start the second half. Can the Warriors increase this lead or will the Pelicans make a comeback?!
Warriors just seem to turn it on when the going gets close. They closed out this half masterfully. Curry with 19 points in the first half.
END OF FIRST HALF
2nd Q :33 - Curry gets another And-1! WARRIORS LEAD 59-41!
2nd Q 1:34 - Curry gets the And-1! Warriors on 9-0 run!
2nd Q 2:02 - SPLASH! Thompson hits a three!
2nd Q 2:46 - Barnes misses a three point attempt, and a media timeout is called with the Warriors up 9!
2nd Q 3:57 - Bogut gets a hook shot to go, and Pondexter gets called for the technical.
2nd Q 4:17 - Pondexter hits his second three of the game! Pelicans coming back bit by bit.
2nd Q 5:00 - Bogut gets called for his second foul. Warriors got another easy layup prior that that and they held a 10 point lead. Davis comes back with a dunk. 44-36
2nd Q 5:26 - Warriors hold an 8 point lead at the timeout.
2nd Q 6:30 - Green throws a lob to Bogut!! Warriors lead up to 11!
2nd Q 7:40 - Thompson gets a layup to go! Gordon fires back with a three. 36-29 GSW
2nd Q 8:32 - Anthony Davis throws down a dunk on a roll off of the P&R.
2nd Q 9:21 - All he needed was a free throw to go in! Thompson hits a dagger behind the arc!
2nd Q 10:00 - Cole gets a layup to go, Thompson gets an And-1 going! Warriors lead 31-21
2nd Q 10:30 - Pelicans have come back a bit now. Warriors leading only by 9 now. Curry is on the bench and the offense seems to be moving slower for the Warriors.
The Warriors completely have dominated this first quarter. Curry leads all scorers with 11 points.
END OF FIRST QUARTER
1st Q :55 - Curry makes a nice crossover and gets to the basket with ease. Warriors are DOMINATING right now.
1st Q 1:41 - Curry misses a layup but Barnes tips it in! Warriors up 23-11
1st Q 2:28 - Barnes nails a three pointer!
1st Q 3:12 - Ryan Anderson sinks a three!
1st Q 3:58 - Iguodala gets it to go! Warriors up 18-8!
1st Q 5:09 - Curry gets a wide open layup off the pick and roll to go! NOLA has no answer right now.
1st Q 5:57 - Gordon gets a three to rattle in!
1st Q 6:30 - Bogut gets a tip-in to go to put GSW up 14-5.
1st Q 7:10 - Curry gets a layup to go on a fastbreak after a Pondexter miss!
1st Q 7:47 - Tyreke Evans heads to the line, first foul on Klay Thompson. Evans knocks down 1-2.
1st Q 8:25 - Curry launches a three from DEEP and nails it! Warriors up 10-4! Timeout called
1st Q 8:49 - Thompson throws a lob to Bogut!!
1st Q 9:25 - As I say nervous Barnes knocks down the three! Warriors up 5-4 now! Crowd is getting louder.
1st Q 9:58 - So far both teams looking nervous with the playoffs starting now. Warriors are playing hesitant so far.
1st Q 11:49 - Pelicans get the tip and turn it over on the first possession. Klay Thompson comes right back with a turnover and it leads to a layup. Anthony Davis knocks down a mid-range jumper. NOLA 4 GSW 2
Game Start
It's almost gametime! According to ESPN the betting line for toda's game is Golden State -12, as well as the over/under being 205.5.
The last thing for the Warriors is defensive help. There were moments in their last matchup where Tyreke Evans drove to the middle and it opened up a variety of options to work with. This cannot happen if the Warriors want to cruise to a victory in this series. The Warriors must keep everything going towards the sideline. Curry does an excellent job of this. Curry will force players to shorten the floor and it is very effective for him being a little smaller than some of the lengthier guards in the league.
On defense the Warriors need to show and recover efficiently against the Anthony Davis pick and roll. Multiple times in their last meeting, Davis rolled off the pick and caught lobs for dunks because players didn't get back quick enough. Clearly nobody can catch Davis in the air but at least being in position to contest the pass is necessary.
In my detailed Warriors first round preview I mentioned three things offensively and defensively for the Warriors. Offensively the Warriors need to spread the floor and run pick and rolls against either Asik or Davis. The Warriors need to pull those two big men out to make room to work with and move the ball around the basket.
The Pelicans need to make sure their rotations on defense are precise. Too often especially against the Warriors, teams fail to be in help or lose sight of their man for a split-second and it ends up costing them a three. The Pelicans need to adjust to the multiple screens in an offensive possession by the Warriors and be in help position.
For the Warriors the pressure is on Stephen Curry. He needs to make sure the offense is flowing constantly and players are getting open looks. At times he'll go into take-over mode which is fine towards the end of games but during the middle of the game it slows rhythm as well as stops ball-movement. Curry is incredible 1-on-1 we know that but it's a must to keep this Warriors offense moving and getting open looks.
There are 2 X-factors in this game. For the Pelicans, it's clearly Anthony Davis. Davis has to facilitate on offense as he can as a Power Forward, but his key is defense. He HAS to bring in rebounds to not allow the Warriors to get second-chance points. The Warriors will blow out the Pelicans if they get multiple attempts in a possession.
Anthony Davis should have a right to be confident, this team is a good team. The problem is that Anthony Davis can't carry this team in the playoffs. In a regular season game, it's do-able, but in the playoffs it's a team thing.
"We love matchups like this," Davis said. "We've been in this situation the whole year. We've made it this far. We're not looking to go home just yet."
The Pelicans on the other hand, are clearly the over-looked team in this series. I think this is rightly so as well, but that's not necessarily a knock on the Pelicans. They are clearly a good team, they made the playoffs in the Western Conference. This just speaks to how good the Warriors are. They dominated everybody all season, and it's hard to imagine the Pelicans winning more than a game in this series.
"This is what we've been waiting for," Curry said. "Everything we've gone through to this point will hopefully prepare us for this journey of winning 16 games."
These shots can be open mid-range, layups, threes off of screens. The shots the Warriors take are rarely forced, they look for good looks before taking a rushed shot at the end of the shot clock.
There are a few interesting things about this team. The Warriors last season were known as live and die by the three. While this conception about them was fairly accurate a season ago, it's a big misconception about the team this year. The Warriors offense this season does have a lot of threes, everyone knows that. What people don't realize is this motion offense is all about high-percentage shots. Curry did break his record in threes made for a season but the whole team shoots very high percentage shots.
The Warriors did win 67 games, by a lot. They set the franchise record in wins, and posted a 38-2 home record as well as the 6th-best record of all time. The Warriors did it with a rookie head coach in Steve Kerr.
"They don't care that we won 67 games," Warriors center Andrew Bogut said. "We don't get an extra pat on the back before the series starts or anything like that. We get home court and that's about it."
It's time for the Warriors to gear up for the playoffs that they've had locked in for a long time now. The Pelicans come in after beating the Spurs and sneak in as the 8th seed.
Guess what time it is? It's playoff time! It's taken a long time but we're finally here. My name is Mitchell Evans and I'll be following this awesome matchup we have today with you!