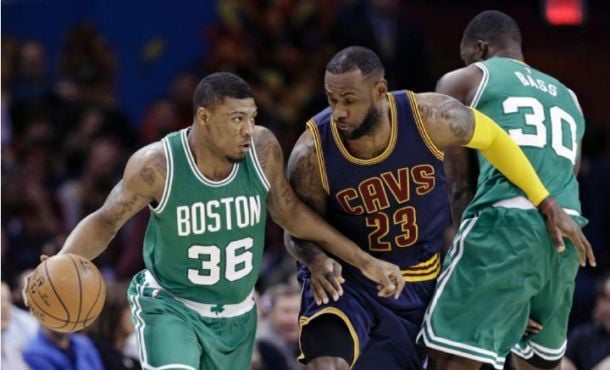 Final: I'm Torkil Bang, signing off. Have a great day folks!
Final: James ended with 20 points, seven assists, and six rebounds.
Final: Three-point shooting was the backbone for the Cavaliers. They hit 13 threes on nearly 42 percent shooting. That's been their winning formula since acquiring J.R. Smith and Iman Shumpert.
Final: Irving and Love performed well in their playoff debut. Irving finished with 30 points on 5 of 9 shooting from three. Love had a double-double of 19 points and 12 rebounds.
Final: Despite all that, they still played well and hung in there.
Final: They also had a handful of unforced errors and loose defense.
Final: Boston will look at the poor rebounding effort as the main reason they lost.
​4th Quarter (:00): That does it! Cavaliers take Game 1, 113-100.
​4th Quarter (:38): Celtics lost control of this game in the second half, but they still battled hard and cut a 20-point lead to six at one point.
​4th Quarter (1:08): Back-to-back air balls by Bradley and this one is all but over.
​4th Quarter (2:14): Timofey Mozgov with two crucial blocks late here in the game. He's got three blocks.
​4th Quarter (2:34): Timeout on the floor. Cleveland has possession. It looks like this one is over.
​4th Quarter (3:11): But Love hits another three for Cleveland. They now have 13 triples.
​4th Quarter (3:31): Thomas singlehandedly keeping Boston alive.
​4th Quarter (4:50): Bradley hits a long two, and it's only an 11-point game.
​4th Quarter (5:24): Irving took a hit on the defensive end. He came out hobbling but seems to be okay.
​4th Quarter (5:48): Irving makes another attack to the basket and finishes with a scooping layup. He's got 30 pointso n 11 of 20 shooting.
​4th Quarter (6:13): We got a timeout on the floor after I. Thomas was fouled.
​4th Quarter (6:21): Bradley knocks down a three, and here we go. Hack-A-Thompson.
​4th Quarter (7:16): My goodness, Irving drills a shot falling down and a foul!
​4th Quarter (7:32): Thomas bangs home another triple.
​4th Quarter (8:05): Sullinger takes Love in the post for two. 15-point Cavs lead still.
​4th Quarter (8:59): Boston is still scraping, but they have gone dry on offense.
4th Quarter (10:39): LeBron hit a three to open the fourth for the Cavs. Cleveland has 12 threes.
3rd Quarter (:00): Jones puts in a buzzer-beating three to end the third! The Cavs end the quarter on a 9-0 run.
3rd Quarter (1:18): James Jones with a back to the basket shot? Pretty amazing. He stops a 14-0 Boston run.
3rd Quarter (1:43): Thomas adds on two more free throws, just like that a six point game.
3rd Quarter (2:04): Thomas hits a three!! Eight-point game!
3rd Quarter (2:29): Wow, Jerebko with a nice flip shot in the paint. It's down to 11.
3rd Quarter (3:09): Crowder with an offensive rebound, put back, and a foul. He hits the free throw, and it's down to 13. 7-0 run.
3rd Quarter (3:46): James banged knees with Zeller but he is okay and back on the court.
3rd Quarter (3:46): Celtics cut the lead down to 16, and now James is shaken up after committing a turnover.
3rd Quarter (4:42): Kelly Olynyk, who has been playing well, just picked up his fourth foul.
3rd Quarter (4:58): Air ball three by Bradley, this is getting out of hand for Boston really quickly.
3rd Quarter (5:15): Love coming alive as well. It's an 18-point lead.
3rd Quarter (5:38): Thompson gets a two-handed stuff and now it's 16. Celtics are getting sloppy.
3rd Quarter (5:54): Shumpert hits a three and busts open a 14-points Cavs lead.
3rd Quarter (6:52): Sorry had a bit of technical difficulties. We are back. The Cavaliers are currently up 11. The Celtics are slowly losing grip of this game.
2nd Quarter (0:00): Kyrie Irving hits a three at the buzzer to put the Cavaliers up by eight going into halftime. He's got 20 at the half, not a bad playoff debut.
2nd Quarter (4:22). Cleveland just made a 18-4 run topped with a Kyrie Irving three point jumper over Isaiah Thomas' head. Irving has 14 points. Cleveland leads 49-42.
2nd Quarter (5:31). Kevin Love was lucky to draw an offensive foul on Kelly Olynyk. Cleveland leads, 44-42.
2nd Quarter (7:13). Kevin Love makes his first playoff basket ever, a three pointer to even the game, 40-40.
2nd Quarter (8:30). Cleveland cuts it to 38-37 behind two three pointers from Kyrie Irving and J.R. Smith. Boston calls a time-out.
2nd Quarter (9:00). Boston has come to play. If anyone expected a blowout win for Cleveland, it doesn't look like this game.
2nd Quarter (10:07). Beautiful play from LeBron James, as he drives and hits a basket with a short left hand hook.
2nd Quarter (10:33). Timofey Mozgov makes two free throws for Cleveland, Boston leads 34-29.
2nd Quarter (11:30). Great defense from Jae Crowder, who steals the ball from LeBron James.
1st Quarter (0:00). The Celtics are ahead after the 1st quarter, 31-27.
Boston Celtics - Cleveland Cavaliers Live Score
1st Quarter (0:35). Tristan Thompson is as always great from the bench for the Cavaliers. He makes one out of two free throws, to cut Boston's lead to 31-27.
1sr Quarter (1:13). Kelly Olynyk makes the best of his playoff debut, he has ten points off the bench as he hits a three pointer for 29-24 for Boston.
1sr Quarter (1:57). Isaiah Thomas takes the Celtics to 26-22 with a layup and a short jumper.
1st Quarter (3:18). Tristan Thompson, one of the league's best offensive rebounders, makes a putback to tie the game at 22-22.
1st Quarter (3:36). Kelly Olynyk just gave the Celtics the biggest lead of the game, 22-17. But James Jones answers with a three pointer, 22-20 for Boston.
1st Quarter (4:23). Isaiah Thomas is in the game, and the Celtics are playing at a high speed. He just hit two free throws to bring Boston ahead, 20-17.
1st Quarter (5:58). Tristan Thompson hits two free throws to bring Cleveland ahead again, 13-11. Both teams are in the penalty.
1st Quarter (7:11). Both teams have missed their three point attempts so far. J.R. Smith hits the first in the game to bring the Cavaliers ahead 10-8.
1st Quarter (9:40). Tyler Zeller with four quick points for the Celtics who are ahead by 6-5.
1st Quarter (11:07). Tyler Zeller commits a shooting foul on LeBron James. James hits the second of two free throws.
1st Quarter (11:32). Brandon Bass hits two free throws for the first two points of the game.
We are close to tip-off in Quicken Loans Arena!
For LeBron James this series is also a meeting with a ghost from his past. It was the Boston Celtics who ended his last title run with Cleveland in 2010. "It stuck with me a lot", he told NBA.com after Friday's practice.
Boston should have their hands full with LeBron James and Kyrie Irving alone in this game. If they succeed in slowing those two down, Cleveland has huge weapons in J.R. Smith and Kevin Love.
The two wins for Boston against Cleveland have probably given them the confidence that they can beat anybody in any given game. But seen from the outside, it seems more realistic that they have to fight hard, just to stay in the game. The Cavaliers have enough playoff experience among them to know that if they don't match the Celtics' intensity, they might find themselves in trouble. However, it is actually Irving and Love's first ever playoffs appearance.
His colleague on Cleveland's bench, David Blatt, was under fire in the beginning of the season, while the Cavaliers were trying to make their pieces fit together. He probably has not been given enough credit when they finally clicked. His team is the hottest team in the Eastern Conference since the All-Star break. And if they hadn't lost the two games against Boston, they would have been the hottest in the whole league.
Injury Report:
BOSTON - All players are ready to go.
CLEVELAND - Anderson Varejao (torn achilles) will not play.
Some would say, that head coach Brad Stevens is Boston's MVP. The word that most people use to describe him is "even-keeled". When other people might be stressed out or get over-excited about a game, he keeps cool and analytic, looking for ways to get the win. And his plays out of timeouts have already given him a great reputation.
Boston Celtics - Cleveland Cavaliers live
The Celtics have no stars, but they try to make up for it with intensity on both ends of the floor. It seems fitting that the closest thing to a star on the team is Sixth Man of the Year candidate Isaiah Thomas, who is perhaps the hottest spark plug off the bench in the whole league. Thomas averages 19 points and 5.4 assists in only 26 minutes, while playing for Boston.
Cleveland is, after all, led by perennial league MVP and two times Finals MVP, LeBron James. Plus they have perennial All-Star players in Kyrie Irving, Kevin Love and veteran Shawn Marion. Boston's lonely former All-Star is Gerald Wallace, and he is barely in the rotation.
So, it's safe to say that these two teams are in form, and probably on the top of their game. The gap in talent is pretty deep, though, and it would be a huge surprise if Boston brings home more than valuable experience from the first two games in the series.
The second regular season game, which was played on March 3rd, was a blowout win for Cleveland, 110-79, here in Quicken Loans Arena. That game was the final wake up call for Boston, who have gone 17-7 since then, which gives them the second best win percentage in the Eastern Conference behind Cleveland going forward from that game. (VAVEL USA's recap of that game)
Much has changed on the two teams since their first meeting of the season back in November. Then Rajon Rondo and Jeff Green were the stars of Boston, and Cleveland hadn't acquired players like Timofey Mozgov, J.R. Smith and Iman Shumpert, yet. That game was a close one, which the Celtics lost, 121-122.
You could question the Cavaliers' motivation to win those two games, however. They rested Kyrie Irving, who had a lingering hip injury, in both games, along with LeBron James, Kevin Love, and Timofey Mozgov in the second game Boston Celtics - Cleveland Cavaliers.
The season series between the two teams ended 2-2, after the Celtics won two games against the Cavaliers in the last week of the season. Those two wins more or less secured the playoff spot for Boston.
This is the first game in the playoff series between the second seeded Cleveland Cavaliers and the seventh seeded Boston Celtics. While it's no surprise that the home team is one of the top seeds in the Eastern Conference, the visitors from Boston have surprised most people by making it to the postseason at all.
Hello, everyone! Welcome to the Live Event of the Boston Celtics vs Cleveland Cavaliers live score at the Quicken Loans Arena in Cleveland, Ohio.