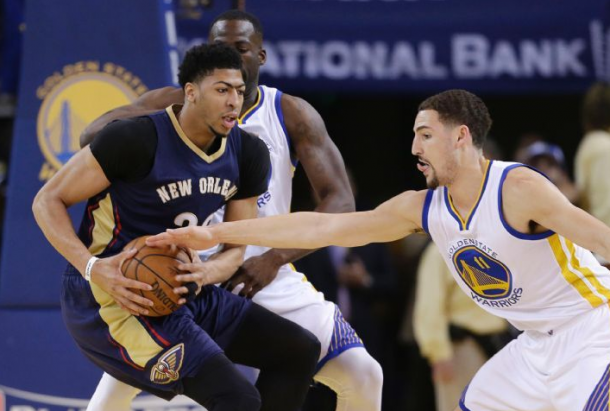 OT :03 - Curry gets fouled and hits both free throws! Warriors win!!!!!
OT :04 - Bogut plays great defense and Davis missed a game-tying shot!
OT :10 - An off the ball foul on Davis makes it a 2 point game and the Pels get the ball.
OT :14 - Curry hits both free throws!
OT :14 - Curry gets fouled as the Pels missed a three point attempt.
OT :36 - Draymond Green gets called for the foul and he fouls out!
OT 1:05 - Anderson nails a three for the Pels!!
OT 1:37 - Evans gets a layup to go! Warriors up 4!
OT 1:51 - Bogut throws it down!!
OT 2:11 - Davis hits the mid-range jumper! Pels aren't out of it yet!
OT 2:28 - Draymond Green gets the And-1!!!
OT 3:29 - Thompson fouls Evans. Evans only hits 1 and Barnes comes back with a three!
OT 4:21 - STEPHEN CURRY! SPLASH! WARRIORS UP 3!
END OF 4TH Q
4th Q :03 - STEPHEN CURRY! SPLASH! MVP HITS A GAME-TYING THREE! WE ARE HEADING TO OVERTIME!!!
4th Q :09 - Davis is fouled and misses the first free throw but hits the second! Timeout Dubs!
4th Q :11 - Stephen Curry nails the three! GSW down 2.
4th Q :17 - Holiday is fouled. He knocks down both! Pels up 5.
4th Q :21 - So much is going on! A missed shot by Klay, offensive rebound. A missed corner three, Livingston offensive rebound! He knocks down 1-2 of the free throws!
4th Q :45 - Steve Kerr calls a timeout. Warriors down 4!
4th Q 1:37 - Draymond Green!! Warriors down 4!
4th Q 2:14 - Draymond Green gets the roll! Lead is just 6!
4th Q 2:39 - Thompson gets it to go!
4th Q 3:12 - Anthony Davis throws it down!!! 105-95 NOLA
4th Q 3:25 - HARRISON BARNES THROWS IT DOWN! WARRIORS DOWN 8!
4th Q 3:56 - Klay Thompson will go to the line. This game is closer than it looks. Klay hits both and it's just a 10 point game.
4th Q 4:50 - Cole gets a fast-break dunk but GSW are inching back. Green is at the line down 13.
4th Q 5:51 - RYAN ANDERSON IS MOLTEN HOT. 23 POINTS!
4th Q 6:57 - Barnes gets a follow to go and the lead is cut to 15.
4th Q 8:19 - Pondexter gets the layup to go as the clock ran out! 95-77
4th Q 9:01 - Ryan Anderson gets the fade-away to go!
4th Q 10:17 - Cunningham gets a mid-range jumper to fall. 91-73 NOLA
4th Q 11:40 - Barbosa gets a long two to go and cuts the lead down to 16.
END OF THIRD QUARTER
3rd Q :11 - Cunningham gets a dunk to go and the Pels lead by 20 at the end of the third quarter!
3rd Q 1:18 - Curry finds Iguodala to cut the lead to 16 but the Pelicans lead 85-69.
3rd Q 2:27 - Anderson hits 2 free throws and NOLA lead 83-67
3rd Q 3:05 - STEPHEN CURRY! SPLASH!
3rd Q 4:03 - Curry nails the three! Warriors within 13 now!
3rd Q 4:32 - Anthony Davis blocks Speights twice!!
3rd Q 5:03 - Klay Thompson hits an And-1 shot.
3rd Q 5:19 - Evans goes and gets a fast-break layup to go in! Pels lead 77-58!
3rd Q 5:41 - Draymond Green gets his 4th foul of the game now.
3rd Q 6:19 - Davis is heading to the free throw line, he's got 19 on the game with a chance to break 20 points.
3rd Q 7:53 - Davis hits a jumper! 69-58 NOLA
3rd Q 9:03 - A Pondexter technical and Curry free throws, the Warriors cut the lead to 9.
3rd Q 9:50 - Pondexter gets a shot to fall. 67-55 NOLA
3rd Q 11:20 - WOW! Thompson gets a three to roll in!
END OF FIRST HALF
2nd Q :01 - Bogut puts back a shot and the Warriors close out the second quarter and lowers the lead to 11.
2nd Q :42 - Thompson hits a three!
2nd Q 1:26 - Evans gets another shot to go as he gets Thompson in the air with a pump fake. Thompson hits a turnaround jumper. 61-47 NOLA
2nd Q 1:40 - Iguodala gets an And-1 layup to go and he'll go to the line.
2nd Q 2:22 - Evans hits a three for NOLA! 57-43 NOLA leads
2nd Q 2:44 - Klay Thompson launches a three from Curry! Warriors charging back!
2nd Q 3:23 - Green gets a tip-in to go and it cuts the Pelicans lead to 14.
2nd Q 4:11 - Cole's layup puts the Pelicans up 54-38! Timeout called!
2nd Q 4:34 - Davis gets another shot to go! He's got 13 on the game!
2nd Q 5:54 - Anderson gets a shot to go and Curry is fouled on a three-pointer, he'll head to the line.
2nd Q 6:52 - Curry drives and gets a layup to go! 44-34 NOLA
2nd Q 8:00 - Anderson drains a three to make it 42-30 and Speights comes back to hit a layup.
2nd Q 8:16 - Livingston gets the And-1 on a layup attempt and he'll go to the line!
2nd Q 9:05 - Green finally gets one to go and the Warriors get a defensive rebound.
2nd Q 9:27 - Cole goes up and under to increase their lead and the Pelicans are on a 19-0 run!
2nd Q 10:11 - Holiday gets a jumper to go and it's now 35-25!
2nd Q 11:08 - Cole hits a three! NOLA leads 31-25.
1st Q :04 - Cole misses a three and the first quarter will end! The Warriors got off to a hot start but the Pelicans came back quickly! Pelicans lead 26-25!
1st Q - Timeout called and the Warriors lead 25-24!
1st Q 2:23 - Anthony Davis throws it down!!
1st Q 2:51 - Ezeli gets one to go. GSW 25-20
1st Q 3:34 - Curry gets fouled and will head to the line. 21-17
1st Q 4:44 - Bogut gets a shot to go! 21-14 GSW
1st Q 5:35 - Anthony Davis hits another shot but Curry gets on to go! 19-12 GSW
1st Q 8:00 - Klay starts off this game on fire!! Warriors up 17-9!
1st Q 8:56 - Curry hits a three to put GSW up 9-7 but Davis ties it with a jumper!
1st Q 10:52 - Gordon hits a three! 5-3 NOLA
1st Q 11:22 - Anthony Davis hits a spinning floater but Klay hits a three!
Game Start
Be sure to catch VAVEL USA's other Lives, the Cleveland Cavaliers vs Boston Celtics, and Chicago Bulls vs Milwaukee Bucks.
Lastly, both teams need to shoot well behind the arc. Both teams have the possibility of exploding from three, which obviously the Warriors have better odds at that, but they need to be consistent in their shooting.
"AD is going hard for us out there, and we have to be there to support him when he has an off night," guard Norris Cole said. "... I think the more games he plays in the postseason, and the more games we play as a group in the postseason, the better we'll be."
Anthony Davis has to get going aggressive and early for the Pelicans. Sometimes he plays passive for too long and he needs to attack. He can't be guarded well by the Warriors, all they can really do is slow him down, so he must be a force in the game.
According to ESPN, New Orleans went 11-3 at home since the all-star break. Now, the Warriors played incredible all year whether home or away, but that is interesting to keep in mind that the Pelicans could very well take one of the next two games. I think it's unlikely, but it's still a possibility.
"(The Warriors) did what they were supposed to do -- they won their home games," forward Quincy Pondexter told the Pelicans' official website. "We've got to go home and do the same thing. It's not a series until someone wins on the road."
A few keys for the Warriors: Stop Anthony Davis. Now, this obviously is easier said than done. Anthony Davis is one heck of a player but the Warriors have to limit the penetration by Davis. New Orleans has 3-point shooters locked and loaded and cannot be unleashed.
The Warriors have to keep ball-movement going. Their motion offense has to be continuous and cannot resort isolation plays or shots. That's how they let New Orleans back in.
"The grind-it-out kind of feel that these games were (in Oakland), you expect it's gonna be the exact same thing if not tougher in New Orleans," said Stephen Curry, averaging 28.0 points. "I'm sure they'll get some life being at home and feeling their home crowd. ... We know it's not gonna be easy regardless of how well we play."
"We know that we can beat this team," Davis said. "We were right there. They made shots, and we didn't."
"We're playing the best team in the league, and we're fighting tooth and nail," Pelicans coach Monty Williams added. "Our guys are grouping up on the fly."
"We know we're going to have turnovers or lapses. But it's the defense that won us the game," Thompson said.
Not only can Klay shoot the ball, he can drive to the basket, back-door cut, even screen well. Klay's game has developed into a package that can be useful for any team.
Thompson scored 14 in the fourth to really seal the deal. Thompson is an interesting factor to this team. Clearly, Curry leads the offense and the team, but a lot of times, when help is needed, Thompson steps up big time and can just go on tears when the Warriors need some rhythm and momentum. It's absolutely incredible to watch Klay take control of a game by shooting the ball.
"We still get excited at times and do some crazy things. I kind of like the fact that we walk that line," Kerr said. "It's what makes us who we are."
Game 2 had some ups and downs for the Warriors. They played a bit sloppy and the game was close for most of the game, but things clicked and, with the help from the bench, the Warriors took control again. The Warriors shot just 32% in the first quarter, and actually were down 28-17.
"This is a good test for us to start the playoffs when we haven't had much of this during the season," said Stephen Curry after Game 1.
The first two games were very interesting. In Game 1, the Warriors dominated through three quarters, and then Anthony Davis took over. Davis brought them back within just a few points but a defensive stop by the Warriors and some free throws knocked down the Warriors closed out the game.
The Warriors and Pelicans start a new stretch of their series as the Warriors travel to New Orleans to take on the Pelicans in game 3 tonight.