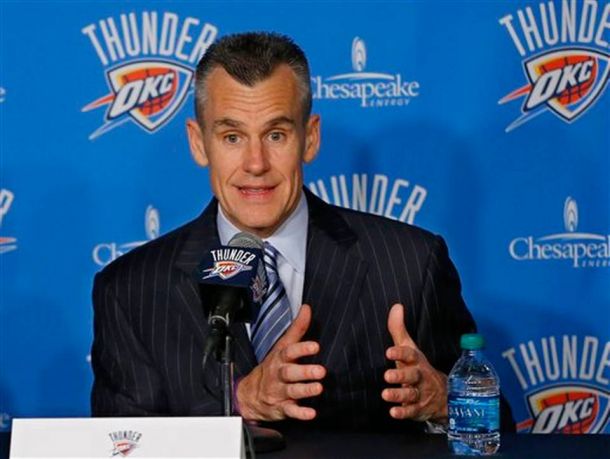 "Scott Brooks is like Moses, he's great, but he'll never see the promise land." That was a tweet that garnered a rather humorous response on Twitter last week.
For seven years, Thunder fans listened to Scott Brooks say things like "Spirit, togetherness, and toughness." Brooks repeatedly sidestepped questions and never really gave any real insight into the inner workings of the team. The Thunder is identified as a sealed-lip and play it close to the chest organization. Brooks was able to emulate that mindset. Ultimately, however, the team never reached the peak with the relatively boring lingo of Scott Brooks.
We'll never know what went on behind closed doors. But if you ever caught a Scott Brooks timeout huddle on TNT or ESPN when he was mic'd up, you know his talk to the players never really differed from what he told the media. "Play for each other! Play hard! Defend!" was about the extent of the tactical knowledge of Brooks. The word "tactical" is a word Presti has used a number of times over the past two days to describe Billy Donovan. Today he referred to the "tactical competence" Donovan would bring as an advantage. It appears that the need for tactical adjustments was the main reason Presti decided to move on.
The more stories that are leaked by various reporters, the more it appears this was going to be Scott Brooks' last season no matter what. It's unfortunate for Scotty. He never got to utilize this team at full strength. Perhaps if Durant had been healthy, the Oklahoma City Thunder would still be playing. At full strength, the Thunder would have been a considerable favorite to win the title. It appears, anything short of a title and even accounting for injuries, that this season would be Brooks' last. With Presti saying in his press conference last week that the decision was not based off the 2014-15 season, one can only assume this was a pre-determined fate for Brooks.
So now, the Thunder has put its chips in Billy Donovan's hands. One thing he brings to the Thunder is a fresh face and fresh outlook. He was even relatively funny at his press conference. When asked about coaching Westbrook and how he can relate as a former point guard he responded, "Well I was more athletic than Russell." The room erupted, and this gives a little insight into his personality. Darnell Mayberry of the Oklahoman noted, "Donovan answers questions." He certainly did today, and while being of similar mold to Scott Brooks he has a slightly different edge.
The Thunder may not change a whole lot. You can't really assume that next year the team will come out moving the ball like San Antonio from day one. But one of the things that was particularly interesting was the way Donovan described developing relationships with his players. Donovan said he wants to establish a level of trust so that his players understand that he is trying to help them reach their goals. One thing stood out especially when he described wanting to make Durant and Westbrook's life easier on the court. This has always been a major criticism of the Thunder. Too often Oklahoma City has relied on a heroic shot from Westbrook or Durant and the weight of carrying a team game-to-game can take its toll. Steve Kerr is the best illustration of what can happen to a team when everyone buys in to basic principles. Often times Durant and Westbrook have slacked off on defense because so much has been expected of them offensively. It has been reported that Kerr for example, told Curry, that he would no longer hide him on defense. Now Curry is no elite defender, but he bought into the concept of team defense. On that same note, Curry has experience a career year offensively. The entire Golden State team is lethal from player 1 to player 12, and Oklahoma City is expected to have that same type of depth next year.
The roster that the Thunder is expected to field next season will be a roster that could very easily win 60 or more games in the regular season. That team, if healthy, would do that with virtually anyone at the helm. In fact, a virtual coach could probably win 60 games with the Thunder. Billy Donovan's job will be assessed by how he coaches in May and June. This isn't a typical non-playoff team Donovan is about to lead. It's a team with serious title aspirations that has recently hit a huge bump in the road with injuries. But assuming total health, anything short of a championship will be considered a failure in Oklahoma City. Not only must Donovan focus on integrating with a new team, he also must deal with title pressure, and Kevin Durant's free agency looming over the whole situation. First year coaches with title hopes have no integration time. Ask David Blatt, you don't get the luxury of adjusting. If Billy Donovan is what has been written about him, then this will be something he can handle well. If the Thunder has been led by Moses for seven years, maybe Donovan can be Joshua.