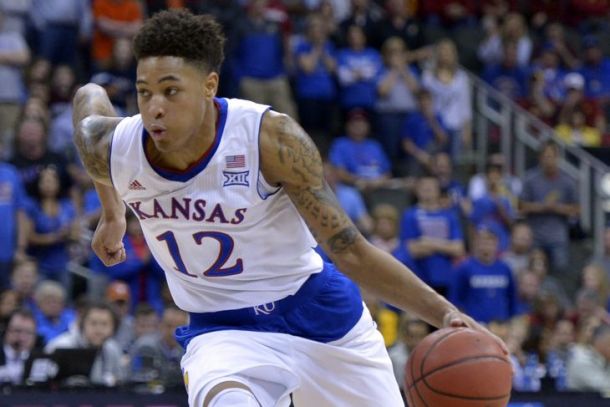 INDIANAPOLIS -- The Indiana Pacers announced the six participants in their fourth pre-draft workout of the 2015 pre-draft process. This workout will take place on Tuesday, June 2nd at the Bankers Life Fieldhouse in Indianapolis, Indiana.
Here are the participants of this specific pre-draft workout: Anthony Brown (Stanford), Cady Lalanne (UMass), Luis Montero (Westchester Community College), Jon Octeus (Purdue) Gabe Olaseni (Iowa), and Kelly Oubre (Kansas).
Kelly Oubre is the only lottery projected prospect on the list. In fact, he's the only prospect of that group that is even projected to go in the first round. He is most likely being looked at for the Pacers' 11th overall selection.
As for the other prospects, the Pacers are probably evaluating them for their 41st overall selection, or for undrafted free agency. Every player on that list is a project player; however, Kelly Oubre is the only player that would be able to make an instant impact.
The odds of the Pacers taking any of those prospects other than Kelly Oubre are very low, unless they get really surprised by them during the workout. Even for Kelly Oubre, his odds of being selected by the Pacers are not very high since the Pacers have more immediate needs like their frontcourt.
Kelly Oubre is at a disadvantage of being drafted by the Pacers because the team doesn't necessarily need more perimeter players. Indiana is looking to reduce the role of Roy Hibbert so drafting his replacement will most likely be the route that they choose. Not only are the Pacers trying to reduce Hibbert's role this season, Indiana has a serious option of not re-signing him after this season.
This workout is most likely to do their 'due-diligence' on Kelly Oubre, then to evaluate second round and undrafted free-agent prospects. The team has a high quality second-round pick, so they most likely won't go the route of drafting one of these prospects.
For Pacers fans, Kelly Oubre would be the only player in this bunch to be excited about. Experts have frequently compared his ceiling to Paul George. Having two Paul George's couldn't necessarily be a bad thing at all. With George Hill, Kelly Oubre, and Paul George in the starting lineup at the perimeter positions, they could have one of the top perimeter defending teams.
Kelly Oubre's overall athleticism and defensive IQ would really allow for him to contribute in the NBA right away, especially on a team like Indiana. His offensive game needs more finesse work, but he has the fundamentals down. He could be a good system or role player on the offensive end in the early part of his career.
Playing alongside Paul George and George Hill could really benefit his offensive contributions. He wouldn't be asked to isolate frequently, carry the offense, or anything like that. He would be able to space the floor, catch and shoot, drive when it is open, move without the ball, basically be a role player in the offense. But when he develops, he could very well end up being a star.
Frequently, players like Oubre that need work on the offensive end are deemed 'busts' because they don't dominate offensively. This is because they are drafted by the wrong team too early in the draft, and their team asks them to do too much. There is no support for players in those situations, which results in terrible outcomes for both the team and the player. Good thing for Oubre, the Pacers would be a perfect fit. They only have this pick because of an injury to a star player, which is a 'dream scenario' for a prospect like Oubre.
Indiana would have to really have faith in Roy Hibbert and David West if they were to draft Kelly Oubre because the team wouldn't be able to use the first-round pick on a big man, which is their only affordable option for a talented big. That is of course assuming that Hibbert and West accept their player options. Their player options are way more lucrative than what the open market would bring, so it is safe to assume that both of them will accept their options.
Trading Hibbert is always an option to open up cap space, but getting a talented big man to come in free agency could be a challenge. It is not often that quality starting free agents sign with Indiana, so that option might not be the safest since there aren't many alternatives to Hibbert. However, having nearly $15.5 million to throw at DeAndre Jordan or Greg Monroe could probably get them to consider coming to the Pacers.
Having David West accept his player option isn't a bad thing, but having him decline it and re-sign for less money would be ideal. David West has been the 'heart and soul' of the Pacers so his contributions go beyond the stats. He is very important for Indiana, even if they decide to bring him off the bench. Also, the team has options already on the roster for power forward, for example, Paul George in small ball and Lavoy Allen in a more traditional situation (if he re-signs).
Indiana is left with a very limited salary cap situation if Hibbert and West accept their player options. The only way that the team can really be efficient with their spending is if both West and Hibbert have big years next season. Since Hibbert and West would be large expiring deals, don't be surprised if they get traded either during this off-season, or during next season at some point. This is largely due to the fact that neither player will meet the production necessary to meet their value, and also because teams view large expiring deals as lucrative assets for cap space the following off-season.
In the 2015 NBA draft, the Indiana Pacers have both the 11th overall pick (first round) and the 41st overall pick (second round). This year's NBA draft will be held at the Barclays Center in Brooklyn, New York on June 25.