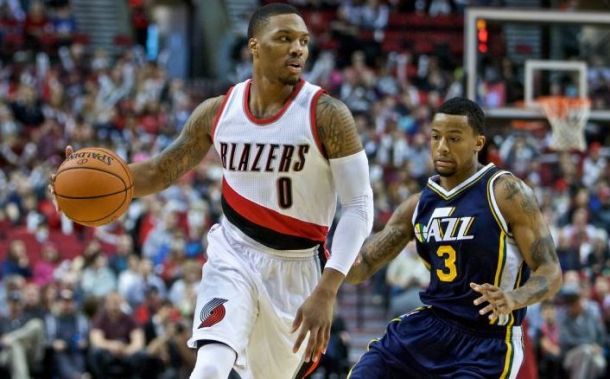 It's been reiterated numerous times, preseason for the Portland Trail Blazers means more than it does for any other team. Everyone player but Damian Lillard is vying for a spot on the starting squad, and all of them are working together to improve team chemistry.
For the second time this week, Portland matched up against the Utah Jazz. Utah didn't play their top three players: Gordon Hayward, Rudy Gobert and Derrick Favors. This didn't hold their players on the court back at all, as they jumped out to a 7-0 lead in under two minutes. Lillard and Leonard combined for three early turnovers, resulting in easy baskets on the other end. Their chemistry look to be faltering, until a nifty behind-the-back pass from Meyers Leonard to Lillard completed a fast break and kicked off scoring for the Blazers.
The new Portland squad is valued as athletic, and starting center Mason Plumlee put his athleticism on display with a coast to coast finish in transition over Gobert's replacement Tibor Pleiss. Backup big man Ed Davis also proved his worthiness of an increase in minutes through hard fought offensive boards, opening second chance opportunities for Blazer shooters. He finished the game with nine points and 13 boards in 32 minutes, taking over for Leonard and Plumlee in the final stretch.
Coach Terry Stotts used the sub rotation that will likely become regular once the season begins. Last week. he announced C.J. McCollum would run point when Lillard was off the floor. Early on in the first, McCollum was subbed out, but returned with around a minute left for Lillard. This way, one of the two guards were always available to run the offense.
Phil Pressey did see some floor time despite McCollum playing point and racking up nine assists. He only played seven minutes, but scored five points and tallied an assist before being subbed out.
Preceding the game, team leader Damian Lillard discussed how the new look Blazers will "have to hang their hat on defense." Tonight, Portland's D looked awful, especially switching on screens. Utah's frontcourt shot lights out for the first three quarters, and saw open look after open look thanks to solid set screens by big men, and bad rotations by Blazer guards. Alec Burks and Trey Burke combined for 32 points, and Rodney Hood and Joe Ingles each scored over 15.
The Jazz jumped out to a massive 21-point lead behind their frontcourt domination. Portland started to lose grip on the game, throwing up consecutive ill-advised threes early on in the shot clock. By the end of the third quarter, they had dug an 18-point hole and trailed, 84-66.
The final 12 minutes began just as the first 12 minutes did. Every shot for Utah fell, while Noah Vonleh failed to make an impact offensively, filling the stat sheet with goose eggs until late in the fourth. Not until C.J. McCollum began heating up midway through the quarter did Portland show any signs of a comeback. McCollum scored several back-to-back baskets, contributing to his 18-point fourth quarter. Lillard entered the game, and the comeback was sparked.
Ed Davis enabled second chance shots, and Vonleh found his groove in post scoring. They closed the lead down to single digits, and Elijah Millsap missed an important free-throw that could've put them up by three with seconds remaining. Instead, he committed a foul and put Lillard on the line, where he tied it up with two seconds left. Utah failed to get a shot attempt up, and the game headed to OT.
As if a repeat of the first quarter but reversed, the Blazers jumped out to a seven-point lead. Lillard stayed in the game, illustrating the importance of late game strategies for the new Blazers. Every bucket by the Jazz from there on out was matched by Portland, until OT expired with the Blazers coming out on top, 116-11.
Both McCollum and Lillard played fantastic, combining for 58 points and 15 assists, but also 11 turnovers. Moe Harkless, Meyers Leonard, Ed Davis and Noah Vonleh all grabbed eight-plus rebounds, helping Portland break in transition and open up second chance opportunities. Under the radar flew Allen Crabbe, who totaled 12 points, most of which coming in the fourth and OT. While the Blazers didn't play cohesively until almost too late, their performance to close the gap and pull out a victory over Utah shows that this young team can perform in the clutch.