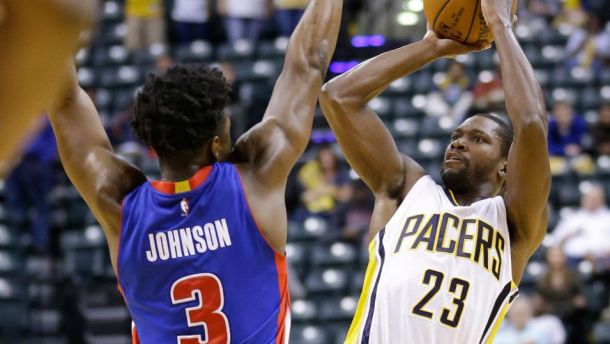 INDIANAPOLIS, IN -- The Indiana Pacers announced on Monday that they have officially waived guard Toney Douglas. He made a run for a roster spot, but the team decided to go a different route. There was no indication regarding who possibly could have been cut in place of Douglas, but the decision must have been difficult if it took this long.
The Pacers struggled with injuries last season, so it is difficult to think that the team would risk not having a third string point guard. Indiana had three full-time point guards on their roster (George Hill, C.J. Watson, and Donald Sloan), but even that wasn't enough. At one point, the Pacers had to sign A.J. Price off of the street to be their only active point guard.
Rodney Stuckey is considered one of the team's point guards since he can be a primary ball handler. That must have been their thinking behind cutting Toney Douglas. That may sound like the shooting guard position would be compromised, but both Glenn Robinson III and Solomon Hill can play the shooting guard position. Basically, the positional versatility of the team allowed for the Pacers to cut Toney Douglas.
The decision likely was between waiving Shayne Whittington or Toney Douglas. Since the Pacers have that previously mentioned versatility, they kept the player that they viewed as the better long term prospect. Douglas is the better overall player now, but the organization views Shayne Whittington as someone that could eventually develop into a contributing player in their rotation.
There is the possibility that Whittington could see a lot of time with the Fort Wayne Mad Ants. Jordan Hill, Lavoy Allen, and Paul George all get minutes at power forward, which really limits the possibility of Whittington getting minutes at the position. Whittington can also play center but first round pick Myles Turner, Ian Mahinmi and Rakeem Christmas take the bulk of the minutes there. Coming to the conclusion that Whittington will probably not get any minutes unless there are injuries.