 Every sports fan knows what Stephen Curry and the Golden State Warriors have done recently in terms of breaking records left and right. Even non-sports fans have heard about and seen him and his daughter, Riley Curry, famous post-game press conferences last year in the NBA Playoffs.
Curry has also been known to shoot the three ball quite efficiently, being the first player ever to have over 300 three-point field goals in a season and is just twelve away from being the first ever to hit the 400 mark as well.
This would be 130 more made three-pointers than the next highest player on the all-time list not named Steph Curry, teammate Klay Thompson who has 270 made three-pointers this season. With the Warriors just two wins away from making history, can they finish the race or have to settle for second, something they have not been exposed to recently.
History In The Making
Last season, the Warriors broke onto the scene, finishing with a 67-15 season and Steph Curry making a name for himself by breaking his own three-point record. The Warriors improved from the previous season from a 51-31 record that earned them the sixth seed in the Western Conference Playoffs and had them eliminated in the first round to Chris Paul and the Los Angeles Clippers.
The following year, the Warriors changed coaches, grabbing a former player and current commentator Steve Kerr, who was a part of the Chicago Bulls historic 1995-1996 season in which they finished with 72 wins. When asked who would win between the two historic teams, the Head Coach commented: "We would beat us".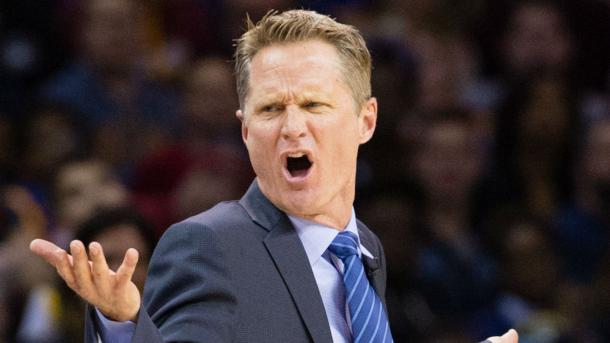 Two Games Away From Writing History
Although all the hype, the Warriors have a major obstacle on their way to breaking history, the San Antonio Spurs who are also trying to set their own record by trying to be the first ever team to go undefeated at home in a season, and are currently 39-0 while playing in San Antonio. According to ESPN'S FPI, the Warriors have a 35% chance of winning that match.
If the Warriors were to go on and win that battle, they have to play for the record in front of their home crowd at the Oracle Arena in Oakland, California. They will play aginst the Memphis Grizzlies, who they nearly lost to in Memphis Saturday night barely escaping 100-99. If the Warriors manage to get by San Antonio, one has to imagine the world will be watching the Golden State Warriors try to re-write history.