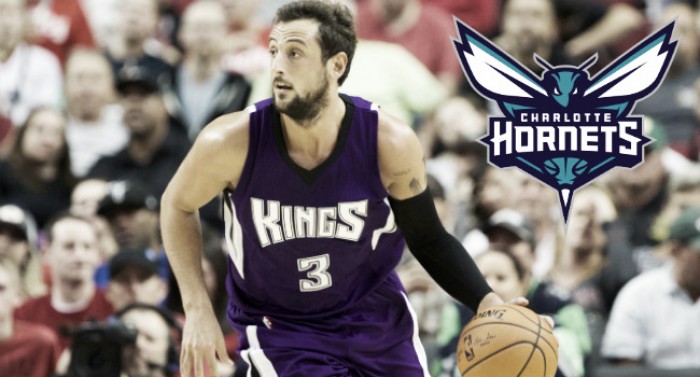 The Sacramento Kings have acquired the 22nd-overall pick in the 2016 NBA Draft, sending swingman Marco Belinelli to the Charlotte Hornets in return. Adrian Wojnarowski of The Vertical first reported the deal.
Since the trade cannot go through until the arrival of July 1, the Hornets will be making the selection at number 22 at Sacramento's request.
A look at Belinelli
Belinelli, 30, signed with the Kings last summer on a contract worth $19 million over three years. Over the 2015-16 season, he averaged 10.2 points per game, shooting career-lows of 38.6 percent from the field and 30.6 percent from three-point range. He started just seven games for the team.
The Italian began his career in Europe, winning the Serie A title in 2005 with Fortitudo Bologna at age nineteen. After being drafted by the Golden State Warriors in the 2007 NBA Draft, he spent two seasons in the Bay Area prior to moving on to stints with the Toronto Raptors, New Orleans Hornets, Chicago Bulls, and San Antonio Spurs.
With Chicago and San Antonio, Belinelli developed the reputation of a clutch marksman, one he solidified with numerous game-winning buckets in his lone season with the Bulls. He continued his path in that role with the Spurs, with whom he became the first player from Italy to win the NBA Finals. He hit a clutch three-pointer in Game 3 of the 2014 Finals to halt a ferocious Miami Heat run.
Belinelli also has a Three-Point Contest title to his name, beating out the Washington Wizards' Bradley Beal at the 2014 NBA All-Star Weekend. He holds a career clip of 37.9 percent from beyond the arc, one that will allow him to fill a nice role in Charlotte.
It's unknown who Sacramento will instruct the Hornets select with the 22nd pick, so stay tuned for draft coverage throughout Thursday night's 2016 NBA Draft.