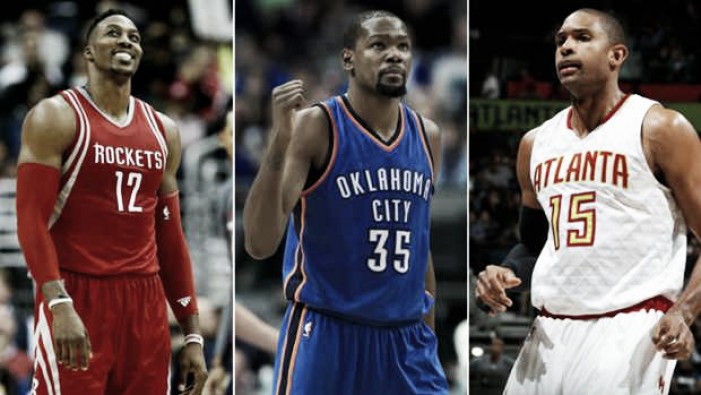 Welcome to our 2016 NBA Free Agency Roundtable Discussion. This year's list of free agents are highly anticipated with the likes of Kevin Durant, Dwight Howard, Mike Conley and others who are free agents entering July 1.
Our VAVEL writers Sully Akbari, Jason Coldiron, Youssef Machkhas, Chris Robbins and Phillip Steinmetz will be discussing Kevin Durant's destination along with other free agents: Ryan Anderson, Nicolas Batum, Mike Conley, DeMar DeRozan, Kevin Durant, Pau Gasol, Al Horford, Dwight Howard, Joakim Noah, Chandler Parsons and Hassan Whiteside.
A lot to discuss, so let's get started!
Sully's Predictions
Kevin Durant (Oklahoma City Thunder):
With the recent acquisition of Victor Oladipo, Ersan Ilyasova, and rookie Domantas Sabonis on draft night, the Thunder's core became stronger. It seems as if Thunder's General Manager Sam Presti made this move as a last ditch effort in hopes of re-signing Durant. Although losing Serge Ibaka in that trade, the Thunder became better on both ends of the ball, younger and more athletic. This move only made the Thunder better and with that said, Kevin Durant will re-sign with the Thunder.
Mike Conley (Memphis Grizzlies):
Ever since coming to the NBA in 2007, Mike Conley has solidified himself as a true point; someone who put his team first and only wants to win. Conley has shown us this since being drafted fourth overall as a Grizzly and still looks to do just that. However, reaching the Western Conference Finals only once in his career back in 2013, Conley wants to build his legacy in becoming an NBA champion. Therefore, Conley is on his way out of Memphis to sign with a contender, that being the San Antonio Spurs.
DeMar DeRozan (Toronto Raptors):
With rumors of DeMar DeRozan wanting to go back to his hometown and sign with the Los Angeles Lakers, DeMar was quick to shoot those rumors down. The two-time All-Star made it clear that he is committed to returning back to Toronto to win an NBA championship. Also, at age 26, it wouldn't make sense for DeRozan to go to a rebuilding team in the Lakers and restart. With that said, Toronto will re-sign DeRozan just shy of a max deal to make room for other free agents.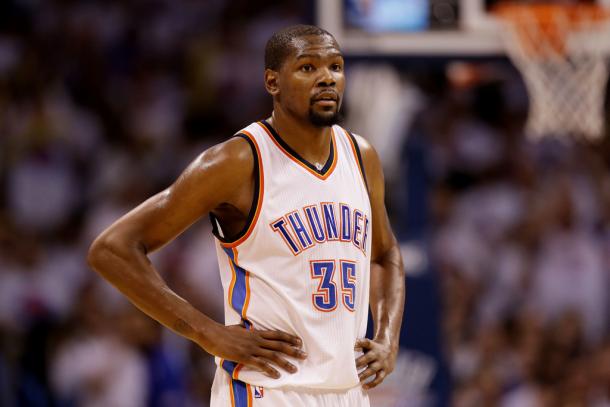 Jason's Predictions
Kevin Durant (Oklahoma City Thunder):
I think he goes back to the Oklahoma City Thunder on a one-year deal. Next summer he and Russell Westbrook can then choose their destination together. Also, that will make Durant a 10-year veteran, and 10 years with the same team, which will allow him to sign for the biggest max contract the NBA collective bargaining agreement allows.
Ryan Anderson (New Orleans Pelicans):
The Sacramento Kings. Ryan Anderson gets to go home. He grew up about 35 minutes from downtown, Sacramento. He just bought a house in Los Angeles (because if you are a California kid and money is no object- where else are you going to live?). The Kings tried to trade for him during each of the last two seasons. Now, they just got to pay up for him (and they will).
Dwight Howard (Houston Rockets):
The New York Knicks. My least favorite player joins my least favorite team to play with Derrick Rose and Carmelo Anthony, forming a core that can contend for a title… unfortunately, it's the 2010-11 title...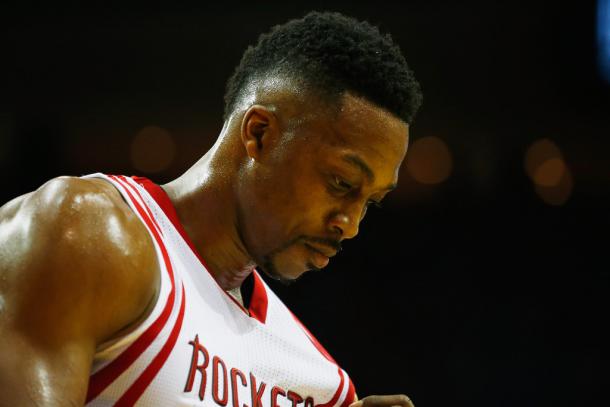 Youssef's Predictions
Kevin Durant (Oklahoma City Thunder):
Plenty of rumors have been swirling about where Kevin Durant will land. At this point, it honestly feels like he's agreed to meet with every single team in the NBA (apart from the Houston Rockets, who've had a major interest in him since the end of the season, of course). As of now, he is going to meet with the Oklahoma City Thunder, Golden State Warriors, San Antonio Spurs, Miami Heat, Boston Celtics, and Los Angeles Clippers. He is also considering meetings with the New York Knicks and Rockets. Here's a ranking of those possible destinations from least to most likely: Houston, Los Angeles, New York, Boston, San Antonio, Miami, Golden State, Oklahoma City. That's right, as of now, it still looks like he'll stay. Despite rumors that he is on bad terms with Westbrook, they are very close friends. This is also a team that he knows he fits well in and is close to a championship; they were one game of making it to the Finals this past year. The amazing trade they were able to pull off for Victor Oladipo (who fills their hole at shooting guard and/or a solid scorer off the bench), Ersan Ilyasova, and the number 11 pick Domantas Sabonis shows that they're still committed to making the team better to win that trophy they've gotten close to for so many years. That is why he will opt to stay.
Nicolas Batum (Charlotte Hornets):
After having many solid seasons in Portland, Batum had quite possibly his best with the Charlotte Hornets last year. Now, he is the best small forward free agent behind Kevin Durant and has become many teams' priority as they realize they won't have a chance on KD. These teams are the Hornets, Rockets, Washington Wizards, Knicks, Lakers, and Warriors. Final player, drumroll, please. The ranking goes Knicks, Lakers, Hornets, Wizards, Rockets, and Warriors. He doesn't seem to be extremely interested in New York or LA. The Hornets wish they can resign him, but it looks like he wants to find a new home. Washington's a favorite, but he won't have a great chance to win there, and he will realize that. The same can be said about Houston, but if they land another solid free agent, the chances are much better. That's a big if, but let's be optimistic. Still, he will join the Warriors. Durant won't go to Golden State and so they will use the money they get from Harrison Barnes' leaving to get Batum. He is a more reliable version of Barnes on both ends of the floor and his shot won't fail the team in the Finals. They can put him on the likes of Durant and LeBron James when Andre Iguodala is on the bench so that Thompson can focus on their opponents' secondary scoring options. He will be able to help the team reach the Finals once again and possibly even win.
Hassan Whiteside (Miami Heat):
Hassan Whiteside burst into the league two years ago when he was recording crazy amounts of points, rebounds, and blocks. Now, he is possibly the most coveted center in free agency, and might've rivaled Durant if it weren't for his silly attitude (which this writer finds hilarious). A lot of teams would love such a dominant big man, and his suitors as of now are the Los Angeles Lakers, Portland, Trail Blazers, Dallas Mavericks, Celtics, Heat, and Rockets. Another long list, much like Durant's. So where will he end up? Sorry Heat fans, but it looks like he's not staying in Miami. He has gotten into plenty of arguments with head coach Erik Spoelstra and looks like he wants out. Here's the ranking for Whiteside's possible destinations: Miami, Portland, Houston, Boston, Los Angeles, and Dallas. Yep, that's right, Whiteside goes to the Big D to make life even harder for Houston. Portland would be interesting, but would he want to go to a smaller market? At this point, barely anybody wants to play with Harden. The Celtics' history doesn't seem like a major priority for Whiteside. He would be a great fit in the City of Angels but he will have to wait for the rest of the team to improve if they even do. The Great Manipulator Mark Cuban will find a way to convince him to go to Dallas and he will become part of an amazing inside out duo between Nowitzki and Whiteside.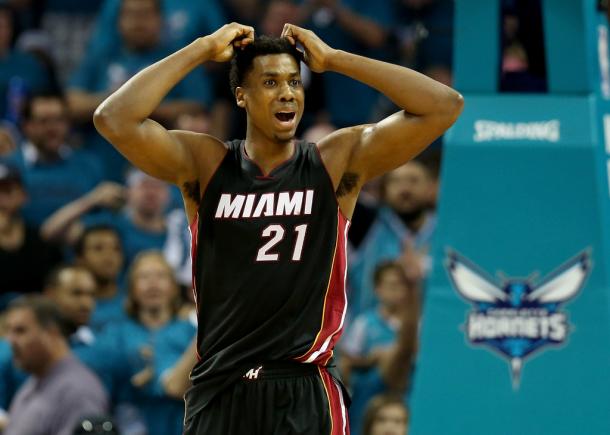 Chris's Predictions
Kevin Durant (Oklahoma City Thunder):
After looking into the Kevin Durant situation for an article earlier this offseason, it was interesting to see his fit with the Golden State Warriors. The fit is unquestionably there, as the things the Warriors lacked at the most are what he is best at. The Warriors needed A. Someone to guard LeBron, B. Someone who can score consistently, and C. Someone who can score in the paint. Kevin Durant can do all of those things extremely effectively, and the Warriors are already championship contenders. While he could re-sign in Oklahoma City, it seems like Golden State may be a better spot for his championship hopes.
Joakim Noah (Chicago Bulls):
Joakim Noah is an interesting player, who could fit several different teams. The team that he would be the best fit with and should sign with is the New York Knicks. The Bulls are in sell mode right now, and letting a lot of their key guys go, including Derrick Rose. Noah and Rose had a good friendship in Chicago, and that might be enough to convince him, along with being the fourth of five pieces in the starting puzzle, to go to the New York Knicks.
Chandler Parsons (Dallas Mavericks):
Chandler Parsons has much fewer options than most free agents, at least as far as rumored destinations go. One of them still makes sense, though, and could be a good spot for him. The Los Angeles Lakers. The Lakers have Ingram and Randle, two young guys at the forward spot, and D'Angelo Russell at the two spot also (at least for now). Parsons would be a solid sixth man, a reliable veteran, and should any of the three of them get injured, he could step in and fill their roles on the team.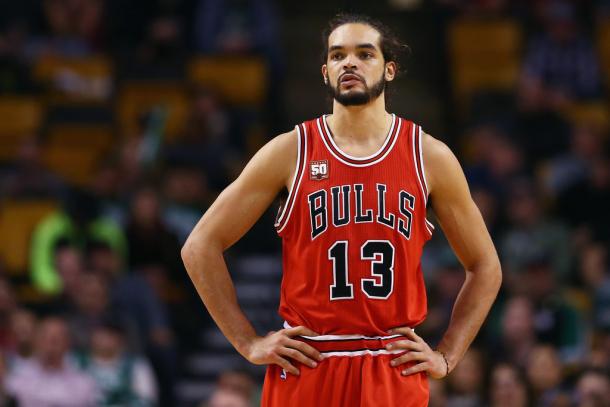 Phillip's Predictions
Kevin Durant (Oklahoma City Thunder):
Kevin Durant has already planned out all of the times that he wants to have meetings with, but how many teams is he seriously considering? OKC still seems like the top team after trading Serge Ibaka for Victor Oladipo, Domantas Sabonis, and Ersan Ilyasova. Golden State should be the only other team that he should consider because they can keep their core three with him as well. Durant made it to the conference finals last season and was up 3-1 on the Warriors before having an epic collapse. The Thunder have improved where they needed and that should make staying all that more attractive. With all of this into consideration, my prediction for Durant is OKC as a two-year contract with a player option to go back into free agency in 2017 if they still can't get over the hurdle of the Western conference.
Al Horford (Atlanta Hawks):
Horford is one of the more intriguing free agents in the market. He's been an all-star for four seasons and is in the declining years of his career at 30 years of age. His offense game is tremendous and he's just Mr. Consistent on the court. His game won't wow you but he's been the best player on a mediocre Hawks team for years. If he is considering leaving Atlanta, the only real team that could suit him is Boston. You can surround him with young talent and a tremendous all-star guard in Isaiah Thomas, then you could really give Kevin Durant a pitch to come to Boston to form a big three with a few guaranteed lottery picks in the coming years. That's why my prediction for Al Horford is the Boston Celtics.
Pau Gasol (Chicago Bulls):
Pau Gasol could play for any team that he wants and has a game to fit many teams as well. His post-game is still better than most players and he is a veteran guy that could impact the game on the defensive side of the floor as well. He knows how to win championships and probably wants to have a shot at winning more with just a few great years left in him. Chicago couldn't give him that opportunity after Derrick Rose became injury prone and they are now in total rebuild mode it seems. New York has been heavy after him because they really want a passing big man down low to feed to Melo and Rose. The best fit for him would be the San Antonio Spurs, they have two great players in Kawhi Leonard and LaMarcus Aldridge, they also have the greatest coach in basketball. My prediction would be the Spurs because with Gasol they could still sign Mike Conley and arguably have the greatest starting five in the NBA with Mike Conley, Danny Green, Kawhi Leonard, LaMarcus Aldridge, and Pau Gasol or Tim Duncan.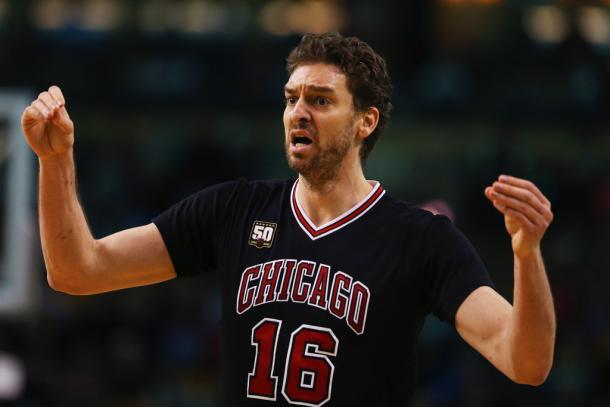 That concludes our roundtable discussion on this year's top free agent class. Stay tuned to July 1, where the free agency period begins and the madness that comes with it.
Other Notable Free Agents (Likely to re-sign with current team)
LeBron James, Dwyane Wade, Andre Drummond, Bradley Beal, Tim Duncan, Dirk Nowitzki, Jordan Clarkson, and Harrison Barnes