When the Memphis Grizzlies inked point guard Mike Conley to the richest long term deal in NBA history, twitter accounts and basketball-nerds galore raised a collective eyebrow. It was, in fact, an element of the league's epic salary cap hike this summer, but Conley is still the NBA's highest paid player.
Now, however, Memphis' $153 million man has been dealt a sizeable blow -- as have the Grizzlies themselves.
On a third quarter collision during a loss to the Charlotte Hornets on Monday night, Conley injured his back. Today it was announced that Conley's injury was rather serious, and that he would be out "indefinitely" with what is called a traverse process fracture.
Conley's timetable has been clarified as 6 to 8 weeks, but the point guard could be out even longer.
Mike and his back were playing well, too
Conley, 29, has had a lights-out start to the 2016-17 season. In 17 games he is averaging 19.2 points -- 5.5 higher than his career average -- 5.7 assists, 3.6 rebounds, and 1.4 steals per game. His three point shooting has improved drastically, too -- he is tied for third in the league with sharpshooter J.J. Redick.
Conley also boasts a solid PER of 23.6, which slots him in the top 25 in the league.
Besides the glaring fact that Conley is the catalyst of the Memphis offense -- one of the slower-paced systems in the NBA -- his usage and efficiency will be missed greatly. The only other point guards on the Grizzlies' roster are Andrew Harrison and Wade Baldwin IV, who have a combined age of 42. The Grizz drafted Baldwin out of Vanderbilt in the first round of the 2016 Draft, but to carry the ball-handling load for an NBA team desperate for perimter presence is a lot to ask.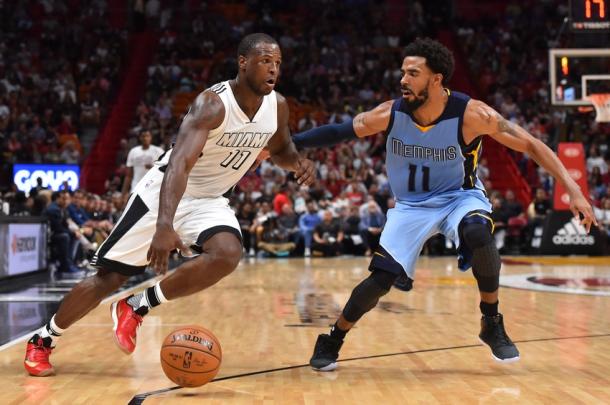 Help!
Speaking of perimeter presence, Chandler Parsons, who Memphis acquired in free agency, is still inactive with a lingering knee injury. Besides him, the Grizzlies outside shooting and ball-handling will be mostly taken over by James Ennis, Troy Daniels, Troy Williams, and the ageless Vince Carter.
We'll mention Tony Allen too, but -- uhhhhh -- he can't really shoot the ball. "The Grindfather" can still defend, though!
The Grizzlies are not doomed to dwell in western conference purgatory, however. Marc Gasol will keep them afloat, but Memphis is poised to enter a dogfight to try and snatch a playoff berth. That being said, their offense will struggle without Conley -- he just does too much on the court.
The Grizzlies will think about reeling guards out of the league's murky free agent pool. They could re-sign Mario Chalmers, who they released in the summer after he tore his achilles. They might even try and bring back a veteran like Jarrett Jack or Pablo Prigioni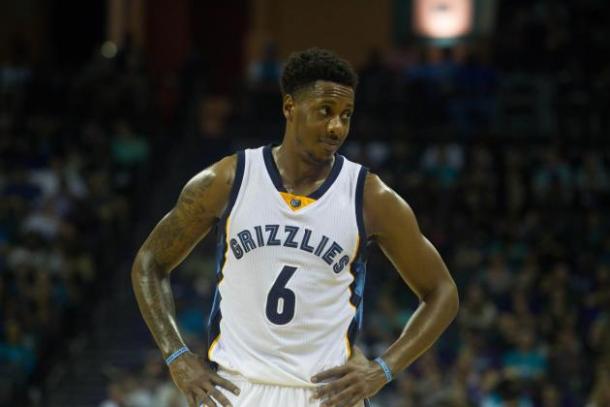 .
Immediate future
With an 11-7 record so far, the Grizzlies are stuck in the sludge of mid-range western conference playoff teams. They are half a game out of 4th place and 2.5 ahead of 8th. Memphis' immediate upcoming schedule looks like this:
Wed Nov 30 @ Toronto Raptors (11-6)
Thu Dec 1 - Orlando Magic (6-11)
Sat Dec 3 - Los Angeles Lakers (9-9)
Mon Dec 5 @ New Orleans Pelicans (6-12)
Tue Dec 6 - Philadelphia 76ers (4-14)
Thu Dec 8 - Portland Trail Blazers (9-10)
The first six games without Conley might not be so bad, but after four home games against .500-or-lower clubs, the Grizzlies schedule gets much dicier. They have to keep up without Conley for about two months -- first-year head coach David Fizdale has a huge test ahead of him.
Hopefully, Conley can come back soon. He has continuously become more and more fun to watch, and he's one of the NBA's more underappreciated players. For now, though, all the Grizzlies need to do is keep treading and stay afloat.