The Minnesota Timberwolves (10-21) picked up their 10th win of the season on Monday night as they defeated the Atlanta Hawks (16-17) 104-90 to sweep the season series between the two teams.
Howard Returns from Injury
Dwight Howard got the start for Atlanta after being out for the last few games with an injury, and picked up 11 points in the first half, despite picking up two personal fouls within the first three minutes of the first quarter, but head coach Mike Budenholzer decided to leave him in the game. He finished with 20 points and 12 rebounds for his 19th double-double of the season.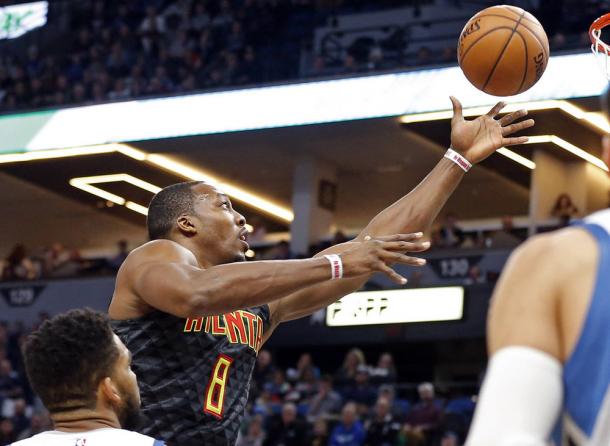 Dennis Schroder, who had been tied for the team lead in points per game was held to just six points in the first half and went 0-2 early before finally sinking a shot partway through the first quarter. He finished the game with just eight points.
Five Wolves Score in Double-digits
Karl-Anthony Towns was the bright spot for the Timberwolves, as he scored 18 points in the first half, including 15 points in the first quarter alone. He went 8-8 from three-point range in the game, while Zach LaVine scored 21 points, going 6-9 from three-point range. This was his 12th career game with five-plus three-pointers.
The Timberwolves went 15-31 from behind the arc during the game, including a stretch during the third quarter where it seemed like they couldn't miss a three-point shot, including three straight bombs from Wiggins, who came alive in the second half after a slow start in the first two quarters.
Gorgui Dieng contributed 14 points for Minnesota, while Andrew Wiggins had 21 points for the Timberwolves. Shabazz Muhammad added 12 points to make it five Timberwolves who scored in double digits. Ricky Rubio added 10 assists, but more importantly had no turnovers, extending his streak of turnover-free action to 67 minutes and 40 seconds.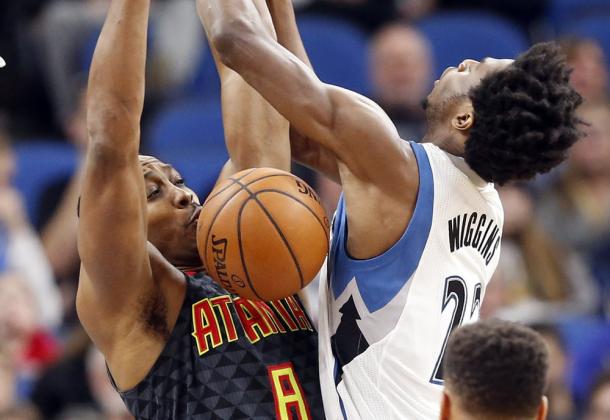 Howard led the Hawks with 20 points, while Thabo Sefolosha added 13, Kyle Korver added six points in his first game back from an undisclosed illness that kept him out of their last game. Kris Humphries contributed 12 points in a losing effort for the Hawks, who have been the definition of a .500 team this year, as they beat the good teams while losing to teams who they should really blow out.
Upcoming Action
The Timberwolves will next be in action on Wednesday when they travel to Denver to take on the Nuggets.
The Hawks, meanwhile, will return to Atlanta for a three-game homestand that will see them host the New York Knicks, the Detroit Pistons, and the San Antonio Spurs.