The Brooklyn Nets fought until the end but could prevent the Milwaukee Bucks from giving them their 14th straight loss and their 16th straight home loss.
Brook Lopez Begins Game Shooting Lights Out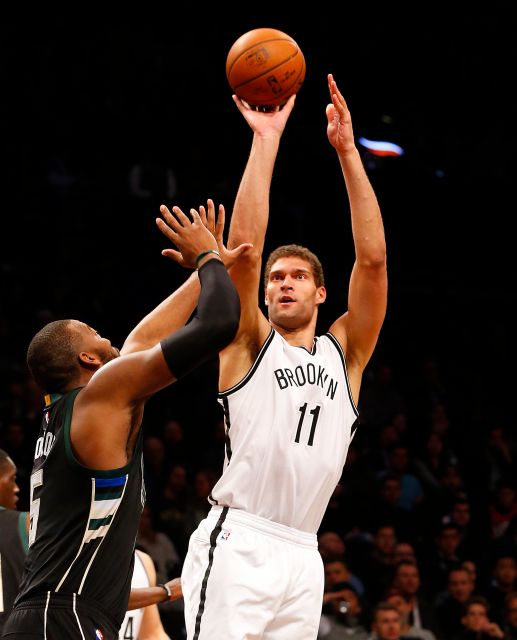 Brook Lopez converted on three three-pointers in the opening four minutes of the contest. He finished the first frame with 12 points while Bojan Bogdanovic contributed with 10 early points.
For the Bucks, Greg Monroe came off the bench to drop 12 points of his own. Milwaukee outscored their opponents 39-33 and shot 73 percent from the floor.
Giannis Antetokounmpo Causes Havoc in Second Quarter but Nets Stay Close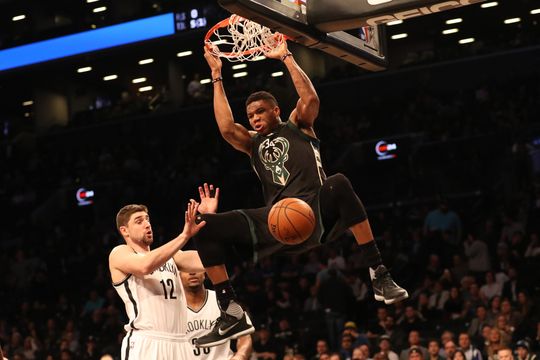 Giannis Antetokounmpo had his way scoring in the paint. He scored 11 points while the Nets showed no signs of being able to slow him down. Lopez continued his offensive momentum going and scored 10 more points. He helped his team cut the Bucks lead to two points heading into halftime.
Nets Commit too Many Turnovers
Brooklyn committed eight turnovers in the third frame after having six at halftime. The Bucks converted those turnovers into points after starting the frame on a 14-4 run. They outscored the Nets 33-22 and extended their lead to 13 points.
Brooklyn Fought Until Final Seconds
The Nets hit back-to-back threes from Spencer Dinwiddie and Lopez to cut the Bucks lead 117-115 with three minutes remaining in regulation. Antetokounmpo countered with a mid-range shot over Lopez and followed it with an assist made to an open Monroe in the paint. Dinwiddie then scored four straight points to cut the Bucks lead to two points. Once again Antetokounmpo rose to the occasion and scored a basket with 47 seconds left in the game. Khris Middleton sealed the deal at the free-throw line with two clutch shots.
Top Performers
Brooklyn Nets
Lopez concluded with 36 points and eight blocks. Dinwiddie scored a season-high of 19 points which included 15 points in the fourth quarter. Bogdanovic tallied 14 points and Trevor Booker who was questionable to play due to a knee injury scored 18 points and grabbed five rebounds.
Milwaukee Bucks
Antetokounmpo finished with 33 points, nine boards, and four steals. Monroe summed up 25 points and Middleton had 20 points. Guards Matthew Dellavedova and Tony Snell scored 10 points apiece.
Quotes
Nets head coach Kenny Atkinson had high praise for his center and said "Brook was a monster. It's impressive. His spirit, attitude and how he approaches every day. He deserves applause from his teammates."
Bucks head coach Jason Kidd talked about the importance of Middleton and said "It just shows how much we missed Khris in the close games coming down the stretch being able to put the ball in his hands. I thought down the stretch we scored every time. Giannis, Khris and then Giannis again."
When asked about their third straight win, Antetokounmpo said "It feels good. We wanted this game and having Khris back, it feels great. We're building momentum right now, so when we come back we gotta keep building that momentum and play hard."
Other Things to Note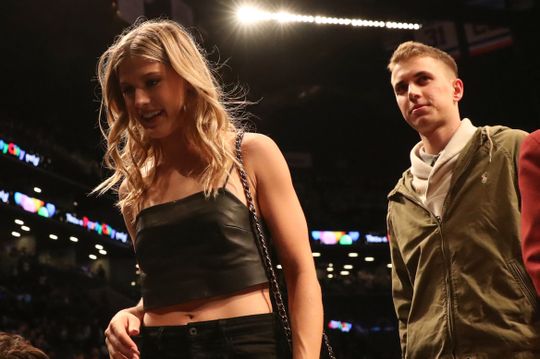 -Lopez became the first player in NBA history to finish with six three-pointers and record eight blocks.
-Jeremy Lin is expected to return from his left hamstring injury in the Nets first game after the All-Star break. He last played on Dec. 26.
-Tennis star and Sports Illustrated Swimsuit Model Genie Bouchard was in attendance with her date John Goehrke after losing a bet. Goehrke, 20, asked Bouchard for a date on Twitter if the New England Patriots would win the Super Bowl, which they did.
Up Next
Brooklyn will head into an eight-game road trip when they return from the All-Star break. Their first game will be against the Denver Nuggets on Friday, Feb. 24th, at 9:00 p.m. E.T.
Milwaukee will return home to host the Utah Jazz on Friday, Feb 24, at 8:00 p.m. E.T.