 The Atlanta Hawks were active in the twenty-four hours leading up to the NBA trade deadline on Thursday, engaging in trades with both the Philadelphia 76ers and Phoenix Suns. Sources also indicate that the Hawks were in discussions for several bigger deals, but they were unable to agree on anything.
On Wednesday night, it was reported that Atlanta had acquired veteran forward Ersan Ilyasova from Philadelphia in exchange for Tiago Splitter, a second-round pick, and another second-round pick swap. Then, just minutes before the 3:00 PM ET deadline arrived, the Hawks traded out-of-favor forward Mike Scott to the Suns in exchange for cash considerations.
These moves leave the Hawks with two open roster spots, one of which will surely be filled in the next week. Coach Mike Budenholzer has already stressed the need to bring in a third point guard, and it has been reported that they could target veteran Deron Williams after he is bought out by the Dallas Mavericks.
Ilyasova a Solid Fit
The 29-year-old Turkish big man fills a need for Atlanta, who have struggled to shoot the ball from deep and also lacked quality bench big depth. He has averaged close to 15 points and six rebounds per game this season, and should slot right in as the backup power forward behind Paul Millsap.
Heading the other way in the deal is Tiago Splitter, a player the Hawks wish saw significantly more playing time than he did. He has missed 89 straight games due to various leg injuries and played only 36 total games in Atlanta after arriving from the San Antonio Spurs. He had the potential to be a useful piece for the Hawks but simply could not bring himself back to full health.
Splitter is a definite buyout candidate for a young Sixers team with plenty of frontcourt players, but it is also possible that he sticks around as a mentor for guys like Joel Embiid. The 76ers also received a 2017 second-round pick via Miami and the right to swap their second-round pick via Golden State with the Hawks. It is important that the Hawks held onto their second-round pick via Brooklyn because that pick will almost surely be the 31st overall in the draft.
A Farewell for Mike Scott
The previously longest-tenured Hawk, Scott will now attempt to revitalize his career in Phoenix. He showed flashes of scoring potential in the 2013-14 season, but an arrest related to drug charges and injuries have affected his ability to provide consistent production. He has recently fallen out of Coach Budenholzer's rotation, and this move makes sense as Ilyasova was brought in.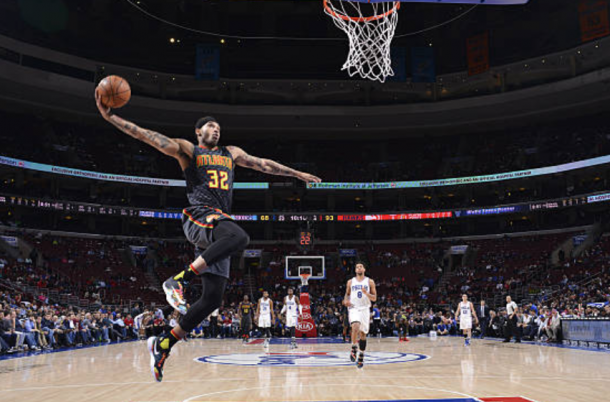 The Suns will likely give Scott a chance to produce, but they only had to sacrifice cash considerations in the process. This move says more about the Hawks, who will use the extra roster spot to sign another guard for the stretch run.