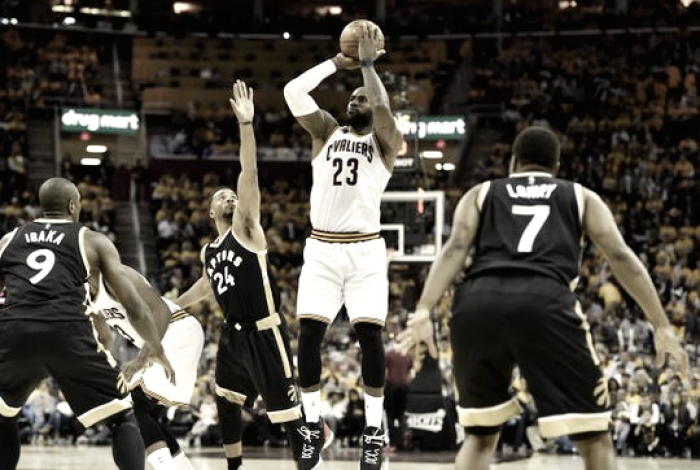 The Cleveland Cavaliers remain undefeated in this year's postseason and defeated the Toronto Raptors with ease for a second straight game.
Cavs Start Game on Fire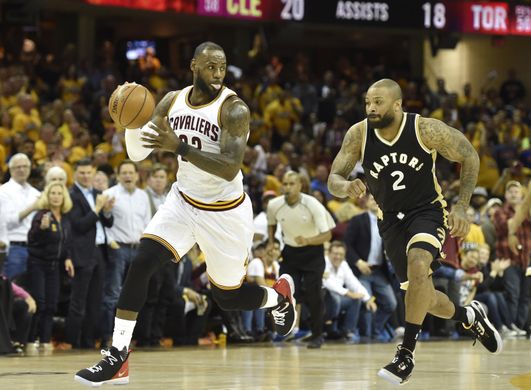 Cleveland began the game shooting lights out and made 12 of their first 17 shot attempts, which included being 5-of-5 from beyond the arc. They found offense from everywhere and their free throw shooting was also on point, converting on 5-of-6. For Toronto, they struggled to find any type of scoring except for one player. Jonas Valanciunas came off the bench to score 10 points on 5-of-6 shooting. As a team, the Raptors shot 42 percent from the field and did not attempt a single free throw in the opening period. At the end of the first 12 minutes, Toronto trailed 34-22.
James Pushes Cleveland's Lead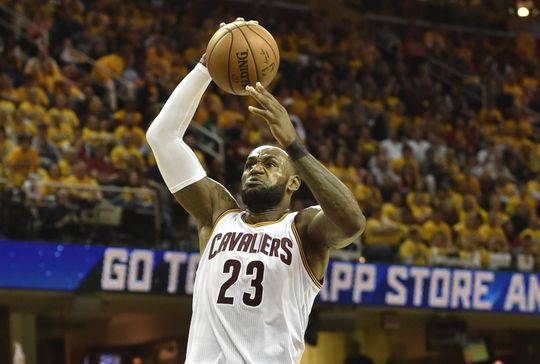 LeBron James scored 15 points in the second stanza of the game. From attacking the rim and making consecutive shots from downtown, James was doing it all. The Cavaliers made three more three-pointers in the opening minutes of the second quarter to give them a perfect 8-of-8 start from beyond the arc. Meanwhile, Valanciunas continued carrying the offense for Toronto and shot 4-of-4 in the period to earn nine more points. The raptors missed their final five shots of the period and by halftime, Cleveland increased their lead to 14.
Lowry Suffers an Injury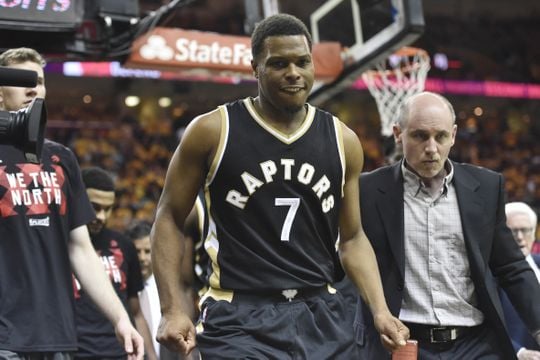 Norman Powell collided with teammate Kyle Lowry and fell on Lowry's left leg during the 11:33 minute of the third frame. Lowry struggled to get back to his feet at first and when he rose up, he went to the locker room to get evaluated. It was later revealed he suffered a left ankle injury. Lowry managed to play through it for a few minutes before getting sent back to the locker room.
Cleveland Continued to Dominate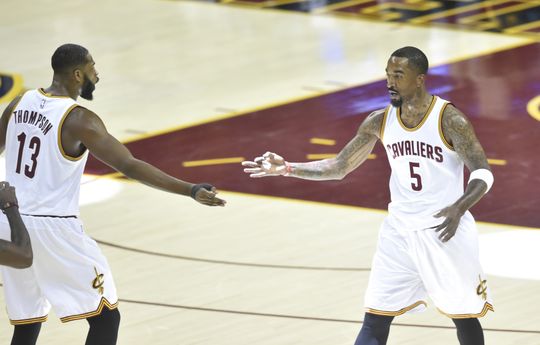 The Cavaliers did not slow down in the second half and continued dominating their opponents. They had their highest scoring quarter in the third and dropped 37 points. Toronto scored one point and did not convert on a field-goal in the last 4:10 minutes of the third frame. During the final 12 minutes, both teams emptied their benches.
Top Performers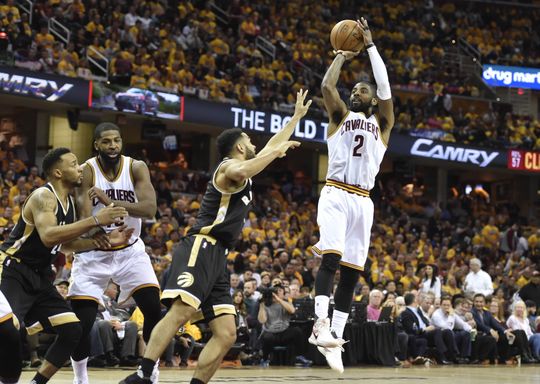 Cleveland Cavaliers
James led all scorers with 39 points and made 15 of his 21 free throw attempts. Kyrie Irving notched a double-double with 22 points and 11 assists. Channing Frye added 18 points off the bench and shot 5-of-7 from downtown.
Toronto Raptors
Valanciunas finished with 23 points. Lowry added 20 points and Cory Joseph contributed with 22 points off the bench.
Quotes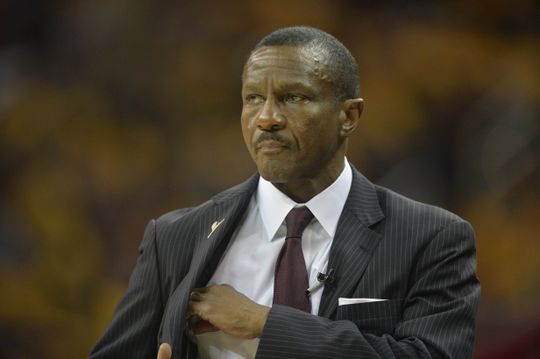 When asked about the blowout loss, Raptors head coach Dwane Casey said, "We should be angry, we should be mad, we should be pissed off."
He was then asked about his thoughts regarding the series shifting to Toronto, and said: "The Optimism I have is last year we lose by 30 [points] here, and everybody had knocked us off as done, and said it's over with. I don't believe in that, I don't subscribe to that. I believe in our players, I believe in our guys, I know there is another level we can get too and I've seen it before. That's the optimism I go back to Toronto with."
Lowry was asked about his ankle during the postgame interview and said "It's pretty sore right now, but it's whatever." He then added, "I'm going to get treatment and get ready for Game 3."
Other Things to Note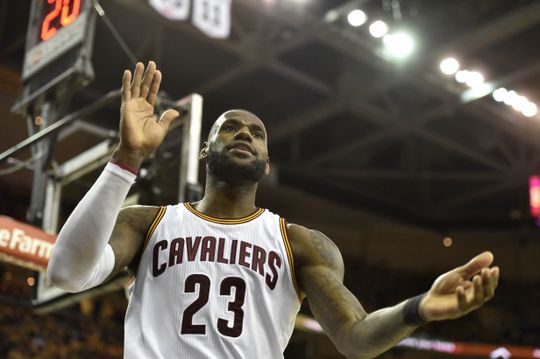 -LeBron James passed Kareem Abdul-Jabbar for second place on the NBA's all-time playoff scoring list with 5,777 points. Michael Jordan owns the first place spot with 5,987.
-DeMar DeRozan missed his first nine shot attempts and recorded his first field-goal in the fourth quarter. He finished 2-of-11 from the floor.
-The Cavaliers have won 12 of their last 13 playoff home games. They also have a 16-1 home game record vs. Eastern Conference teams since 2015.
Game 3 Details
The series will shift to Toronto for games three and four. Game 3 will be on Friday, May 5th, at 7:00 p.m. E.T. The game will be televised on ESPN.