 Dwyane Wade's days in a Chicago Bulls uniform could come to an end soon. ESPN's Nick Friedell reports that the team and the future Hall-of-Fame shooting guard expect to reach a buyout agreement within the coming months. Should both sides reach an agreement, Wade's departure would mark the final step in the teardown of the Bulls.
Will a Deal Get Done?
Rumors of a possible buyout started swirling shortly after the Bulls traded Jimmy Butler to the Minnesota Timberwolves in one of the most lopsided swaps in recent history, and cut point guard Rajon Rondo. Wade picked up the player option on his two-year deal before the Bulls management transitioned into rebuild mode. Shortly after Wade chose to stay in Chicago, Friedell reported that a buyout seemed unlikely, with Bulls Executive Vice President of Basketball Operations John Paxson stating that such a move would have to be "advantageous" to the team. Head coach Fred Hoiberg also expressed doubts in the team and Wade parting ways.
There is no hard deadline for both parties to reach an agreement. However, veterans usually get bought out before Mar. 1 in order to remain eligible for the playoffs. This obviously opens the door for Wade to leave Chicago and play for a contending team.
Not Done Yet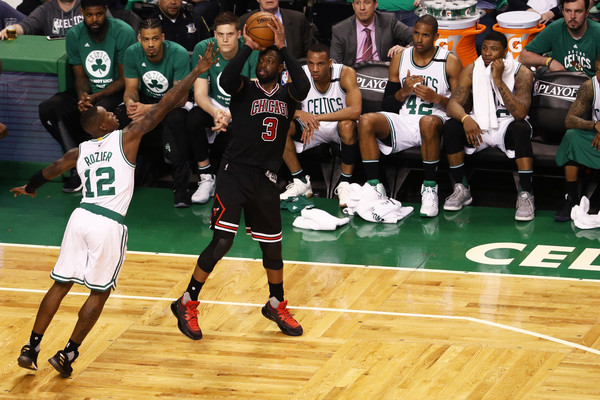 After 13 seasons with the Miami Heat, Wade signed a two-year deal to return to hometown Bulls in 2016. Although he was far from the player who made 12 consecutive All-Star appearances, Wade was productive on an ill-fitting Bulls team, averaging 18.3 points with a .434/.310/.794 shooting line. While he posted his lowest Player Efficiency Rating (PER) since his rookie campaign (18.5), it was still better than league average. At age 35, the former fifth overall pick still has enough in the tank to help out a playoff team.
What Now for the Bulls?
As for the Bulls, letting another above average at worst player leave for greener pastures only serves to improve their chances at nabbing a top lottery pick. With or without Wade, this team was going to struggle to win 20 games, let alone make the playoffs. The team is looking toward the future and whether he stays or not, Wade isn't part of those plans.