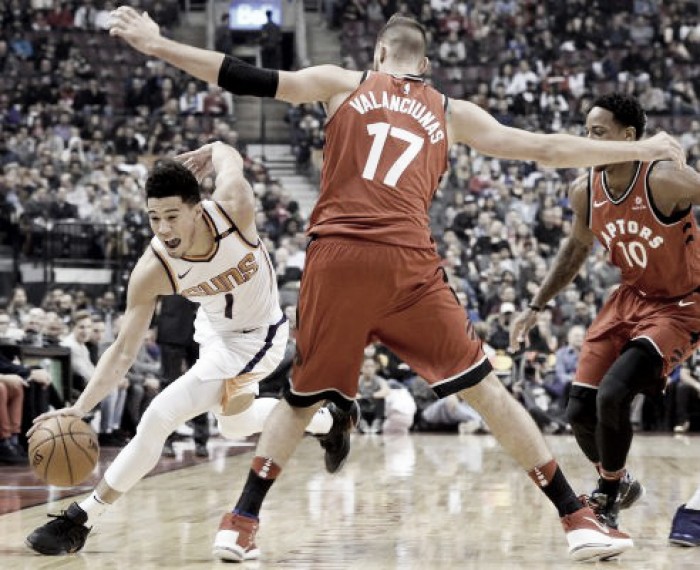 The Phoenix Suns have announced that star guard Devin Booker will be out two to three weeks with a left adductor strain.
Suns: Devin Booker expected to miss two-to-three weeks with left adductor strain.

— Adrian Wojnarowski (@wojespn) December 6, 2017
The Suns confirmed the news on their official Twitter account and by Suns general manager Ryan McDonough broke the news on 98.7 FM Arizona's Sports Station's Burns & Gambo.
BOOKER INJURY UPDATE: Phoenix Suns guard Devin Booker sustained a left adductor strain in the fourth quarter of Tuesday night's game at Toronto. Following further evaluation and an MRI, his expected recovery time is approximately two to three weeks. pic.twitter.com/NSKLIOssoi

— Phoenix Suns (@Suns) December 6, 2017
Booker suffered the injury on Tuesday night's defeat against the Toronto Raptors. With 2:40 left in the fourth quarter, Booker was defending against Raptor guard Fred VanVleet. Booker grabbed his groin immediately and froze at midcourt. Following trainer evaluations, Booker was carried off the floor and sent to the locker room.
Booker finished the night with 19 points, five rebounds and eight assists in 39 minutes of play. Booker is averaging 24.3 points, 4.1 assists and 4.6 rebounds per game this year.
Booker will be missed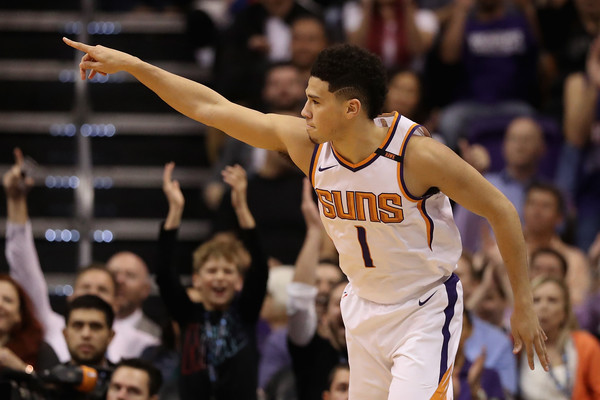 Now in his third season, Booker's production will definitely be missed and will impact Phoenix.
Booker leads the Suns (9-17) in points per game (24.3), minutes per game (34) and is in the top five in key statistical categories.
Phoenix could turn to rookie Josh Jackson or Troy Daniels to start in Booker's absence.
"I think Josh Jackson will be thrust into a bigger role. I think Josh has played pretty well lately, especially on the defensive end of the floor." Suns general manger McDonough the Burns & Gambo Show.
In his rookie campaign Jackson is averaging 9.2 points, 1 assist, and 3.5 rebounds per game.
The Suns play the Detroit Pistons Thursday night at home.