 The Phoenix Suns have waived fan favorite and local product Alan Williams. Williams had two more years left on his contract and was slated to make $5.5 million next season with a team option for the same amount in 2019-20.
With the selection of center Deandre Ayton first overall and veteran Tyson Chandler behind him, Williams was relegated to third-string center.
Williams is a casualty of the free agent signing Trevor Ariza. With an abundance of forwards on the roster and with his play limited due to an meniscus injury, the Suns could not find a place on the roster for the big man.
The release of Williams frees up that $5.5 million in salary cap space and would put the Suns slightly below the cap.
Unknown to fan favorite
The 25-year-old Williams signed a 10-day contract with the Suns in March of 2016 and 10 days later was signed to a multi-year deal through the 2016-17 season.
When given the opportunity, Williams would impress both the fans and the organization. Williams averaged 17.6 points and 14.8 rebounds per 36 minutes. He starred in a second unit with point guard Tyler Ulis at the end of the season, giving the team a shot of adrenaline that made them one of the league's best offenses for the first few weeks after the All-Star break.
"Big Sauce," a local product who went to North High School in Phoenix, Arizona, quickly became a fan favorite because of his energy both on and off the court and was the reason for Suns fans to look to the bench whenever there was a big play so they could see his celebration.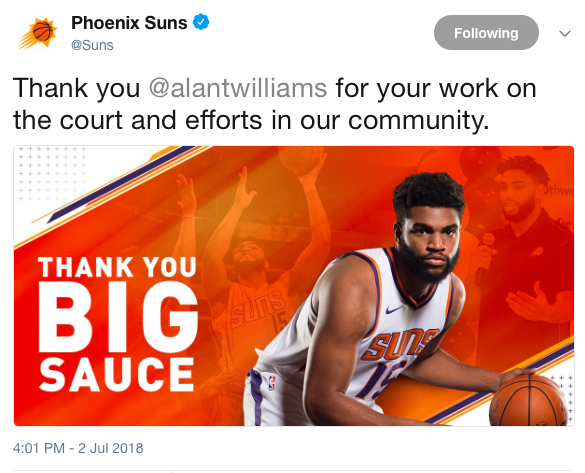 Williams garnered interest from the New York Knicks as a restricted free agent in the summer of 2017. Ultimately, Williams re-signed with the Suns for a three-year deal.
Phoenix could re-sign Williams to a smaller deal if he clears waivers in two days. He would be a great person to have on the roster for power forward depth.