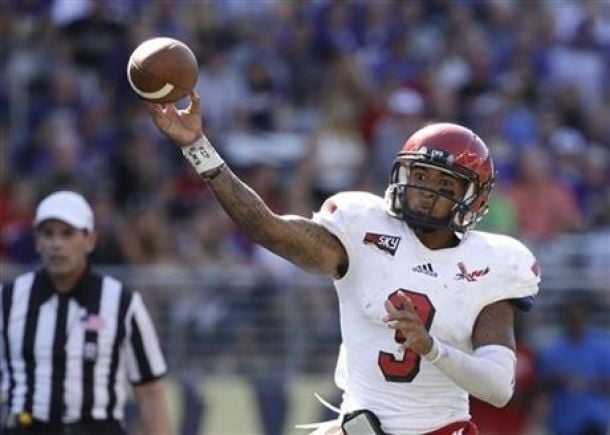 The NFL Draft is one of the most exciting times of the sports year. There's non-stop drama, plenty of unpredictability and big name players are always involved. These same traits apply to college football throughout the year. There is still a lot of uncertainty surrounding many college football rosters entering the 2015 season, but there are also plenty of players already set to take over teams and lead them to great success. This is a preview of some of these future stars and champions.
Vernon Adams, QB - Oregon
Vernon Adams is not a career Duck like his predecessor, Marcus Mariota, but is instead coming to Eugene after several years with FCS powerhouse Eastern Washington, via the graduate transfer rule. (Interestingly enough, these schools will kick off the season against each other in 2015). Mariota will be nearly impossible to replace, in numerous ways, but Adams' skill set will allow him to succeed with the Ducks.
Adams has innate arm talent and running ability, two characteristics which will prove vital to him succeeding under Mark Helfrich at Oregon. It can sometimes seem impossible to compare FCS players and talent to that in FBS, but Adams is certainly capable of succeeding at both levels. It will also help that Oregon is going to have a plethora of weapons surrounding Adams, including studs at both running back and receiver. The backfield duo of Royce Freeman and Thomas Tyner, combined with outside weapons such as Darren Carrington and Devon Allen, is going to be a force throughout the 2015 season. Adams' natural talent, along with help from the great players throughout the Oregon roster, will make him a household name this coming season.
Nick Chubb, RB - Georgia
Admittedly, this one is a bit of a stretch, because Chubb already has proven that he can dominate games. In his freshman season in 2014, Chubb filled in admirably for Todd Gurley; he rushed for over 100 yards in each of the Bulldogs' final 8 games, including one of the greatest performances in SEC history in their Belk Bowl victory over Louisville (33 carries, 266 yards, 2 touchdowns). Todd Gurley is a likely first round pick in this year's draft, and the crazy thing is that Chubb may be even better.
Georgia's strong offensive line allows for runners to be able to use patience to their advantage, waiting for a hole to open up before hitting it full steam ahead. This made Gurley, naturally more of an upright runner, look even better than he really is (not to short-change him at all; he's incredibly talented regardless of the offensive line ahead of him). Chubb is a big-bodied back with a low center of gravity, who can use overpower you on the ground in multiple ways. He can be patient and wait for a hole, or he can run over a defender with relative ease and keep running until an act of God slows him down. He's powerful on his feet and he also has tremendous speed considering his frame. He's a versatile, almost unstoppable back, at least at the college level. The last running back to win the Heisman Trophy was Mark Ingram in 2009; it's very possible that Nick Chubb is the next to win it.
Corey Clement, RB - Wisconsin
One of the most popular debates during the 2014 college football season and in the build up to this year's draft has been which running back is better: Todd Gurley or Melvin Gordon. Both players were great in college and will likely go on to very successful professional careers. Like at Georgia, Wisconsin has a stellar talent waiting in the wings in the backfield, and his name is Corey Clement.
Ron Dayne, James White, Montee Ball, Melvin Gordon, the list goes on. Wisconsin has run all over Big Ten defenses with their stellar tailbacks over the past 20 years. Thanks to a consistently massive and powerful offensive line, it's no surprise that the Badgers continue to produce fantastic running back production. Clement, Wisconsin's second leading rusher from 2014, is set to take Madison by storm this coming season. Size, speed, power, he's got all of the ability in the world to be successful and it will be expected of him, considering Wisconsin's miserable quarterback play as of late (the Badgers ranked 100 out of 128 FBS teams in passer efficiency rating last season). A strong offensive line and a dedicated running attack will help to propel Clement into super-stardom this season.
Kody Cook, WR - Kansas State
This pick may seem like it is coming out of left field, but Cook has the potential to become the next under the radar, high-effort, high-production receiver to star for Bill Snyder's Wildcats. With Curry Sexton graduating and the school's all-time best receiver, Tyler Lockett, headed to the draft as likely second or third round pick, Cook has a chance to make a name for himself and have a hugely effective season.
The Kansas State Wildcats completed 271 passes total in 2014; 185 of them were caught by the duo of Lockett and Sexton. Cook was 3rd on the team with 20 receptions last season, but he has the size and speed to be a true number one receiver for K-State. With a new quarterback and the same old system that Bill Snyder continues to win with, Cook will become a top target in the Big 12 very early in the season. The Wildcats have produced several NFL-caliber star receivers in recent years, including Jordy Nelson and the aforementioned Lockett; it wouldn't be shocking for Cook to have his name rise on several draft boards next offseason after a big year in Manhattan.