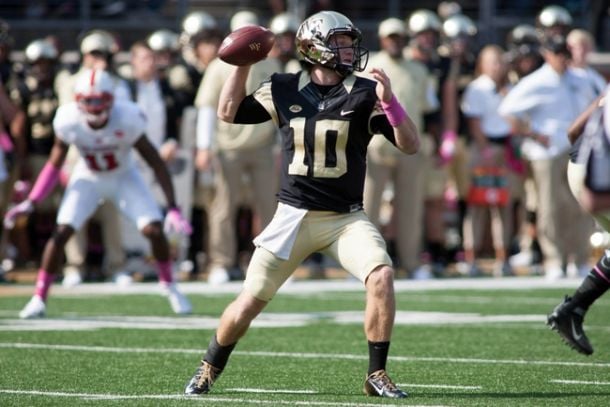 That'll do it for VAVEL College Football's coverage of this game. Thanks for joining us, I'm Jordan Hansgen signing off
10:58 PM Wake will have a bye week to focus on Notre Dame
10:57 PM 4 second half turnovers for Wake proved to be the difference in this one
4th 0:00 After another UL kneel, the game is over. Louisville wins 20-19. Stay tuned for more insight
4th 1:12 UL kneels again
4th 1:16 Timeout WF after a UL kneel
4th 1:17 Young forces a fumble and sack. That'll win the game for Louisville
4th 1:25 Hinton is sacked and it brings up 4th and 14. Timeout Wake
4th 1:31 Hinton throws the ball away. 3rd and 10
4th 1:38 Hinton in at QB, misses Serigne to his left
4th 1:42 Punt puts Wake at their own 18 to start this final drive
4th 1:55 Scott runs left and is stopped a yard short of the first. Timeout WF
4th 2:40 Smith tackled after 2 yards gained
4th 3:24 Smith gains 2
4th 3:32 Wolford throws another interception! This one to Wiggins
4th 4:06 Wake converts on a pass to Hines
4th 4:34 Bell on the run for a gain of 3. 4th and 3
4th 4:42 Wolford is hit and throws incomplete
4th 5:10 Colburn runs for 4 yards
4th 5:22 Louisville's FG is Blocked by Wake Forest. The Demon Deacons will start at the Louisville 45. Banks on the block
4th 5:33 Bolin avoids the rush but throws the ball away. 4th and goal from the 20
4th 6:14 Bolin is sacked for a loss of 12. 3rd and Goal
4th 6:52 Smith runs to the 8
4th 6:59 Timeout Louisville
4th 7:29 Smith again this time for 11 and first and goal
4th 8:11 Smith again for 3 yards
4th 8:48 Smith gets the first down. Ball at WF 23
4th 9:28 Smith catches the ball and gets 8
4th 10:10 Staples on the reception for another first down
4th 10:48 Smith on the run for 1 yard
4th Quarter Bolin is the fifth QB to play in this game
4th 10:55 Timeout Louisville
4th 11:32 Staples on the reception for a 19 yard pass
4th 12:13 Smith on the run, 5 yard gain
4th 12:46 Bolin in at QB, big run for UL to their 30
4th 12:54 Serigne misses the catch and it lands in Washington's hands for another Louisville interception. Block in the back on the return. UL ball at their 7
4th 13:42 Colburn runs up the middle for a 2 yard gain
4th 13:58 Wolford passes to Wade for another Wake first down. They are now on the UL 24
4th 14:16 Serigne gets the reception and moves down field to the UL 35
4th 14:54 Colburn on the run for no gain
3rd Quarter Louisville and Wake only have 77 total rushing yards
3rd 0:00 3rd quarter ends with a Louisville 20-19 lead
3rd 0:29 Wolford runs and pushes his way to a first down
3rd 0:37 False start pushes Wake back
3rd 0:37 Wolford misses Bell on the swing pass. 3rd and 7
3rd 1:11 Colburn on the run for 3 yards
3rd 1:17 Wake takes over at the 22 following the return
3rd 1:25 Louisville's FG is Good! They use the turnover to take a 20-19 lead
3rd 1:59 Scott on the draw and loses 1. 4th and 10 from the 22
3rd 2:38 Jackson runs left and loses 4
3rd 3:04 Scott runs left for 5 yards
3rd 3:17 Wolford in at QB. Throws towards Wade, who drops the pass and it lands in the Louisville defender's hands for an interception. UL at WF 22
3rd 3:29 Louisville punts. Wake will start at their 12
3rd 3:56 Bonnafon scrambles away and can only get 3 yards
3rd 4:03 Bonnafon misses the swing pass. 3rd and 24
3rd 4:40 Bonnafon runs for 4 yards
3rd 5:07 Smith with the run to the left, flag for chop block on the play will move Louisville back. Now 1st and 30
3rd 5:17 False start Louisville 1st and 15
3rd 5:17 Bonnafon in at QB, his throw is batted down, but pass interference gives UL the first
3rd 5:41 Jackson hit out of bounds by Chubb for no gain
3rd 6:04 Staples catches the pass for 7 yards and the first down
3rd 6:30 Jackson runs to the right for a gain of 3. 3rd and 7
3rd 6:36 Jackson goes deep but his pass is off 2nd and 10
3rd 6:45 Kinal punts. Louisville starts their drive at the 31
3rd 7:34 Bell carries the pile for a gain of 7, but not enough for the first
3rd 8:28 Wake's line got off the ball slow and Hinton was hit for a loss of 6
3rd 9:12 Colburn runs right for a gain of 1
3rd 9:42 Brent gets the reception off the Hinton rollout pass 1st down
3rd 9:49 Hinton goes deep again, but it's broken up. 3rd and 10
3rd 9:57 Brent can't catch the deep ball, offsides and off pass interference offset. Replay the down
3rd 10:30 Colburn gets back to the line
3rd 10:40 UL punts and it is downed at the inch. Wake takes over
3rd 10:55 False start puts UL back 5. Jackson scrambles but can't get to the first.
3rd 12:14 Samuel on the reception for a gain of 3.
3rd 12:45 Bonnafon runs left for a 4 yard gain
3rd Quarter That was not a great decision by Hinton, it would have been better to throw it away
3rd 12:50 Hinton's pass is intercepted by Smith. Louisville takes over at the 47
3rd 12:58 Serigne drops the pass. 3rd and 7
3rd 13:35 Bell on the run for a gain of 3
3rd 13:41 Hines returns the punt to the Wake forest 35
3rd 14:10 Jackson tries to escape pressure, but is sacked for a 2 yard loss
3rd 14:29 Jackson looks deep, but pass is broken up
3rd 14:53 Staples on the reception. gain of 6
3rd 15:00 Touchback. UL at their 25 1st down
Halftime A stop on this opening possession could give Wake Forest the momentum and confidence to win this game
Halftime Key Player Update Cam Serigne 2 catches for 6 yards, Lamar Jackson 16 for 21 for 191 and 2 touchdowns, Brandon Chubb 7 total tackles, Trevon Young 4 tackles, 2 sacks
Halftime Wake's QBs are just 5 for 16, but with two long passing touchdowns
Halftime Teams have combined for just 34 rushing yards
2nd 0:00 Wake's punt coverage is good and they will take a 2 point halftime lead. 2 offsetting unsportsmanlike conducts were on the play
2nd 0:08 Hinton runs left for a yard or so. Louisville Timeout #3
2nd 0:13 Colburn gets back to the line. Timeout #2 for UL
2nd 0:16 Wake kneels. Timeout Louisville
2nd 0:18 Wake starts at their 14 with little time left
2nd 0:22 Louisville strikes back with a touchdown pass to Staples! PAT is good 19-17 WF
2nd 0:28 Quick again for 18 yards
2nd 0:34 Scott catches for a 10 yard gain
2nd 0:41 Jackson completes it to Quick for a big 28 yard gain
2nd 0:49 Louisville returns the kickoff to their 22
2nd 0:55 Tabari Hines with the reception and the juke to break free for a 58 yard touchdown! PAT is good Wake leads 19-10
2nd 1:34 Bell runs again this time for 1 yard
2nd 2:12 Bell runs right for a gain of 6
2nd 2:15 Bachman fair catches the punt. Wake starts at the 34
2nd 2:15 Ejiofor sacks Jackson in the endzone for a safety. Wake leads 12-10
2nd 2:40 Scott runs for minimal gain
2nd 2:46 Good punt by Kinal. UL takes over at the 8
2nd 2:59 Washington breaks up the pass. Wake will punt
2nd 3:03 Wolford misses Lewis. 3rd and 4
2nd 3:34 Wolford scrambles right and gains 6 yards.
2nd 3:42 Brent can't catch the ball but Pass interference will move the chains
2nd 3:48 Wolford's pass falls incomplete. Late flag. Unsportsmanlike conduct on UL. 1st down WF
2nd 4:25 Colburn again, this time for 2 yards
2nd 4:59 Wolford back in at QB. Colburn runs forward for 5 yards
2nd 5:05 Hines fair catches the punt. WF ball at their 12
2nd 5:40 Smith tackled for a loss. UL brings ou the punt team
2nd 6:06 Jackson tackled out of bounds. 3rd and 2
2nd 6:33 Smith runs up the middle for 7 yards
2nd 6:40 UL takes over at their 48
2nd 6:51 Hinton's pass is incomplete, brings up 4th down
2nd 7:28 Serigne with the catch for a gain of 1. 3rd and 9
2nd 7:35 Timeout #2 by WF
2nd 7:35 Bachman drops Hinton's deep pass. 2nd and 10
2nd 8:00 Hinton takes off for a 13 yard run
2nd 8:07 Hinton's pass disrupted by Wiggins
2nd 8:13 After the kickoff Wake takes over at their own 14
2nd 8:17 PAT is Good. Louisville ties it at 10
2nd Quarter Ruling Stands: Touchdown Louisville
2nd Quarter It seems Staples is down before the line on the replay
2nd 8:17 Staples with the reception and the extra effort gets him in the endzone for a touchdown pending review
2nd 8:59 Lee has a huge hit on the UL receiver, 3rd and 14
2nd 9:22 Louisville gains 2 on the run, Offensive unsportsmanlike conduct puts UL back to the 16
2nd 9:50 Bonnafon catches the pass for a big 27 yard gain
2nd 9:56 Jackson throws incomplete. 3rd and 10
2nd 10:15 UL now at the WF 30. Scott runs right for no gain
2nd 10:57 Quick hit out of bounds. Flag on the play. Personal foul on Wake
2nd 11:04 Louisville takes over after the punt at the 50
2nd 11:13 Hinton's pass is incomplete. Brings up 4th down
2nd 11:50 Bell is taken down for a loss of 5. 3rd and 14
2nd 12:27 Colburn tackled for one yard gain
2nd 12:32 Wake takes over at their own 18
2nd 12:38 Louisville's FG is Good! Wake leads now 10-3
2nd 13:13 Jackson runs up the middle, but is tackled short
2nd 13:18 Quick drops the pass. 3rd and 9
2nd 13:55 Jackson runs up the middle for one yard
2nd 14:23 Louisville goes for it and converts
2nd 14:29 Wake calls a timeout
2nd 14:50 Jackson finds his receiver but doesn't get to the first
1st Quarter Wake has 103 passing yards, Louisville only has 59
1st Quarter Louisville 0 Wake Forest 10
1st 0:00 Bonnafon runs for no gain. 3rd and 9 from the WF 35. 1st Quarter ends
1st 0:48 Scott gains one on the reception
1st 1:11 Staples gets another 3rd down conversion
1st 1:47 Scott runs for no gain. 3rd and 5
1st 2:09 Staples again on the reception
1st 2:27 Staples catches the fade for 23 yards
1st 3:15 Jackson completes a pass, but then is stopped on a run. 3rd and 5 UL
1st 3:27 UL false start. 1st and 15 now
1st 3:29 Louisville returns to the 18
1st 3:36 PAT is good. Wake now leads 10-0
1st 3:36 Cortez Lewis catches a fade, makes a man miss and runs down the field for a 78 yard touchdown!
1st 4:15 Colburn up the middle for 4
1st 4:20 UL punts, WF takes over at their 18
1st 4:43 Jackson scrambles and is taken out of bounds after a 4 yard gain.
1st 4:51 Jackson's pass falls incomplete. 3rd and 15
1st 5:16 Chubb tackles Quick for a loss of 5
1st 5:31 Quick gets the first down
1st 5:57 Jackson runs up the middle for a 3 yard gain
1st 6:04 Weaver's kick goes out of bounds. UL ball at the 35
1st 6:04 Weaver's kick is Good! Wake leads 3-0
1st 6:41 Hinton is sacked by Young and Wake will attempt a FG
1st 7:17 Hinton runs left and is taken down at the 12
1st 7:53 Hinton is in and is leveled behind the line for a loss
1st 8:00 Louisville muffs the punt and Wake recovers! 1st and goal Deacons
1st 8:20 On third down Wolford finds Serigne, but he'll be tackled short of the first and Wake punts again
1st 8:57 Wolford rolls left but can't complete to Brent
1st 9:27 Bell runs up the middle for a gain of 2
1st 10:00 Wolford finds Hines for a gain of 20
1st 10:07 Louisville's coverage bobbles the ball and it goes into the endzone for a WF touchback
1st 10:17 Jackson misses Quick and UL will punt again
1st 10:40 Jackson rolls right and runs out of bounds for a loss
1st 11:06 Scott runs left for 1 yard
1st 11:14 Kinal punts and UL starts at their 40
1st 11:55 Young gets his first sack of the game and Wake will punt again
1st 12:30 Bell gets 1 back up the middle
1st 12:51 Bell can't find anywhere to go, loses 1
1st 13:14 Hines fair catches the punt. WF ball at their own 19
1st 13:22 Jackson misses Staples and UL will punt
1st 13:59 Louisville loses 2. 3rd and 5
1st 14:22 Bonnafon rushes for 7
1st 14:33 Kinal punts and Louisville will start at their 30
1st 14:43 Wolford throws his third straight incompletion and Wake will punt
1st 14:49 Wake actually starts at the 30 and has an incompletion on first and second down
1st 15:00 Touchback, WF takes over at the 25
7:00 PM Louisville defers, Wake will receive opening kick
6:55 PM PGA Golfer Webb Simpson is tonight's honored Wake Alumni who will "Open The Gate" for the team entrance
6:55 PM Projected Key Players in this game: Wake Forest LB Brandon Chubb, TE Cam Serigne. Louisville QB Lamar Jackson, LB Trevon Young
6:35 PM The first time Wake and Louisville met on the football field was at the 2007 Orange Bowl. The Cardinals won that game 24-13
6:25 PM Both Wake Forest and Louisville have underclassmen at quarterback. For Wake, it's either sophomore John Wolford or freshman Kendall Hinton. For Louisville, it's freshman Lamar Jackson
6:20 PM Wake Forest has never beaten the Louisville Cardinals. They are 0-2, but this is the first meeting at Wake Forest
6:09 PM Uniform Update: Wake is wearing all black for Halloween. Louisville is in all white
This will be Wake Forest's last game before their bye week and it is pretty devastating going into a bye with a loss, let alone a third straight loss. Wake Forest will be very motivated to beat Louisville at home this Friday night. The Cardinals have played pretty well as of late and will hope that their recent run of great defense continues against the struggling Demon Deacon offense. Whichever offense improves quickest will win this game.
Louisville will try to limit their own turnovers in this game. Turnovers are often the reason a favorite loses to the underdog. Wake has struggled getting turnovers this year, but will be looking to get Jackson flustered with coverages and force some mistakes. Jackson will need to be very accurate and elusive to have a great game against the Demon Deacons. Wake will also hope to get a much better start than they did against NC State.
For Wake Forest, it has been an issue for a few years now and has shown signs of improvement, but it is still not completely fixed. The running game outside of the quarterback simply needs to be better. It puts a lot of pressure on the quarterbacks when they cannot get early down success with the run game. Tyler Bell and Matt Colburn need to get solid runs early in the game to open up the pass.
Defensive preparation will be important in stopping these quarterbacks. Blitzing the young signal-callers could cause them to make mistakes, but with struggling offensive lines, sending more rushers may not be necessary to have an effective pass rush. The defenses could also try to have maximum coverage and make the quarterbacks thread the needle. This seems more likely. The defenses will try to contain the quarterbacks and make them beat the coverage. Whichever team can accomplish this will have a great chance to win the game.
For Louisville, the team relies heavily on the play of QB Lamar Jackson. Although he's struggled with seven interceptions, he has contributed twelve total touchdowns, six passing and six rushing. He also, similar to Hinton, is the team's leading rusher. Both defenses are going to have to try to contain dual-threat quarterbacks in the game even if the Demon Deacons go with John Wolford, who when healthy has shown talent with running the football.
Wake Forest's main playmaker this season has been QB Kendall Hinton. He has not been perfect, but he has shown a lot of talent as a dual threat quarterback. He has six rushing touchdowns and 330 rushing yards on the year, which has him as the team leader in both categories.
For both teams, a lot of the offensive problems can be solved with better offensive line play. Both team's quarterbacks have been sacked often this season. Wake Forest has allowed 27 sacks on the year and Louisville has given up 28 sacks on their quarterbacks. Both teams need to cut these numbers down. Wake and Louisville have each played multiple quarterbacks and that is no coincidence, considering how many times their signal-callers are getting hit.
For Louisville, they had a much better result. They were at home against Boston College and were able to hold the Eagles to just 79 yards of total offense. Louisville also forced four Eagles turnovers. Even with this dominating defensive play, the Cardinals still only won 17-14 because of their own offensive woes.
Last week, Wake Forest was blown out in the first quarter at home against NC State. Wake would outscore NC State 17-7 in the final three quarters and gave up no offensive touchdowns in that span; however, the Wolfpack put up 28 points in the first quarter and Wake could not overcome that deficit. QB John Wolford was also pulled from the game mainly because he was being hit constantly and was not mobile enough to escape because of his nagging ankle injury.
It's Friday Night Lights in College Football and on ESPN2 there is an ACC clash between the Louisville Cardinals and the Wake Forest Demon Deacons. It is a must win for both teams as they are struggling to get into bowl contention. Louisville enters the game 3-4 with a 2-2 record in the conference. Wake comes into this one 3-5 with a 1-4 record in the ACC. A loss for either team makes it an uphill climb for a bowl bid. This essentially becomes a playoff game for two teams struggling to get wins.
Welcome to VAVEL College Football's LIVE coverage of the Louisville Cardinals vs Wake Forest Demon Deacons. I'm Jordan Hansgen and I'll be providing minute-to-minute updates, commentary, and results of the game. The game starts at 7:00 PM ET at BB&T Field in Winston-Salem, NC, and there will be coverage pre-game, during the game, and post-game.