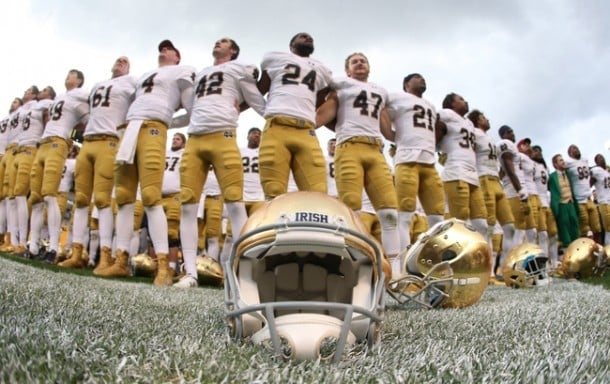 Entering the final week of the season, Notre Dame is ranked sixth in the latest College Football Playoff Rankings. However, the Irish are certainly not out of it - just ask last year's Ohio State squad who were ranked sixth, but jumped into the fourth and final playoff spot after a blowout victory over Wisconsin.
So, as we enter the final week of the season, the constant speculation of who might get left out of the playoffs is at its height. The Irish is at the center of most conversations. The question is: Does Notre Dame really deserve a College Football Playoff spot?
Let's look at the case for and against the Irish.
What could hurt them?
There are several things that could go on this list but at the top is the amount of close wins Notre Dame has pulled out over 2nd or 3rd-tier opponents. In Week 2, Notre Dame trailed Virginia (4-7) with 12 seconds left before third-string quarterback, and now starter, Deshone Kizer entered to toss a game winning 40-yard touchdown pass. The Committee may not look on such a tight win over a mediocre Virginia squad as a good win.
Another recent example of Notre Dame's tendency of close wins is their three point victory over Boston College. The Irish committed five turnovers and escaped with a 19-16 victory against the 3-8 Eagles. B.C. does possess the top defense in the country but a three-point victory over the Eagles is not impressive.
What could help them?
Right now, the Navy Midshipmen are Notre Dame's best friend. After defeating the Midshipmen 41-24, Notre Dame has watched Navy go undefeated since, compiling a 9-1 record. Now ranked fifteenth in the country, the Midshipmen are unexpectedly Notre Dame's best win thus far. That win, which is looking stronger every week, plus a few other impressive victories could help out the Irish. Another victory that could potentially help the Irish is their blowout 38-3 victory over the Texas Longhorns, the squad responsible for #3 Oklahoma's only loss. Granted, the victory was in the first week of the season, but it has to play some role in the Committee's final decision.
Notre Dame's win against Pittsburgh could also help them. The Irish handled the Panthers, beating them 42-30, the score getting that close because of a garbage-time touchdown by Pittsburgh. Pittsburgh has been in and out of the Top 25, and has lost just three times, all three losses coming to currently ranked teams.
What could go either way?
Notre Dame's eight point win over Georgia Tech looked great when they sent the Yellow Jackets to their first loss in Week 3. However, the Yellow Jackets have lost eight of their last nine games and that one possession win over a 3-8 squad looks less impressive. If the committee views this win as a quality win over an opponent who was undefeated at the time, it could help Notre Dame. More likely though, they will see it as another close win over a team with a bad record. Notre Dame's comeback 41-31 victory over USC could be seen as one of two things. A strong comeback against a strong squad or come from behind victory against a team that was floundering at the time. USC has looked strong since, knocking off California, Utah, Arizona, and Colorado, before losing to Oregon. The USC win is a critical point in Notre Dame's schedule and it will be very interesting to see how the Committee views that victory. Notre Dame's 24-20 victory over Temple on Halloween night was quite impressive when the Owls were unbeaten but just two weeks later, Temple was blown out by South Florida, making the close win look less great. Again, this is something the Committee could see as a tight, hard-fought win over a then unbeaten opponent or will they see it as a closer than it should have been victory against a team who has been struggling to stay in the rankings since then.
Who/What should Notre Dame root for?
Clemson
Notre Dame needs a few teams in the top four (Clemson, Alabama, Oklahoma, and Iowa) to lose, but Clemson is not the team that they want to lose. The Irish lost to the Tigers and they'd really prefer that their lone loss be to the #1 team in the country. That carries some weight especially since Oklahoma and #5 Michigan State both lost to unranked teams.
Iowa to lose, than Iowa to win
Not taken seriously as a contender, the Hawkeyes have gone undefeated with wins against Northwestern and Wisconsin. However, Iowa has a poor strength of schedule so one loss will knock them out of the running. Notre Dame will root for the Hawkeyes to drop their season finale to Nebraska - the same team that took down Michigan State - and then Iowa to beat either Michigan State or Ohio State in the Big 10 championship game.
A messy finish in the Big 12
Last year, the Big 12's lack of a conference title game cost both Baylor and TCU a potential playoff spot. With Oklahoma (#3), Baylor (#7) and Oklahoma State (#11) all looking at potentially making a run at a playoff spot, Notre Dame would like the teams to knock each other off and create a messy situation at the top of the conference. Or, at the very least, they'd like the Sooners and the Bears to lose. Oklahoma has recorded several big wins against Baylor and TCU recently so ideally; Oklahoma State would knock off the Sooners, one of Notre Dame's biggest threats. TCU could beat Baylor, leaving only the Cowboys with one loss. If Notre Dame gets a season-ending win versus #9 Stanford, they could probably hold off Oklahoma State.
Alabama to lose to Auburn or Florida
Notre Dame's road to a playoff spot is simplified a lot if the #2 Crimson Tide loses. Alabama has two tough games left. A loss to Auburn in the Iron Bowl knocks Alabama out of contention. A loss to Florida would also likely bring down the Crimson Tide in the SEC Championship, which Alabama can clinch a berth in with a win over Auburn, or an Ole Miss loss to Mississippi State. So an ideal situation for the Irish would be that Florida, having already clinched a berth in the SEC Title game, loses to Florida State to bury their playoff hopes, and then knocks off Alabama.
Notre Dame is ranked sixth and they only have one more game to prove themselves. Notre Dame fans should be doing some avid scoreboard watching over the next two weeks as they hope that some top teams will fall. However, this is all a moot point if Notre Dame cannot defeat the Stanford Cardinal this Saturday on the road. The Irish cannot overlook this dangerous squad so, before they start scoreboard watching themselves, they need to focus on beating the ninth best team in the country.
If they do that, and the right puzzle pieces fall into place, Notre Dame could hear their name called at the College Football Playoff Selection Show on December 6th.