 The Seattle Seahawks entered the offseason with the task of replacing Marshawn Lynch. Identifying a successor to the man known as Beast Mode is easier said than done. However, the team has the perfect replacement—rookie sensation Thomas Rawls.
Rookie Year
In 13 games played, which included only seven starts, the first-year player put up an outstanding 830 rushing yards and four touchdowns. His 5.6 yards per carry led the league. Based on those numbers and Rawls' physical running style, it is almost a guarantee that he will begin the season atop the depth chart at running back. The Central Michigan product is very similar to Lynch in the sense that he seeks out contact and deals punishment much in the same way a hard hitting linebacker or safety does.
With Rawls being just 22-years old and a physical runner, the Seahawks could look to give him some help this season in an attempt to slightly lessen his workload. A new addition would help keep Rawls relatively fresh for the playoffs while also helping to prolong his career. One such option to lessen the burden on Rawls is Arian Foster.
Good Value
Foster, who is widely regarded as one of the better running backs in the league, hit free agency earlier this offseason when the Houston Texans let him go in a move to save money. The veteran is currently recovering from a torn Achilles that ended his season in 2015, but Foster could provide value for Seattle in the right circumstances.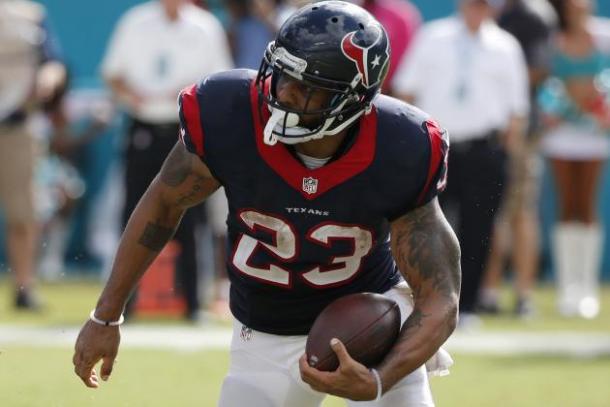 When healthy, the former Texan has been an absolute force. From 2010 to 2012, he averaged 1421 rushing yards and 14 touchdowns per season. What's more, he's also a threat out of the back field as a pass catcher. Over those three years, Foster also averaged 53 catches for 479 yards per season.
Injuries shortened Foster's seasons in 2013, 2014 and 2015. In those three years, the running back played in only 25 games. Despite fewer games, Foster still averaged 4.4 yards per carry and nine yards per catch over the last three seasons. In other words, he can still produce.
At the right price, he could produce for the Seattle Seahawks.
Given Seattle's decision to add more cost-efficient options along the offensive line to replace the likes of Russell Okung and JR Sweezy, it is clear that the team is trying to avoid big contracts. Based on this, the team probably would not be willing to shell out too much to sign Foster given the presence of Rawls and the recently re-signed Christine Michael.
However, if Foster can be signed for cheap, relatively speaking, Seattle could benefit.
Potential Fit
In terms of lessening Rawls' workload, the former Texan would be ideal. In addition, he could also operate in the same role Fred Jackson played in last season as the team's passing-down back. Foster was particularly effective in the passing game last season, averaging 10.3 yards per catch, his best number in that category since 2011. The running back also added two receiving touchdowns.
As a relatively cheap alternative who plays a somewhat limited number of snaps compared to Thomas Rawls, Arian Foster could be a good fit for the Seattle Seahawks.