 Change is an inescapable reality of life. When applied to the 2016 NFL Draft, change rumbles like a tectonic plate shifting under un-anchored ground. Earlier in the month of April, two massive trades shook the draft's foundations as the Los Angeles Rams and Philadelphia Eagles both gave up a king's ransom in order to move up to first and second overall, respectively. While the top two picks of the draft have been all but confirmed via several media sources, the fog of war hasn't lifted much since the early February.
As the dust settles around the pre-draft hype, four of VAVEL's NFL writers, Kevin Clough, Harry Harris, Richard Sena, and Norman Tall, take on the most intriguing narratives and speculate what will happen, what should happen, and who their favorite players are heading into draft day.
1) Who won the Los Angeles Rams-Tennessee Titans trade?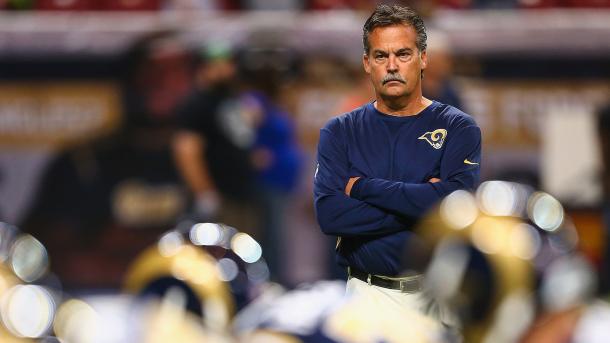 Clough: "Call me crazy, but the Rams won this trade. Despite having to surrender two first round picks, two second round picks, and then some, the Rams need a franchise quarterback - something they have not had since Marc Bulger. Sam Bradford was a catastrophe in St. Louis, and the combination of Nick Foles, Austin Davis, Kellen Clemens, Shaun Hill, and Case Keenum over the past two years has not worked either. The problem with finding a stable quarterback for the Rams is that they were never bad enough to secure one. The Rams have averaged just under seven wins a season with Jeff Fisher, which is bad, but not bad enough."
Harris: "The L.A. Rams/Tennessee Titans trade worked well for both teams. The Rams have the perfect chance to draft a franchise QB (Jared Goff or Carson Wentz) to headline the return to Los Angeles, but the Titans have won the trade in my opinion by stockpiling picks, and lots of them. They'll pick at 15, where they can still grab an impact player, and still have three second round picks. The Titans have plenty of wiggle room heading into not just this year's draft, but future drafts."
Sena: "The Tennessee Titans won the trade just by virtue that they already having their franchise quarterback on the roster. While moving back to the middle of the draft is quite a drop from first overall, the haul they received in return gives them flexibility - including the option to move back into the top 10. On the other side of things, the Rams mortgaged their future for a quarterback who likely won't give them return on investment until at least his sophomore year. Further, while the Rams' defensive roster is above average, but the offense remains a work in progress without draft capital to make future improvements."
Tall: "The Tennessee Titans won the trade with the L.A. Rams. Overall the Rams will likely benefit by being able to draft a franchise changing quarterback, but like the Redskins did in 2012 to get Robert Griffin III, the Rams have given up too much for one player. The Titans now have a bounty of picks that they can use to fill a multitude of spots, which will help them to contend for division titles and playoff spots in the future."
2) Who should the Rams take at #1 overall: Carson Wentz or Jared Goff?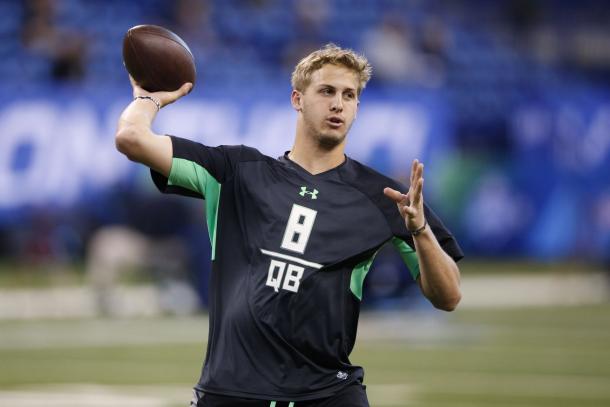 Clough: "Carson Wentz should be the next quarterback of the St. Louis Rams. Since the beginning of the college football season I had been praising the efforts of Jared Goff, and while I still believe he can be a very productive NFL quarterback, Wentz is the pick. While I try to avoid harping on the non-traditional means of examining a player (i.e. physical attributes, the NFL combine, pro-day), there has not been a more impressive prospect throughout the draft process than Carson Wentz. He has a strong, accurate arm, excellent footwork, and his timing is second to none. He has the physical attributes that puts him ahead of Goff for me, and his style of play matches better with what the Rams want to do from a philosophical standpoint."
Harris: "The Rams can't go wrong with the first pick as they are getting a great player in either Jared Goff or Carson Wentz, but Goff is the way to go here. Wentz's FCS background still holds a question mark over his head, in my eyes, and Goff's football I.Q. and talent makes him the best bet."
Sena: "While most media reports seem to converge on Jared Goff being the pick for the Los Angeles Rams, my personal selection would be Carson Wentz because of both his fit and potential within the offense. With Todd Gurley likely being featured in a big way going forward, especially in a rookie quarterback's first year, Wentz' ability to be dynamic in the running game offers more for a team with only average talent on the offensive side of the ball. It should be easier for the Rams to emulate the run based Bison offense Wentz ran at North Dakota State than Goff's advanced California air raid."
Tall: "The Rams should take Cal's Jared Goff with the first overall pick in the draft. Wentz has the potential to be a longtime starter and franchise quarterback in the NFL, but coming out of North Dakota State, there is too much risk involved in taking Wentz first overall. He has a higher ceiling than Goff but also a much lower floor. The Rams' big trade was likely not to take a gamble, but to take the much safer choice: Jared Goff."
3) Did the Browns make the right choice trading out of 2nd overall?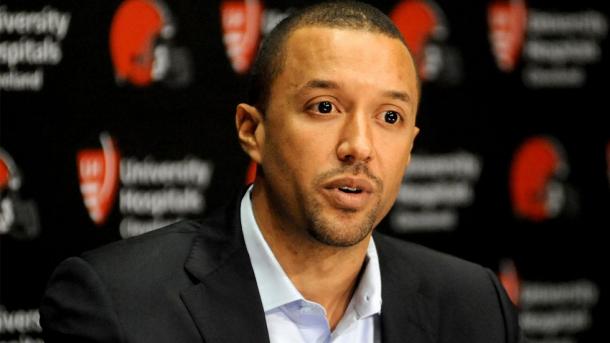 Clough: "The Browns made the right decision by trading down with the Philadelphia Eagles in this year's draft. One of the rules every team tries to follow in the draft is to not convince yourself to pick any one player. The Browns clearly did not feel Jared Goff or Carson Wentz are franchise quarterbacks. While that may prove to be a terrible decision, no one can blame the Browns for trading back and stockpiling picks in an attempt to fill multiple holes."
Harris: "The Browns definitely made the right choice trading back from second overall. Why? Because they need players, and a lot of them. By trading to eight, they get a great pick and an array of later round picks to build a young team to compete in the future."
Sena: "I believe the Browns made the most prudent decision in trading out of second overall, especially if they don't value Goff or Wentz as franchise quarterbacks. With new decision makers in place, the Browns will be able to reset their roster in very much the same way Reggie McKenzie did for the Oakland Raiders. At eighth overall, the Browns will still have an opportunity to take a top 10 player and have an inside track to select one of the draft's second tier passers, if they're so inclined to do so."
Tall: "The Browns made the right choice to trade the number two overall pick. The Eagles gave up a bounty of picks, sending five selections to the Browns: eighth overall, 77th overall, and 100th overall in this year's draft, a first-round pick in 2017, and a second-round pick in 2018. Even though the Browns have struggled drafting in the past, the future looks bright as they will be able to draft a lot of young, talented players."

4) Name one player who will be taken later than expected or fall in the draft.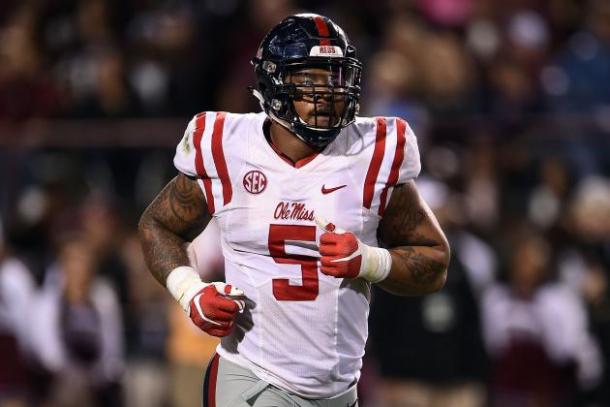 Clough: "One player who seems to falling in the mock draft stock watch - and will most likely fall on Thursday night - will be former Clemson defensive end, Shaq Lawson. Lawson, who had been riddled with injuries throughout his last year at Clemson, and is not being mentioned in the same company as a DeForest Buckner or Joey Bosa. Instead, Lawson falls in that second tier group of ends like his teammate Kevin Dodd, Oklahoma State's Emmanual Ogbah, and Eastern Kentucky's Noah Spence. If a G.M. is going to have a choice between a injury-ridden Shaq Lawson or some of his counterparts, chances are a lot of teams will be passing on Shaq Lawson."
Harris: "This year's draft is unpredictable apart from the top two, but I'd say Myles Jack is at risk of falling in the draft. While I don't think he drops past 20, he could well be there around 15 due to the medical re-checks on his knee that have teams worried about his NFL future."
Sena: "Apart from a player like Myles Jack, who has had a myriad of conflicting medical evaluations reported about him, it seems as though Vernon Hargreaves could go from a presumptive top 10 to a mid to late first round faller. Working against Hargreaves is his below ideal physical measurements compared to the modern cornerback prototype. Guys like William Jackson and Eli Apple seem to be leveraging what teams are looking for at the corner position at the expense of smaller, but arguably more skilled players like Hargreaves."
Tall: "A player who will fall in the draft is Robert Nkemdiche of Ole Miss. Coming into college Nkemdiche was one of the most heavily recruited players in a long time and starting this season he was a likely top-5 pick in the draft. He will still be taken fairly high but after some off the field issues he will drop a bit. It has been reported that some teams have multiple red flags and concerns with him which is one reason I see him falling a little in the draft. Wherever he gets drafted if he can keep his act together he will be a solid player in the NFL."
5) Name a sleeper you could see sneaking into the 1st round.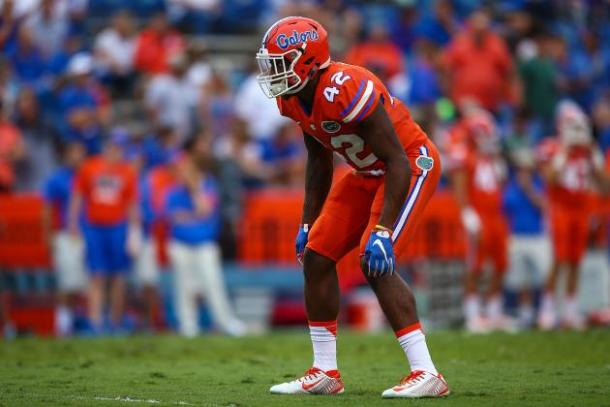 Clough: "Eli Apple, a cornerback from Ohio State may be a name that sneaks up into the first round of the draft. While there is once again a slew of cornerbacks that will be selected in the first two rounds of the draft, none of these corners have the intangibles of Eli Apple. For starters, Apple measures in at 6'1''. Being one of the few corners available this year that measures in above six feet tall, he will garner a lot of attention from teams who need a bigger defensive back to match up against bigger receivers. Apple has also been regarded as one of the best corners in man coverage in all college football. Very rarely has Apple been burned by the opposition as receivers found it virtually impossible to escape his coverage. This will not go unnoticed by NFL teams who need a lock down cornerback."
Harris: "Keanu Neal, Safety. I loved him at Florida and I felt he was overshadowed a little in that secondary with Vernon Hargreaves III impressing. He's 6'0, fast, a great run stop and is a huge hitter, something teams (including my Atlanta Falcons) desperately need."
Sena: "With the end of the first round often offering surprises, a name which keeps popping up as soon as the middle of the first day is former Alabama center, Ryan Kelly (which I selected for the Colts in the VAVEL NFL Writers mock draft). Over the past 3 seasons, at least one center has been picked in the top two rounds and Kelly projects as the best prospect of the bunch. A team as early as Indianapolis could do worse than bolstering their depleted interior offensive line."
Tall: "A sleeper I could see sneaking into the first round is Noah Spence out of Eastern Kentucky. Coming out of a small school, Spence did not receive nearly as much attention as he should have. He had a monster season in 2015, racking up 22.5 tackles for loss, with 13.5 sacks for the Colonels to become an AP FCS All-American. If teams are looking for a potential steal look no further than Noah Spence."
6) Which player should teams stay away from?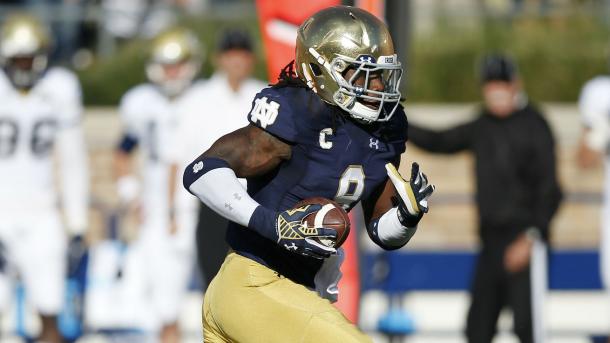 Clough: "There is no position of greater importance than the quarterback. And while there are teams that desperately need the services a good quarterback, no team should be desperate enough to select Connor Cook. Cook was once regarded as the best quarterback in this draft class, and it took the 2016 season to make people realize that was not the case. Cook has major issues with his accuracy, arm strength, and timing. There have been questions raised about his character as well throughout his tenure in Michigan State. He may look like a NFL quarterback from afar, but upon close examination, any team that selects Cook as their starter will pay dearly for it."
Harris: "As much as it pains me to say, Jaylon Smith is someone that should be avoided just because his injury has so much mystery surrounding it. We've heard different things from multiple people over the past few months which should worry teams. A great player that will be an NFL star if he recovers from the injury but with doubts over his knee, he's to be avoided."
Sena: "In the immortal words of Philadelphia Eagles G.M. Howie Roseman, "it's like vanilla or chocolate, what do you like better." Well, Mr. Roseman, I like Chocolate better and Mackensie Alexander is vanilla to me. While "vanilla" may not be the best descriptor of Alexander's personality, there isn't much about his game that gets me excited. He's well built, but not particularly big. And despite being touted as a man coverage specialist, he doesn't possess the quickness or discipline to effectively play man coverage in the NFL, in my opinion. He might be good for a soundbite, but I don't see a good NFL cornerback."
Tall: "Again, I would stay away from Robert Nkemdiche. There is no question that he is an incredible talent but he just has too many off-field issues."
7) Who will be the best player from this year's draft?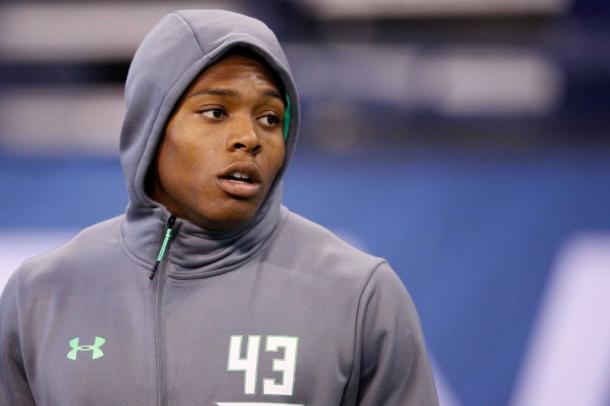 Clough: "Myles Jack is the best player in this draft. As the NFL continues to evolve, the athletes of the sport will continue to shine unlike any other time in the sport's history. Myles Jack is the best athlete in this year's draft due to his ability not only on defense but as a running back as well. From a defensive standpoint Jack is the ideal linebacker. Not only is he effective at stopping the run and getting to the quarterback, but because of his athleticism Jack can cover virtually any running back out of the backfield or tight end. From an offensive standpoint, it is hard to imagine that Jack will be used at running back in the NFL, but, much like how J.J. Watt finds himself lining up with the offense in certain key moments of a game, Myles Jack could be used in the same way."
Harris: "The best player from the 2016 draft will be Jalen Ramsey or DeForest Buckner. If I had to pick one, I'd lean to Ramsey because he may be the most talented player in the draft. Both will have huge impacts on their teams and are almost locks to go in the top 10, but Ramsey has the chance to be an instant star at his position."
Sena: "If I had to bet on one guy being a multiple All-Pro form this draft, it would be Jalen Ramsey. Ramsey sets all the benchmarks athletically, and shows the skills necessary to succeed in the NFL instantly. His relative lack of turnover production in college doesn't scare me because he'll be put in a more stable position to succeed in the NFL (Ramsey played a different position every year at FSU). Injury notwithstanding, it would be hard for me to imagine Ramsey not evolving into at least a top 10 corner in the NFL with the upside to be considered the best in the game with time."
Tall: "There could be two players who could be the best player of this years draft. Ezekiel Elliott or Jalen Ramsey. Elliott is probably the best running back out of the draft since Adrian Peterson 2008. Elliott has good speed and size, and If put in the right system he could be the best back in the NFL for the foreseeable future. Jalen Ramsey is a highlight reel waiting to happen. Whether it is his hard hits, interceptions, or other defensive plays, Ramsey is an absolute stud and should be a top defensive playmaker for years to come."