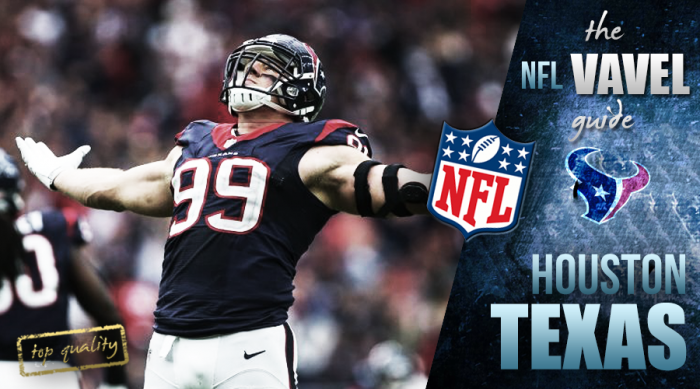 With Arian Foster and Brian Hoyer now gone, the offense is looking at two new additions to lead them in addition to DeAndre Hopkins. Brock Osweiler helped the Denver Broncos win key games on their way to the playoffs while Peyton Manning was hurt. He played solidly while there and now has an opportunity with the Houston Texans to show the world why the Broncos should have tried harder to keep him. Lamar Miller is a skilled running back in a passing system with the Miami Dolphins and so critics wonder whether he can last as the primary back of a much more run heavy offense. They will have to prove themselves with a less than proven offensive line, as the leader of that unit Duane Brown is coming off a season-ending injury and second-round pick center Nick Martin is out for the year.
On the other side of the ball, you obviously have the disruptive defensive end and possibly best defensive player ever in J.J. Watt. Brian Cushing is another veteran that improved last year after a couple of offseasons. Jonathan Joseph may be on the old side, but he can still keep up with the best of wide receivers and is the best secondary player on the team. These players will try leading the Texans to the playoffs once again and possibly cause some noise as they see themselves as the dark horse team in the league.
Houston Texans 2015
There were a lot of question marks on the team, especially at the quarterback position. Ryan Fitzpatrick who had done pretty well the year before left the team for the New York Jets, and so either Hoyer or Ryan Mallet would win it. Hoyer had it at first, but after a pretty bad game against the Kansas City Chiefs, Bill O'Brien lost faith and gave it to Mallet. He didn't fare much better, and so the team gave Hoyer a second chance. He didn't disappoint, and Mallet, in response to losing the starting gig, did everything in his power to be cut. He succeeded, and so Hoyer started the rest of the year when he wasn't hurt.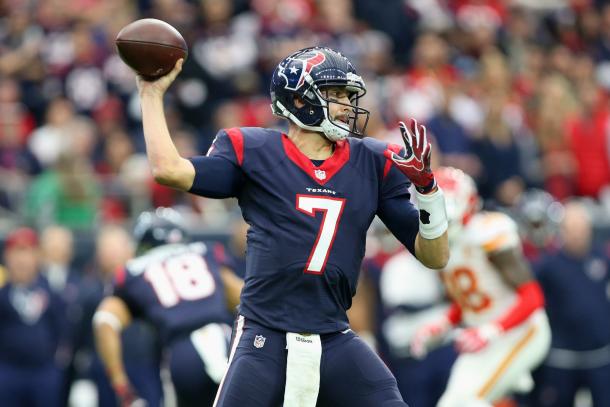 On the other hand, the defense at the beginning underwhelmed. They were supposed to be one of the best units in the league, but they were allowing crazy amounts of yards and points. This all changed once the team's bye week came and passed, as they then became the shutdown defense everyone expected.
Expectations were average, around 7-9 or 8-8, mainly because of the quarterback situation. So they did slightly better, as they went 9-7 and even made the playoffs (please ignore the fact that they got annihilated 30-0, is that too hard? Yes? Understandable). Hoyer was solid throughout the year until the playoffs, doing better than most thought he would much like Fitzpatrick from the year before. Hopkins definitely impressed as he was third in both receptions and receiving yards last season. Whitney Mercilus was a pleasant surprise for the defense, as he became possibly the only great pass rusher to aid Watt since the latter's emergence; Mercilus recorded a total of 12 sacks. Andre Hal did a solid job at safety, a position lacking in talent for the Texans, as he got four interceptions.
However, there were also players that did worse than fans would hope. Foster couldn't stay healthy and while he was out, Alfred Blue did a less than stellar job. That's why a lot of fans were sad to hear that he wasn't cut from the final 53 man roster while fan favorite Akeem Hunt didn't; don't worry, though, Hunt made the practice squad. Expectations weren't high for both Nate Washington and Cecil Shorts, but they were still pretty bad number two and three receivers. That's why neither of them is on the team this season. Jadeveon Clowney improved from 2014 but 4.5 sacks and 40 tackles are not what anybody expected from the number one pick. This is his season to prove that he isn't a bust and that the injury was just really hindering him.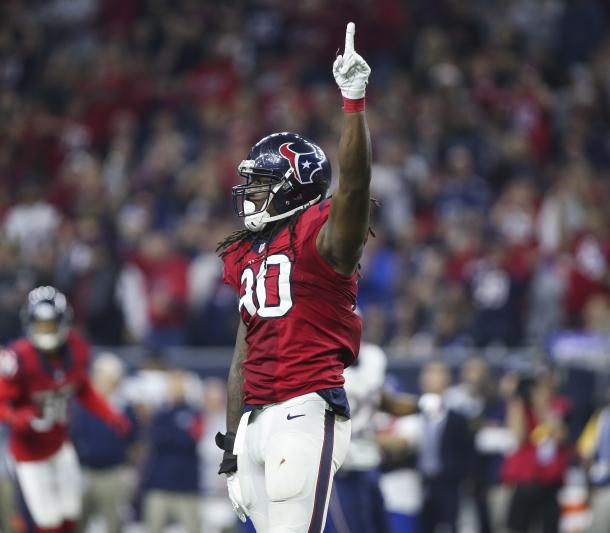 Last season, the strength was definitely defense while the offense and special teams were the main weakness. At times, the offense wasn't bad, but the special teams couldn't return or cover. If it weren't for the defense being great after the bye week, the Texans would definitely have had 10 or more losses, even when the offense was clicking. There just wasn't enough firepower on that side of the ball, something that the organization hopes the trio of Osweiler, Miller, and Hopkins can help change.
Injuries didn't help the offense at all. Brown, Foster, and T.J. Yates all had season-ending injuries. But the last one didn't really matter because he was a sub right? Nope, because Hoyer was injured around that time too. Guard Jeff Adams also was injured for the whole year, leading to even less depth at the offensive line. Hopefully, the same won't happen to the team this year (yes it's already started with Martin but be optimistic), as this offense actually looks like it can succeed.
What an Offseason
Here is the list of players the Texans drafted, in order: Will Fuller, Martin, Braxton Miller, Tyler Ervin, K.J. Dillon and D.J. Reader. If you'd like an analysis on their draft, click here (no it's not self-promo....Ok maybe it is). A quick update: Ervin is looking much better than anticipated, making him a better pick than what was put in that article, that is all.
If you want a short version of the article, Fuller is the speedy wide receiver O'Brien's been looking for. Apparently, the team had Fuller on their radar the entire time, but most were hoping that Corey Coleman would drop to the Texans slot, which he didn't. Fuller would have to prove that he's got the hands too, as that is his main question mark. Martin was one of the best centers in the draft, but it doesn't matter anymore because he's hurt. Miller was a gutsy pick but has done well in the offseason and could see a solid amount of plays in the regular season, as he will be competing with Fuller and Jaelon Strong for the second and third spots at wide receiver.
Ervin beat out the competition at running back with his athleticism. He can be used in a wide range of plays, and this flexibility is a big reason why the Texans liked him. Dillon and Reader were both chosen to improve the two main question marks on defense, but it is unclear just how much they will impact the team this year.
Even bigger than the draft for the team was free agency. Again, more self-promo, as this article covers absolutely everything. So, another quick TLDR (too long, didn't read, this young'in lingo can get annoying). The offensive line took a huge hit as both Brandon Brooks and Ben Jones left the team because they were too expensive. The Texans are especially feeling the sting from Jones' departure because now they don't really have a center. Still, they added Tony Bergstrom, a relatively unknown player who may start at center, Jeff Allen, a good guard that can take Brooks' spot, Miller, who will try to bring the Texans' rushing attack back to the glory days before Foster got hurt literally all of the time, and Osweiler, who will try being the only good Texans' quarterback to stay good for more than a couple of years (looking at you, Matt Schaub). It was a busy free agency period and one that benefited the team unless the offensive line is so horrible that it creates a situation like the 2011 Dream Team Philadelphia Eagles, who got high profile players on both sides of the ball but couldn't protect Michael Vick long enough for him to make any plays.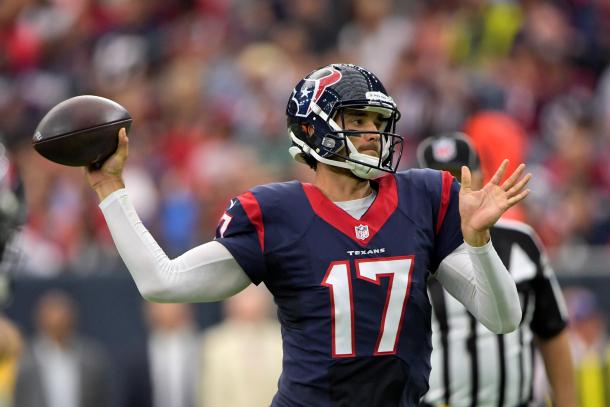 How Are They Looking Now?
Obviously, their defense remains a strength for the team. They changed special teams coaches so hopefully, that will make special teams at least adequate. The biggest question mark is obviously the offense. The team signed a lot of players that can either play superbly or horribly. Osweiler has the starting gig he wanted back with the Broncos and so now he has to prove the world, especially his many haters, that he's ready to take on the mantle. Even Miller, an acquisition most people liked, has to show that he can handle being called on more often.
Other than the offense, another thing to look for is Clowney's performances. People have been sick of him from the minute he got to Houston, and this is the perfect time for him to show that he was a better choice than say, Blake Bortles, with that first pick. His future is honestly uncertain if he has another disappointing year. Another important storyline is whether Watt will continue his streak of pure dominance. He will obviously play great, but will he win another Defensive Player of the Year award? Will he compete for MVP again? Will he prove that he's the best player in the league, something that many, including Stephen A. Smith, argue belongs to Aaron Rodgers?What company will hire him for commercials next? It will be a long time before he isn't a storyline coming into a new regular season.
Prediction
Sadly, the schedule is kind of hard for the Texans. They play the Chiefs, a team that embarrassed them twice last year, in the second week. They need to get revenge, especially since its a home game. They also need to take advantage of Tom Brady's suspension the following week against the New England Patriots. The Indianapolis Colts will always be a tough opponent, even though they're not as good as they were during those rotten Manning days. The week after that they face the defending champions at Denver; Osweiler needs to absolutely destroy that game in front of the home crowd. They play two of the most improved teams back to back right after their bye week in the Jacksonville Jaguars and the Oakland Raiders. Two weeks later they go against Rodgers and the Green Bay Packers. Finally, the week before last, they face the Cincinnati Bengals, a team that has played well for a long time now. On top of this, they have five primetime games, something that they have struggled in tremendously over the years.
The main key to success for the Texans is the offense playing well together. They need to find the perfect balance between their ground and aerial games, something that will definitely take time. Because of this, the goal for this season is to make the playoffs and hopefully win a game. While it would be crazy to play in the Super Bowl this season as it is in Houston, it will be extremely hard for such a newly formed and young team.
Optimistically, the team will go 10-6 and, like mentioned earlier, win a playoff game. However, they may also go 8-8 due to the hard competition. This isn't the Texans' year sadly, as they need more experience, especially the offense. Next year, however, will be an entirely different story as they learn to click together and the organization can focus on improving at offensive line, tight end, and safety.