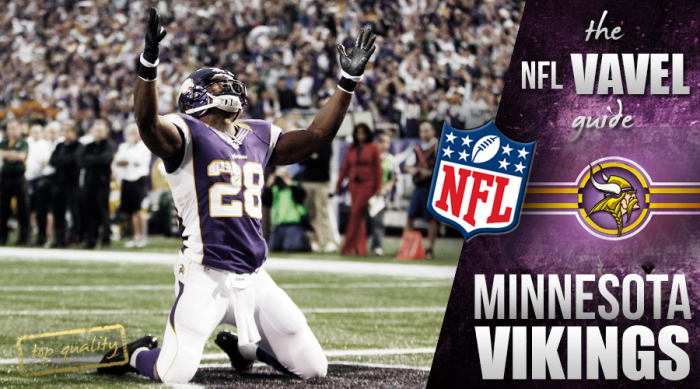 After winning the NFC North last season, before a desperate defeat to the Seattle Seahawks in the playoffs after Blair Walsh's famous field-goal blunder, the Minnesota Vikings were among the team's garnering Super Bowl hype during the offseason.
Under third-year coach Mike Zimmer, the Vikings defense has become as dominant as any in the NFC and expectations were that an improving offense could see them go deep in the playoffs.
However, just ten days out from the start of the NFL season, starting quarterback Teddy Bridgewater shattered his left knee in a non-contact injury during a training session and the season looked to be over before it started.
With time at a premium, and 36-year-old Shaun Hill inked in as the starter under center, general manager Rick Spielman pulled off a trade for Philadelphia Eagles starting quarterback Sam Bradford. Having to deal a first and a fourth rounder for the privilege, Spielman has been criticised for giving up so much in a trade which may not pay off, but with the team moving into a luxurious new stadium this season, needs must and the trade to move Bradford to the Vikings was made in the hope he can lead the Minnesota franchise towards back-to-back NFC North titles.
Defensive starters all return as Zimmer plots way to retain North title
The strength of the Vikings undoubtedly lies with the defense, who have continued to improve every season under Mike Zimmer. Since making him head coach three years ago, the defense has come on leaps and bounds, and in their first year alone they conceded 113 points fewer than in 2013 and have continued to develop from there.
The defense is packed with first-round, talent including Sharrif Floyd and Xavier Rhodes who were taken just three picks apart in the 2013 Draft, with both players having had their fifth-year options exercised during the offseason.
The three standouts on the defense, however, are made up of one player from every level.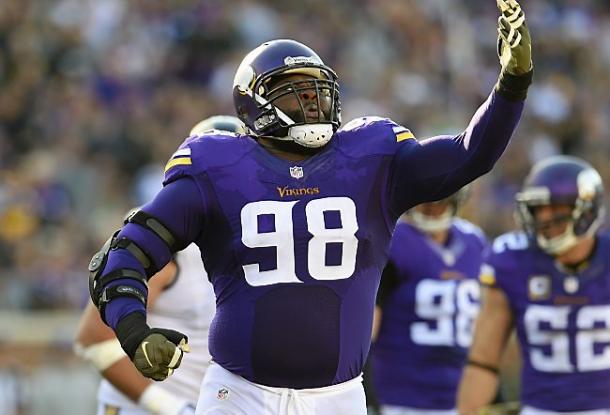 Starting up front, Linval Joseph had a breakout-type year in 2015, with his standout performance coming in the win over Todd Gurley and the then St Louis Rams where the big nose tackle racked up ten tackles and was constantly harassing Nick Foles. A former Super Bowl champion with the New York Giants, Joseph was signed to a relatively cheap free agent deal ahead of the 2014 season and has begun to realize his true potential as a star in this league. A toe injury towards the end of last season curtailed his year somewhat and forced him to miss some time, but following off-season surgery, Joseph will return to anchor a Vikings defense who will need to be at their best with a tough early schedule on the horizon.
At the linebacker level, Anthony Barr has lived up to being picked ninth overall in the 2014 Draft and is already seen as one of the best 4-3 outside linebackers in the NFL. Barr has become a difference maker for the Vikings, doing just about everything you want a young athletic linebacker to do from covering tight-ends to stopping the run and rushing the passer. Playing alongside another former-UCLA Bruin in Eric Kendricks, Barr has shown a great understanding of what it takes to be a big performer in Zimmer's scheme, and the sky's the limit if he can maintain his health in 2016.
Covering the back end, 2012 first-rounder Harrison Smith became the highest-paid safety in the league during the off-season after being signed to a five-year $51.25 million contract extension at the Vikings. Just like Barr in front of him, Smith shows up all over the field and is potentially the best pass-rushing safety of his generation with 5.5 sacks already to his name. Smith joined Barr and a host of other Vikings at the 2015 Pro Bowl following another stellar season, and the former Notre Dame talent is one of the most important Vikings on the roster, who was missed sorely at the back-end of last season.
With a number of veterans including Everson Griffen, Chad Greenway, and Captain Munnerlyn all continuing to contribute to the Vikings D, there is no reason to think this defense can't get even better in 2016. New talent has been in added in the form of Clemson duo, second-round cornerback Mackensie Alexander, and seventh-rounder Jayron Kearse who had an impressive pre-season at safety, while 2015 first-rounder Trae Waynes may be set for a starting role after playing behind Terence Newman in his first season in purple.
Peterson's presence gives Vikings offense hope despite loss of Teddy
With the season thrown into disarray with Bridgewater's left knee dislocation, the Vikings will start life in their new stadium with Sam Bradford as the starting quarterback. Bradford is a former-Oklahoma Sooner just like all-pro running back Adrian Peterson who showed no signs of wear in 2015 when winning another rushing title. Norv Turner's presence should help Bradford flourish, but as shown with the NFC North win last season, he won't need to throw for 5,000 yards and 35 touchdowns to make this a winning football team.
The revamped offensive line, which welcomes Alex Boone from the San Francisco 49ers and Andre Smith from the Cincinnati Bengals is a big unit which is paid more than any other O-line in the entire NFL. Under new offensive-line coach Tony Sparano, vast improvements are needed from a unit which had plenty of poor showings in 2015. The off-season moves should help, but Matt Kalil is in his last season under contract with the Vikings so will need to return to his 2013 form, while right guard Brandon Fusco needs a bounce-back year after a poor showing last time out.
If the line can open more holes, then it wouldn't surprise anybody around the league if Peterson topped the rushing yardage totals once more. At 31 years of age, Peterson is showing no signs of slowing down and with Bradford only given a week or so to learn the offense, the Vikings are likely to be dependent on their seven-time Pro Bowl running back.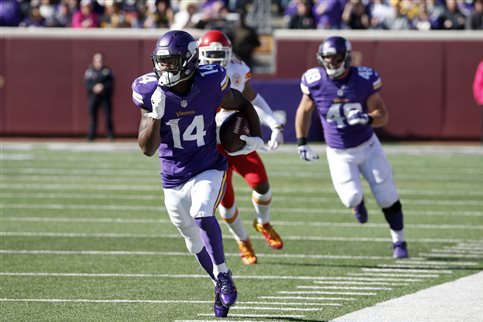 On the outside, this year's first-round pick Laquon Treadwell looks set to start the season from the bench after a slow start to his NFL career in pre-season. Stefon Diggs is the top option in a passing attack which can only get better, with last year's fifth-rounder looking like a steal of a draft selection. The 6ft tall receiver out of Maryland hauled in 52 receptions for 720 yards and four touchdowns in his rookie season, despite starting the season on the bench as Treadwell will do this season. With Diggs working out of the slot primarily, Charles Johnson is the larger wide receiver who has managed to push him towards the top of the depth chart following an injury-ravaged 2015 which saw him miss a number of games. Return specialist Cordarrelle Patterson could be set for some more time with the offense, with Minnesota native Adam Thielen ready to make a name for himself after winning a starting spot when the Vikings set up three-wide.
Vikings probably playing for wildcard after loss of starting quarterback
With the Green Bay Packers back to full health, they would have to start the season as favorites to recapture the NFC North crown. Jordy Nelson is ready to go after an ACL injury ruled him out in 2015, while Eddie Lacy has slimmed-down meaning Aaron Rodgers has a fully-stocked group of offensive playmakers to utilize.
A tough early season schedule may also work against the Vikings, who begin on the road against an improved Tennessee Titans franchise who, before opening their new home against the Packers on Sunday Night Football in week two. A visit to Charlotte to face Cam Newton and the Carolina Panthers in week three will be a great test for the Vikings defence, before they return to Minnesota for a Monday Night Football clash with the New York Giants in week four, which is then followed by JJ Watt bringing his Houston Texans to town prior to the week six bye.
Matchups against the four NFC East may determine a lot in the race for a wildcard berth, while the Vikings should have enough to hold off a Calvin Johnson-less Detroit Lions and a Jay Culter-led Chicago Bears in the North.
If Zimmer can lead the Vikings to the playoffs once more after having to deal with the loss of his franchise quarterback in the run-up to the season, he will have done an excellent job once more. The new stadium brings added excitement for a young talented football team who feel like they are on the cusp of something special under this regime hence the move for Bradford.