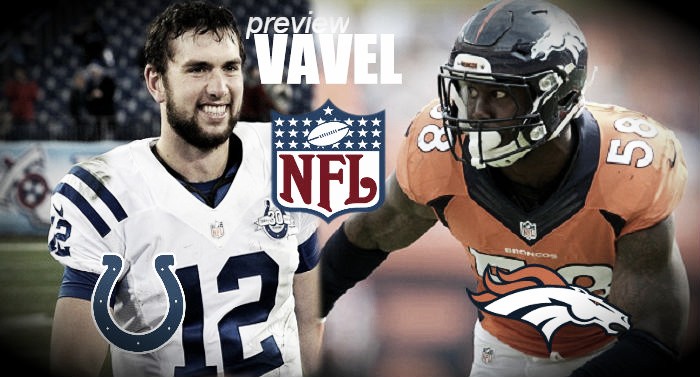 Andrew Luck and the Indianapolis Colts (0-1) travel to Sports Authority Field at Mile High to take on Von Miller and the Denver Broncos (1-0) in a week two AFC matchup.
For the first time since 1993 the Colts and Broncos will meet without Peyton Manning at quarterback for one of the two teams.
The Colts come in with a proven passing game led by the game's highest paid player (Luck) and a suspect defense. The Broncos will counter with a dominant defense, an inexperienced quarterback (Trevor Siemian), and a running game that has gotten off to a hot start.
Colts defense struggled in opener
The Colts enter week two searching for their first win of the 2016 campaign after suffering a 39-35 loss at home in a shootout with the Detroit Lions.
Following a touchdown drive by the Lions with 4:04 remaining in the fourth quarter, Matt Prater missed on the extra point that would have given Detroit a 7-point lead.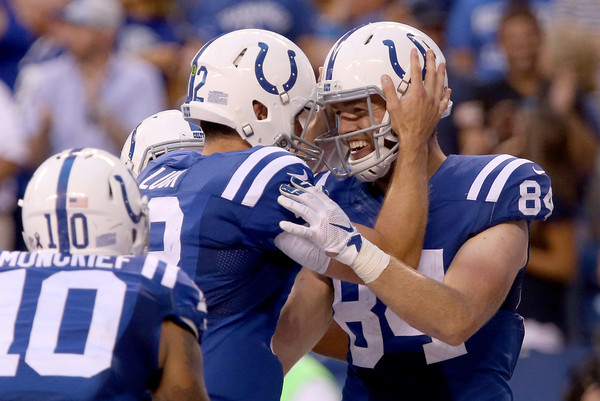 Down 34-28, Luck (385 yards passing and four touchdowns) drove the Colts offense 75 yards for the go ahead touchdown. With their opening day win seemingly secured, the Colts defense continued to find difficulty stopping Lions quarterback Matthew Stafford.
With 0:37 remaining on the clock, Stafford moved the Lions from their own 25 yard line to the Colts 25 in just three plays. Prater redeemed himself with the winning field goal to give the Lions a rare win over the Colts.
Broncos pull out another close win
The Broncos picked up right where they left off the 2015 regular season, winning nail bitters. This time it was a missed 50-yard field goal by kicker Graham Gano with four seconds remaining that allowed the Broncos to secure a 21-20 win at home. Siemian made the first start of his NFL career and completed 18 of 26 for 178 yards, and his first NFL touchdown that was a 27-yard completion to running back C.J. Anderson.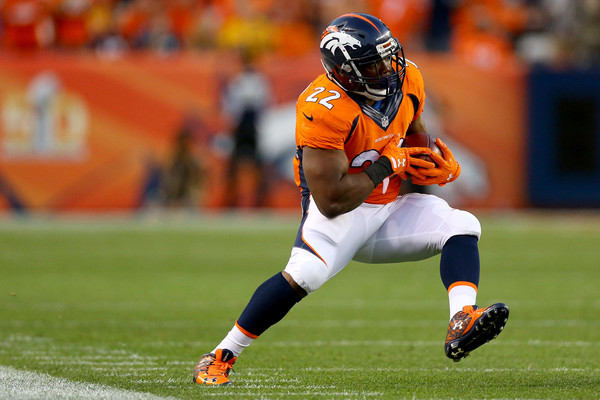 The Broncos struggled at times last season getting their running game involved in the offense. Anderson and the running game began 2016 strong with a 148-yard performance against one of the league's top defenses with a ferocious front seven.
Anderson rushed for one touchdown, caught another, and rookie full back Andy Janovich ran in another from 28 yards out.
Linebacker DeMarcus Ware picked up 1.5 sacks while Super Bowl 50 MVP Von Miller recorded his first of the year with a fourth quarter sack of Cam Newton.
Luck solves Broncos over last three seasons with arm and toughness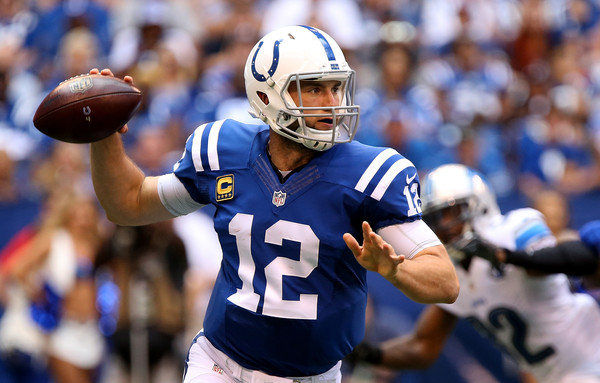 Since their first meeting in 2013, Luck has owned the Broncos with a 3-1 record that includes a 24-13 divisional playoff win in January 2015. The Colts spoiled Manning's homecoming in 2013 and knocked the 7-0 Broncos from the ranks of the unbeaten last season in what would be Peyton's last game in Indy.
Last season's matchup saw Luck take a physical beating by the Broncos defense, but stay in the game for a 27-24 victory. It was revealed later that Luck suffered a lacerated kidney in the fourth quarter.
Keys to game
Broncos pass rush must finally keep Luck in check
The Broncos defense sports one of the top pass rushing duos (Miller and Ware) in the NFL. Despite this they have been unable sack Luck more than once in their last two meetings. Add the fact that the Colts offensive line is consistently one of the poorest lines in the league and you have heads scratching at the Broncos training facility.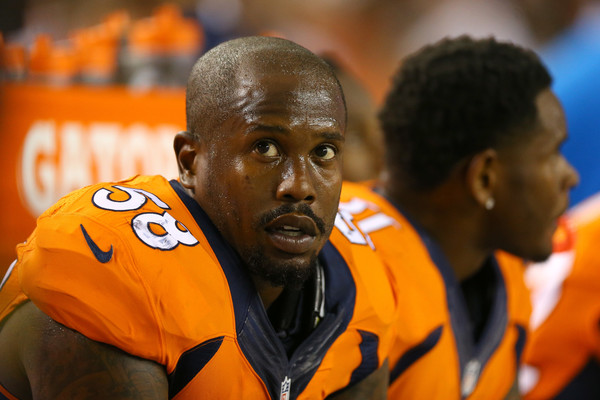 One of the reasons for the lack of sacks is Luck's ability to get the ball of quickly. If the Broncos are to get to Luck successfully they will need their secondary to play the Colts wide receivers tight, forcing Luck to second guess his throws and give the Denver pass rushers an added step to get to the quarterback.
Colts defensive secondary and pass rushers versus Trevor Siemian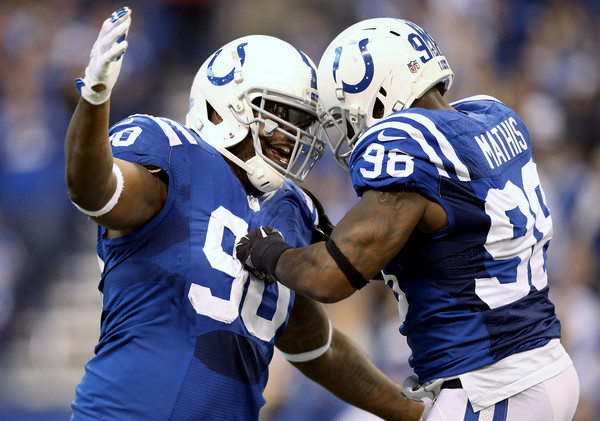 The Colts will go into Sunday's game with the intention of shutting the Denver run game down and forcing the inexperienced Siemian to beat them downfield. This will put the onus on a poor Colts secondary to cover wide outs Demaryius Thomas and Emmanuel Sanders while a non-existent pass rush to this point keeps a mobile Siemian in the pocket and under consistent pressure.
Indianapolis Colts - Denver Broncos Capsule
Week 2 - 09/18/16
Time: 4:25 PM ET
TV: CBS
Location: Sports Authority Field at Mile High
Line: Broncos -6 (Westgate Superbook)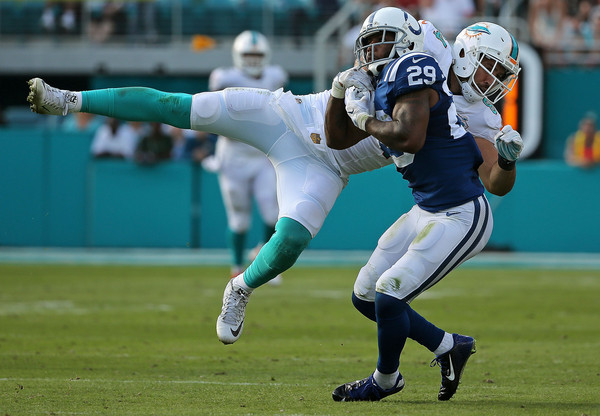 2016 Record
Indianapolis Colts
Overall:
0-1 (T-Last, AFC South)
Home: 0-1
Road: 0-0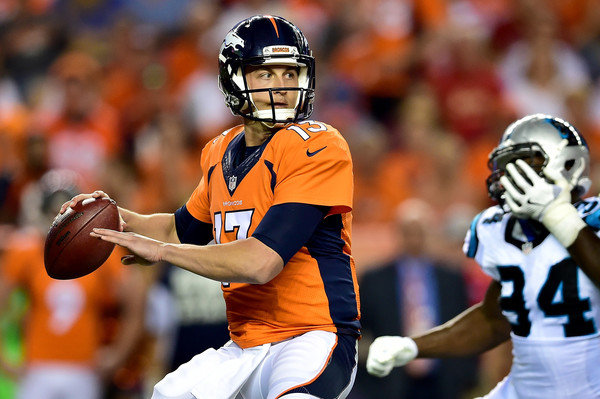 Denver Broncos
Overall:
1-0 (T-First, AFC West)
Home: 1-0
Road: 0-0
Last Met:
11/08/15 at Indianapolis: Broncos 24 Colts 27.
Starters:
*Stats
2016 NFL Rankings (YPG)

| | | |
| --- | --- | --- |
| | Colts | Broncos |
| Total Offense | 1st (450.0) | 25th (307.0) |
| Passing | 2nd (368.0) | 29th (159.0) |
| Rushing | 22nd (82.0) | 6th (148.0) |
| Total Defense | 29th (448.0) | 14th (333.0) |
| Passing | 30th (332.0) | 7th (176.0) |
| Rushing | 22nd (116.0) | 31st (157.0) |
Team Leaders

| | | | | | | | | | | | | |
| --- | --- | --- | --- | --- | --- | --- | --- | --- | --- | --- | --- | --- |
| Passing | C/ATT | PCT | ATT/G | YDS | AVG | YDS/G | Long | TD | INT | Sacks | Rating | Rank |
| Andrew Luck | 31/47 | 66.0 | 47.0 | 385 | 8.2 | 385.0 | 51 | 4 | 0 | 2 | 119.5 | 2nd |
| Trevor Siemian | 18/26 | 69.2 | 26.0 | 178 | 6.8 | 178.0 | 25 | 1 | 2 | 2 | 69.1 | 29th |
| Rushing | CAR | CAR/G | YDS | AVG | YDS/G | Long | TD | Fum | Rank | | | |
| Frank Gore | 14 | 14.0 | 59 | 4.2 | 59.0 | 9 | 0 | 0 | 19th | | | |
| C,J. Anderson | 20 | 20.0 | 92 | 4.6 | 92.0 | 28 | 1 | 0 | 4th | | | |
| Receiving | REC | YDS | AVG | YDS/G | Long | TD | Rank | | | | | |
| T.Y. Hilton | 6 | 79 | 13.2 | 79.0 | 32 | 0 | T-21st | | | | | |
| E. Sanders | 5 | 49 | 9.8 | 49.0 | 15 | 0 | T-40th | | | | | |
| Tackles | Pos. | Total | Solo | Rank | | | | | | | | |
| Sio Moore | ILB | 13 | 7 | T-4th | | | | | | | | |
| Todd Davis | ILB | 7 | 5 | T-48th | | | | | | | | |
| Sacks | Pos. | Total | Rank | | | | | | | | | |
| Erik Walden | OLB | 1.0 | T-9th | | | | | | | | | |
| DeMarcus Ware | WLB | 1.5 | T-6th | | | | | | | | | |
| Interceptions | Total | TD | Rank | | | | | | | | | |
| N/A | 0 | 0 | N/A | | | | | | | | | |
| Chris Harris Jr. | 1 | 0 | T-1st | | | | | | | | | |
Standings

| | | | | | | | | | | |
| --- | --- | --- | --- | --- | --- | --- | --- | --- | --- | --- |
| AFC South | W L T | PCT | PF | PA | Home | Road | Div | Conf | Streak | L5 |
| Houston Texans | 1 0 0 | 1.000 | 23 | 14 | 1-0 | 0-1 | 0-0 | 0-0 | W1 | 1-0 |
| Jacksonville Jaguars | 0 1 0 | .000 | 23 | 27 | 0-1 | 0-0 | 0-0 | 0-0 | L1 | 0-1 |
| Indianapolis Colts | 0 1 0 | .000 | 35 | 39 | 0-1 | 0-0 | 0-0 | 0-0 | L1 | 0-1 |
| Tennessee Titans | 0 1 0 | .000 | 16 | 25 | 0-1 | 0-0 | 0-0 | 0-0 | L1 | 0-1 |
| AFC West | W L T | PCT | PF | PA | Home | Road | Div | Conf | Streak | L5 |
| Denver Broncos | 1 0 0 | 1.000 | 21 | 20 | 1-0 | 0-0 | 0-0 | 0-0 | W1 | 1-0 |
| Kansas City Chiefs | 1 0 0 | 1.000 | 33 | 27 | 1-0 | 0-0 | 1-0 | 1-0 | W1 | 1-0 |
| Oakland Raiders | 1 0 0 | 1.000 | 35 | 34 | 0-0 | 1-0 | 0-0 | 0-0 | W1 | 1-0 |
| San Diego Chargers | 0 1 0 | .000 | 27 | 33 | 0-0 | 0-1 | 0-1 | 0-1 | L1 | 0-1 |
*All stats via nfl.com