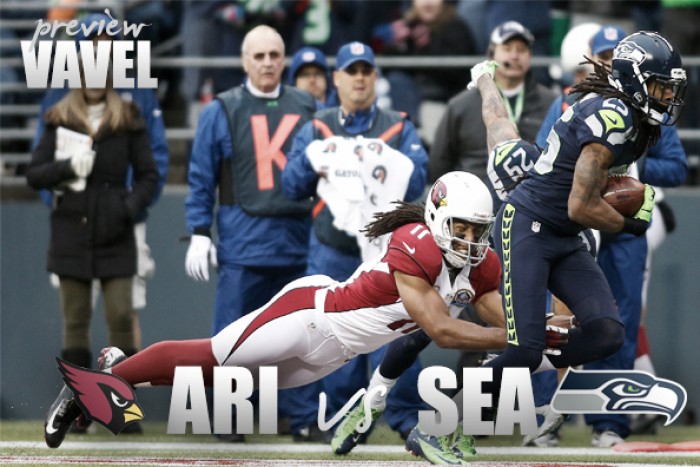 What: Arizona Cardinals - Seattle Seahawks
When: Saturday, December 24, 2016, 4:25 pm ET, FOX
Where: CenturyLink Field (Seattle, WA)
Week seven, Sunday Night Football. The lights were brightest as two NFC West opponents entered the University of Phoenix Stadium to do battle. Neither of the two NFC West heavyweights would give in, each going toe-to-toe with the other. Defense would be the name of the game, with the special teams ending up as the flaw for both teams. The first meeting between the Seattle Seahawks and Arizona Cardinals would end in a 6-6 tie.
Time has passed since their epic battle. The Seahawks (9-4-1) are the 2016 NFC West Champions. As for the Cardinals (5-8-1), their 2016 hopes have crashed. Both teams will look to prove that they are the superior to the other when they square off week 16.
Arizona has had success in recent years in Seattle, winning two of the last four meetings in Seattle.
Seattle playoff scenarios
Seattle clinched their fourth division title in the last six years with their week 15 win against the Los Angeles Rams. Seattle will clinch a first-round bye with a win plus a loss and or tie by the Atlanta Falcons or a loss by the Detroit Lions. A first-round bye would be very beneficial to Seattle. It would give time for players to heal up while allowing other players with injuries the ability to come back and help the Seahawks with their playoff push.
Injury Report
Michael Bennett (neck) is one of the key players Seattle could get back this week.
"Mike's doing all right," Seattle head coach Pete Carroll said. "He's participating in walk-through and we'll take care of him during the week, make sure he's good and ready to play."
Punter Jon Ryan (concussion) is another that could return for Seattle. He was limited in practice on Wednesday, which is a good sign for the Seahawks. Linebacker Brock Coyle (foot) participated fully in practice, which could lead to his return.
As for Arizona, D.J. Humphries (concussion) is still in the concussion protocol. No word on his return. Marcus Cooper (back) could also be unavailable for Saturday's game.
Key matchups
Cardinals offensive line - Bobby Wagner: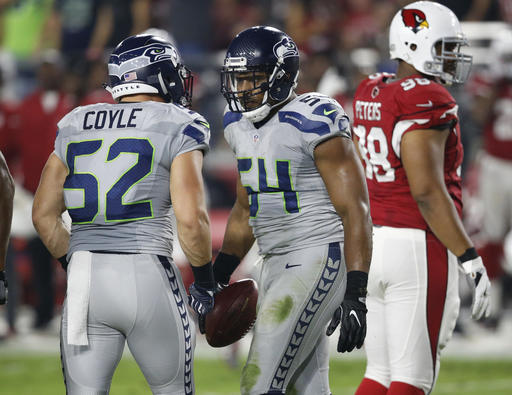 The last time these two teams played, Bobby Wagner was a menace, flying all over the field. He came up with 13 tackles and a blocked field goal attempt. Once again, the Cardinals offensive line will have a tall task getting someone to block Wagner, enabling him to make plays in the backfield.
Both John Wetzel and A.Q. Shipley played well in the last meeting with Seattle. The offensive line must ramp up their play to keep Carson Palmer upright and create running lanes for David Johnson.
Cardinals pass rush containing Russell Wilson: Back in week seven, Seattle quarterback Russell Wilson was playing with both a knee and ankle injury. The Cardinals sacked Wilson just one time but tallied five total hits on the quarterback.
This time around, Wilson will be healthy and mobile. Calais Campbell has been on a tear lately, recording three sacks in his last three games. Chandler Jones and Markus Golden have eight sacks apiece. It will be up to these three to put the pressure on Wilson.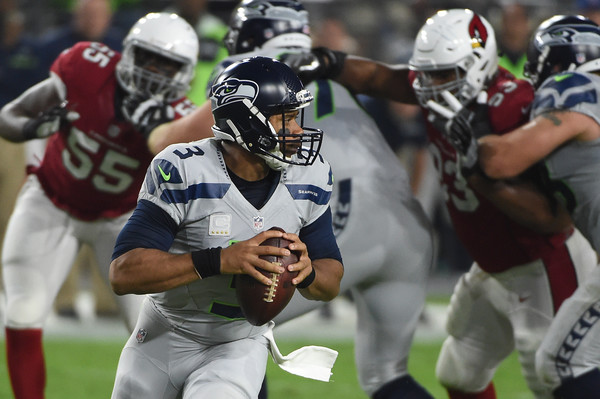 "Last time [Arizona] just made a few more plays. At the end of the game, things went a little crazy and unfortunately the game ended in a tie." Wilson told the media Wednesday. "It comes down to making plays and it comes down to execution. You have to be able to make the plays when they are there."
Legion of Boom - Cardinals receivers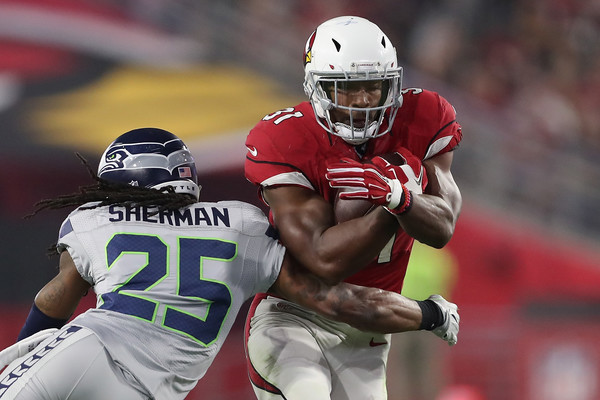 Richard Sherman and company will be given the task of shutting down the Cardinals top weapons in Larry Fitzgerald and David Johnson. Fitzgerald will be 31 yards from passing Reggie Wayne for ninth place on the NFL's all-time receiving yards list.
As for Johnson, he will be chasing Barry Sanders' record of 15 weeks of 100 yards from scrimmage. Johnson recorded 113 rushing yards alone in the game against Seattle.
"[David] Johnson is playing well; he has been playing well the whole season," Sherman said at his press conference on Wednesday.
Locking up those two will force John Brown and J.J. Nelson to step up and make plays for Arizona, going up a stingy Seattle defense.