The Atlanta Falcons are just one game away from their second Super Bowl in franchise history, but will have their hands full on Sunday as they host the Green Bay Packers in the NFC Championship.
The two teams met back in Week 8, with Atlanta emerging with a 33-32 win. A lot has changed since then and both teams look better this time around. If Atlanta want to reach their first Super Bowl in 19 years, there are a number of things they'll have to do to be successful.
Prevent Aaron Rodgers From Extending Plays(!)
This seems obvious and is easier said than done but Atlanta's defense must prevent Aaron Rodgers from extending plays with his feet. In Week 8, Rodgers led both teams in rushing with 60 yards and constantly scrambled for first downs or threw on the run. Rodgers already has plenty of time to throw behind an excellent offensive line and allowing him to extend plays with his feet could prove fatal to the Falcons.
Vic Beasley and Deion Jones will have to have huge impacts on Sunday's game in two ways. Beasley must constantly put pressure on Rodgers while Jones could be tasked with running down Rodgers if the QB does eventually escape the pocket. Atlanta's front seven must get pressure as much as possible and prevent the red-hot quarterback from making plays on the ground.
Run Early, Run Often
Atlanta's run game is one of the best in the NFL with the dynamic duo of Devonta Freeman and Tevin Coleman. Coleman was out for the first meeting with Green Bay and the Falcons ground game struggled heavily. Terron Ward led the backfield with 46 yards on six carries while Freeman found just 35 yards on the ground. Coleman's availability this time around will be huge as Atlanta should run early and run often for a few reasons.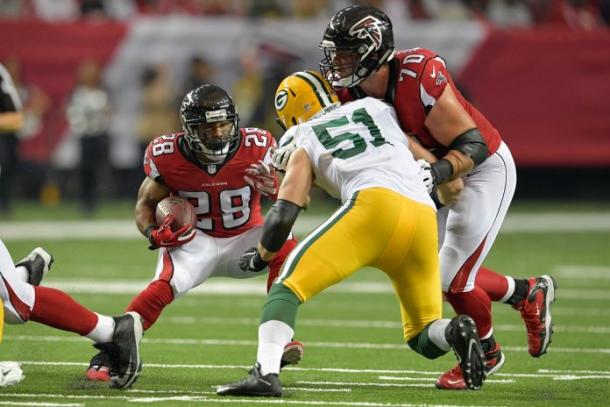 Running the football will open up the offense for Atlanta as it has done all season but it could also limit the opportunities for Aaron Rodgers with his offense. Keeping Rodgers off the field while Atlanta's offense remains explosive and balanced will be crucial to the outcome of the game.
Keep Doing What You're Doing
Atlanta's offense was by far the best in the NFL this season and even ranks as the eight best offense in NFL history. They got to the NFC Championship by spreading the ball around and constantly keeping defenses on their toes. It's a matter of pick your poison as Atlanta boast Julio Jones, Tevin Coleman, Devonta Freeman and Mohamed Sanu just to name a few.
The Falcons offense should continue to thrive against a depleted Packers defense and by continuing to do what they've done all season, they should see success on the offensive side of the ball. Mohamed Sanu led the Falcons in receiving in Week 8 with 94 yards and the game winning touchdown, while superstar receiver Julio Jones had just 3 catches for 29 yards. Keeping the defense on their toes and finding the open man has been a constant for Atlanta all year and they'll continue to do so on Sunday.