 The Atlanta Falcons will head into the 2017 season with one goal in mind, overcome the final hurdle they narrowly stumbled at in last season's Super Bowl. After an 11-5 regular season and numerous records set in the process, the Falcons made a run all the way to Super Bowl LI. After falling just short, can they bounce back in style?
Games to Watch
While the Falcons offense make every game a must-watch event, there are plenty of matchups that catch the eye and should be marked on everyone's calendars in 2017.
Week One at Chicago Bears: Atlanta's season kicks off with a road trip to Chicago to take on the Bears, who finished 3-13 last season. All eyes will be on the Falcons as they aim to bounce back from Super Bowl LI heartbreak with an early win.
Week Two vs Green Bay Packers (Sunday Night Football): One of the most exciting matchups of the entire NFL season, the Falcons open up the brand new Mercedes-Benz Stadium in prime time against Aaron Rodgers and company. Not only does a new era begin in Atlanta but it's a rematch of last season's NFC Championship in which the Falcons triumphed 44-21 over the Packers.
Week 7 at New England Patriots (Sunday Night Football): Arguably the biggest game of the season, a rematch of Super Bowl LI. The Falcons collapsed in historic fashion back in February, letting a first ever Super Bowl championship slip away, but will aim to turn the tide and overcome Tom Brady in Foxborough this season, a tough task for any team.
Week 10 vs Dallas Cowboys: Last season's top two seeds in the NFC square off in a battle of dome teams at Mercedes-Benz Stadium. Both teams are projected to return to the top of the NFC again this season, a crucial mid-season game could make or break their seasons.
Week 11 at Seattle Seahawks (Monday Night Football): The Falcons first of two Monday Night Football appearances comes as they travel to Seattle in late November. The teams met twice last season and the series was split, with Atlanta winning the rematch in the Divisional Round playoff game, 36-20.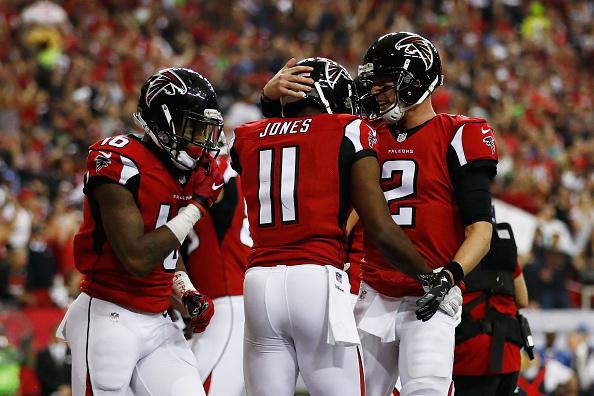 Week 14 vs New Orleans Saints (Thursday Night Football): One of the most heated NFL rivalries continues late into the season as the Falcons host the Saints on a Thursday night in early December. The Falcons swept the series last season, dominating both meetings but with this rivalry, anything can happen.
Week 15 at Tampa Bay Buccaneers (Monday Night Football): Atlanta's final prime time game comes in Week 15 with a crucial divisional game against the up and coming Tampa Bay Buccaneers. The season series was split last season but with many expecting the Buccaneers to push the Falcons to the wire in the NFC South, this may be one of the best games of the entire season.
Full Schedule
| | |
| --- | --- |
| Opponent | Week |
| at Chicago Bears | 1 |
| Green Bay Packers (SNF) | 2 |
| at Detroit Lions | 3 |
| Buffalo Bills | 4 |
| BYE | 5 |
| Miami Dolphins | 6 |
| at New England Patriots (SNF) | 7 |
| New York Jets | 8 |
| at Carolina Panthers | 9 |
| Dallas Cowboys | 10 |
| at Seattle Seahawks (MNF) | 11 |
| Tampa Bay Buccaneers | 12 |
| Minnesota Vikings | 13 |
| New Orleans Saints (TNF) | 14 |
| at Tampa Bay Buccaneers (MNF) | 15 |
| at New Orleans Saints | 16 |
| Carolina Panthers | 17 |