 Just over a week after being released by the New York Jets, Eric Decker has a new home. The veteran wide receiver was signed to a one-year contract yesterday by the Tennessee Titans, as per the official release by the franchise.
Decker joins a stacked receiving corps in Tennessee
With the addition of Decker, the Titans have a group of wide receivers that can cause problems for any secondary in the league. Decker joins Corey Davis, Taywan Taylor and Jonnu Smith who were selected in the draft by Tennessee, and Rishard Matthews and Delanie Walker who were both explosive for the Titans last year. Even with his injury-riddled time at the Jets, Decker still managed to accumulate 2,183 receiving yards and 19 touchdowns. Considering all the offensive issues that the Jets had and the time spent on the sidelines by Decker, it shows that he still has it in him to make a difference on the field.
The Titans seemed pleased with the workout they had with Decker as head coach Mike Mularkey stated to the official website last week. Mularkey professed that he had never met Decker before until then and that the purpose of his visit was to "get to know him and make sure he is healthy." Decker's workout and character seem to have been enough to convince the Titans to draft a one-year contract for him.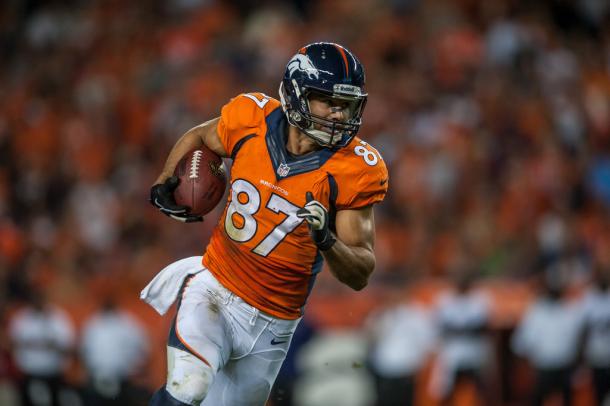 This deal makes sense for the Titans going forward
Most Titans fans will want to know one thing: is this a good pickup by the Titans? The answer to that is most probably yes. When healthy, Decker has shown productivity that would put him at the top end of wide receivers in the game. Up until his last two seasons with the Jets, Decker was a great target for any quarterback to have but in 2015, the Jets' QB issues derailed his statistics and in 2016, two major injuries reduced his appearances to just three games. In his first season with the Jets, Decker had 74 receptions for five touchdowns which showed that he was still the capable receiver he had been in Denver.
Speaking of the Denver Broncos, during his four-year spell there which included a trip to Super Bowl XLVIII, Decker totaled 222 receptions for 3,070 yards and 33 touchdowns. In short, put Decker in front of a good quarterback and he will produce for your franchise. In Marcus Mariota, the Titans have a quarterback who can find Decker regularly if needed and know that the 30-year old receiver will make the catches or run the routes required of him. The Titans have a good receiver in Decker now to add to an already impressive receiver corp for this upcoming season.
Quotes via titansonline.com