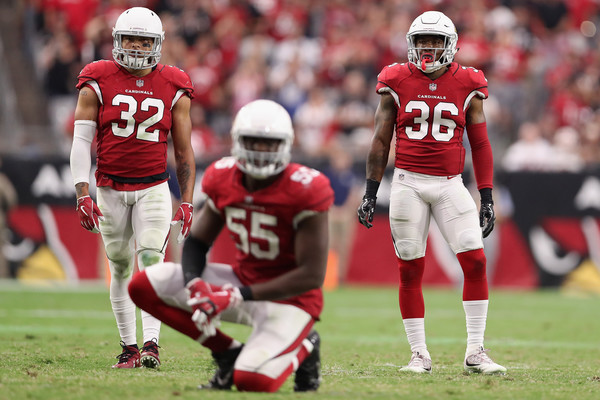 At 2-8, the Arizona Cardinals season is effectively over. Players will be playing for respect as well as roster opportunities for next season. With general manager Steve Keim and head coach Steve Wilks on the hot seat, the early story line will be which of these two will still be employed for next season.
Familiar faces could be looking for work in the offseason as well a new options for the Cardinals to sign and try to get back to their winning ways. Per Spotac, the Arizona Cardinals will have a little over $72 million in cap space to bring in free agents.
With that said, here are some moves that the Cardinals should be considering for the 2019 offseason.
Naming John Defilippo as their new head coach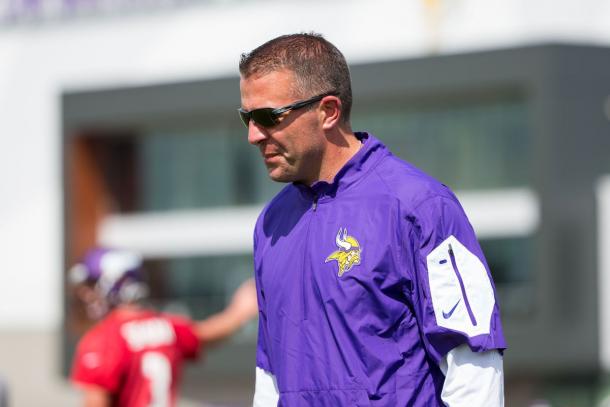 The Steve Wilks era should not go beyond one year. The Wilks experiment has failed miserably in its first year. What was once a top ranked defense is now a shell of its former self and it feels as if he is losing support of some of the organization's best players.
The handling of the quarterbacks has not been good under Wilks either. At times quarterback Josh Rosen has shown that he is the guy that could lead the Cardinals franchise going forward. However, Arizona needs to find a guy that could coach him up and help him develop his confidence and the swagger needed to be a quarterback in the NFL. John Defilippo should be the solution to the problem.
Defilippo has 12 years of coaching experience in the NFL. As Eagles quarterbacks coach of the Philadelphia Eagles, he was part of the braintrust that oversaw Carson Wentz's breakout season and worked around Nick Foles' limitations to win the Super Bowl. He worked with Derek Carr during his rookies season and worked with Johnny Manziel as the Cleveland Browns offensive coordinator in 2015.
Currently the offensive coordinator for the Minnesota Vikings, working with Kirk Cousins. Currently 5-4-1, the Vikings are second in the NFC and are ranked 14th in yards per game and 15th in total points. Defilippo has gotten the most from ​Stefon Diggs and Adam Thielen, but the running game has struggled as Dalvin Cook has missed time due to injury.
If the Cardinals land Defilippo, he will immediately go to work with Josh Rosen and start on working him up. With the possible addition of N'Keal Harry via the draft, he Defilippo will have his franchise quarterback, running back and wide receivers in place. Tune up the offensive line and the Cardinals could have one of the best offenses next season.
If Defilippo does decide to leave the Vikings, the Jacksonville Jaguars, Tampa Bay Buccaneers, Dallas Cowboys, New York Jets, Cleveland Browns and Green Bay Packers could challenge the Cardinals in landing the services of the hot, young offensive mind.
Bring back Todd Bowles to run the defense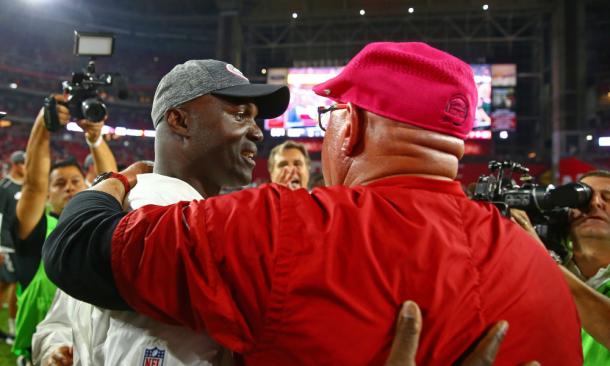 As of late, the seat of New York Jets head coach has started to burn. There is a feeling in New York that Todd Bowles tenure may be over with the Jets.
In a recent article on NFL.com, NFL Network Insider Ian Rapoport wrote about the recent developments:
"Bowles is expected to be safe throughout this season, in part because the Jets are now a team that embraces patient and prudent decisions and in part because there is no obvious successor in the building. GM Mike Maccagnan is believed to be much safer than Bowles, sources say.

If Bowles is fired, he's still expected to garner interest as a head coaching candidate and will surely get interviews."
Before replacing Rex Ryan as the Jets new head coach, Bowles was the Cardinals defensive coordinator under head coach Bruce Arians. In 2014, the Cardinals finished in the top-10 for defensive yards allowed per game, interceptions and finished third in defensive touchdowns. Bowles found a way to get the most out of Tyrann Mathieu, Jerraud Powers, Justin Bethel, Deone Bucannon and Calais Campbell.
A reunion may change Patrick Peterson's mind and make him want to stay as a proven defensive coach returns to the fold and changes the culture in Cardinals locker room. Haason Reddick could excel in the middle or on the edge as he did in college under Bowles as well.
Sign Malcom Brown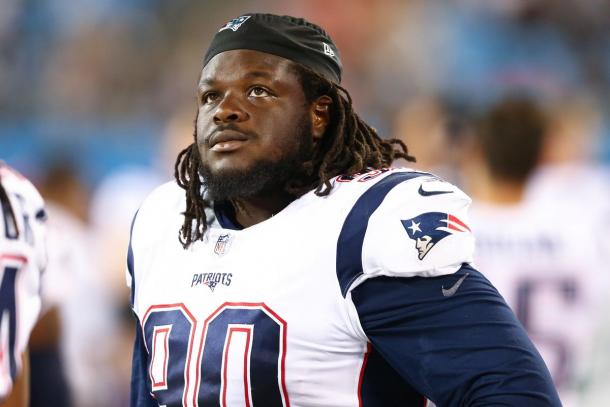 Back in May, it was reported that the New England Patriots declined the fifth-year option of defensive tackle Malcom Brown. This shouldn't come as a surprise as the Patriots have a track record of releasing key defensive players in the past.
Through four seasons, Brown has accumulated 98 solo tackles, 8.5 sacks and one forced fumbles. Brown has been a core part of the defense since the Patriots drafted him in the first round in 2015, starting 37 games over the past three seasons.
If Bowles returns to the Cardinals, they will return to a 3-4 defense. Corey Peters has two-years remaining on his $12 million contract while Robert Nkemdiche hasn't worked out. Subbing these two would give the Cardinals talented defenders in the middle with Chandler Jones and Markus Golden at the end spots.
At 24-year-old, there is still plenty of room for Brown to grown and could turn into a core part of the Cardinals defense for years to come.
Sign Tyrann Mathieu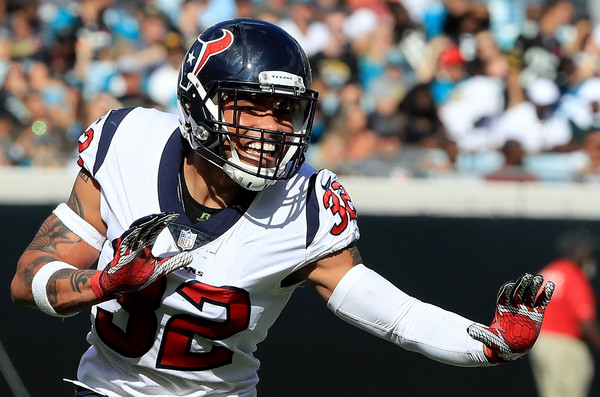 The wound may still be fresh between Tyrann Mathieu and the Arizona Cardinals. Two years after making Mathieu the highest paid safety in the league, the Cardinals released Mathieu after failing to reach an agreement for a pay cut.
Mathieu has had a resurgence of sorts. He is on pace to play in all 16 games for the second time in his career, totaling 61 tackles with three sacks, five passes defended and two interceptions through 10 games.
Aaron Wilson of the Houston Chronicle wrote about the mutual feelings that Mathieu and the Houston Texas have:
"It's safe to say that veteran safety Tyrann Mathieu and the Texans are both feeling really good about his decision to sign with them this offseason."
"Mathieu is someone the Texans will attempt to sign to a long-term contract this offseason. The business aspect of the game will happen latter. For now, Mathieu is enjoying the ride with his new team on a seven-game winning streak."
The Cardinals really messed up in letting the Honey Badger go and it looks like a front office blunder. Time has a way of healing all wounds, but not enough time has passed to make things right.
President Michael Bidwill and general manager Steve Keim will have to make Mathieu feel wanted. Just imagine what a lineup that features Peterson, a more confident Mathieu and Budda Baker can do. It will be like having the no fly zone reimagined.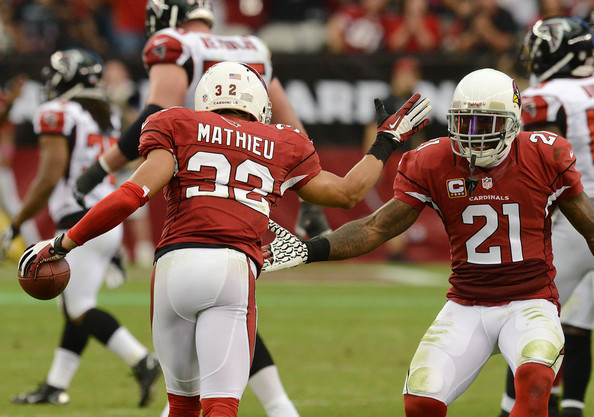 Keeping Markus Golden and Tre Boston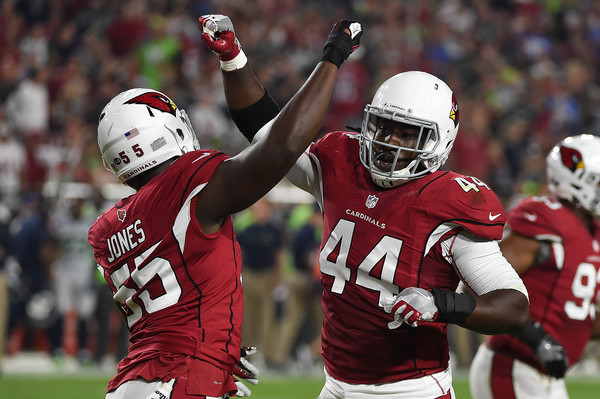 The biggest in house moves the Cardinals will have to make will be resigning defensive end Markus Golden and safety Tre Boston.
Golden, 2015 second round pick, has battled back from the torn ACL he suffered in 2017. This season he has 22 tackles with two passes defended and 1.5 sacks. For his career, Golden has 115 tackles, 18 sacks, six forced fumbles and three passes defended. Both he and Chandler Jones strike fear in opposing offenses as they are good at stopping the run and getting to the quarterback. At 27-years-old, Golden is bout to hit his prime years and should remain in a Cardinals uniform.
The Cardinals other big free agent decision will be what to do with Tre Boston. First things first, if the Cardinals cut Antoine Bethea, they could save $3.25 million but face dead money consequences. Boston, 2014 4th round pick) is a younger option for the Cardinals and has contributed from day one. In eight games, Boston has 51 tackles with seven passes defended and three interceptions. He and Budda Baker have proved to be a good team at the safety positions and should keep the trend going.