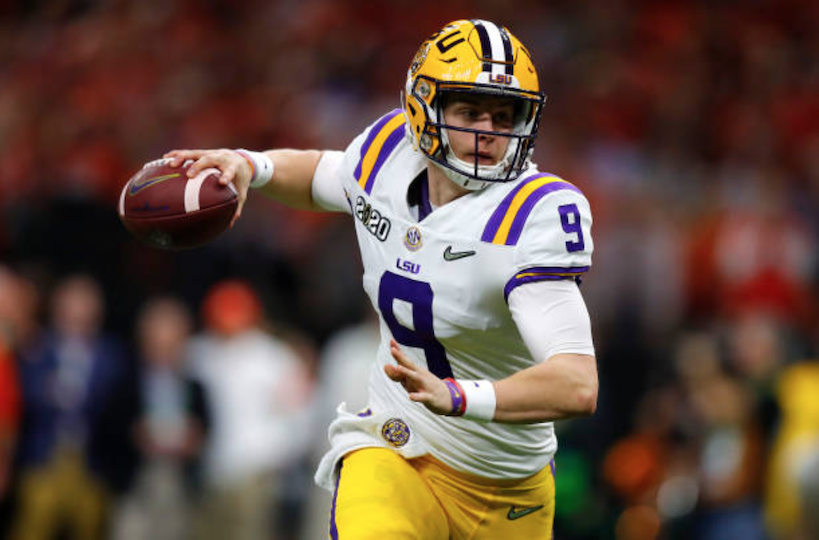 The Cincinnati Bengals selected LSU quarterback Joe Burrow with the first overall pick of the 2020 NFL Draft.
Ohio-native Burrow, who led Louisiana State to National Championship glory in 2019, was widely tipped to go with the No. 1 pick and the Bengals, as everyone expected them to, have made him the face of the franchise.
Cincinnati finished bottom of the AFC North with the worst record in the NFL last season (2-14), so they had the chance to draft first on Thursday evening. Record-setting Burrow also won the Heisman Trophy last season.
Burrow drafted first overall by the Cincinnati Bengals
This year's Draft is like no other and will forever be remembered for many reasons. Originally set to take place in Las Vegas, Nevada, the COVID-19 pandemic forced the NFL's hand to go fully virtual.
You only get drafted once. The players that were drafted on the opening night didn't have the chance to walk out in front of thousands of NFL fans and be presented by their jersey, but the moment of being picked would've still been a dream-come-true.
NFL commissioner Roger Goodell addressed viewers, firstly, which was followed by the US national anthem, and then the Bengals were put on the clock. Surely it wasn't that hard to send an email or call in the pick for Burrow straight away? But we were all made to wait that little bit longer.
Cincinnati made the pick. The commissioner announced that Burrow would be heading to the Bengals. It's the third year in a row that the Heisman Trophy was drafted with the first overall pick – following on from Baker Mayfield in 2018 and then Kyler Murray last year.
Looking at the situation in Cincinnati, despite veteran Andy Dalton remaining on the roster, it is expected that Burrow will take the reins and the Bengals will listen to trade offers for the quarterback. The team now have six remaining picks to add some firepower to their offense and defense on days two and three of the Draft.