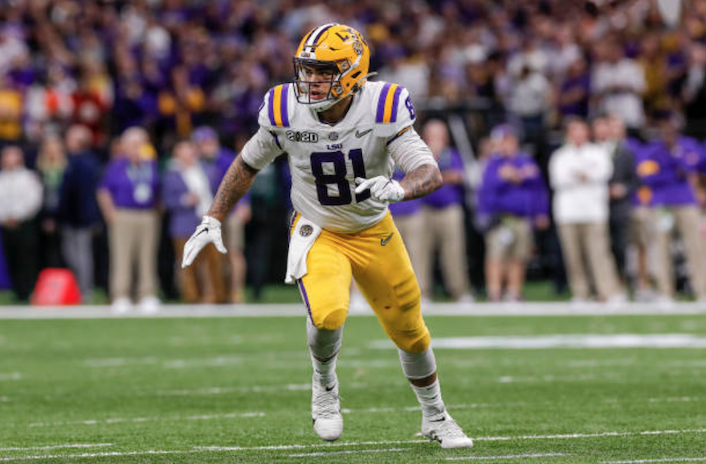 The Washington Redskins will sign LSU tight end Thaddeus Moss, the son of Hall of Famer Randy Moss, as an undrafted free agent.
Moss was one of the top tight end prospects in this year's draft and it comes as no surprise that the LSU standout has been taken. Now that the 2020 NFL Draft is over, teams will start looking at the undrafted players that are available.
The Redskins don't have strength at the tight end position, but did sign both Logan Thomas and Richard Rodgers in free agency. Signing undrafted free agent Moss, though, will provide more competition for the No. 1 tight end spot in Washington.
Redskins move swiftly to snap up free agent tight end Moss
Moss headed into the draft having won the National Championship with LSU in 2019, a game where he caught two touchdown passes in the victory over Clemson.
Last season was his most productive in college football, making 47 receptions for 570 yards and four touchdowns. Moss started his career at North Carolina State for a year before transferring to LSU and proved to be a top target for Joe Burrow in his final season.
Moss has had injury problems in the past. He missed the 2018 season after breaking the fifth metatarsal in his foot. Following two surgeries, he went on to play every game last season for LSU. Tigers head coach Ed Orgeron spoke about the decision Moss made to "commit himself totally into football".
"It was one of the best transformations I've ever seen in a young man," Orgeron told ESPN's Michael Triplett. "You know, he made a decision that he was gonna get in tremendous shape and he was gonna commit himself totally into football.
"And look at the year he had. Great young man, great team guy. Him and Joe became best buddies. Before that, Thaddeus had (injuries), but I don't think he missed one practice last year. He became a great team guy and enjoyed playing football."