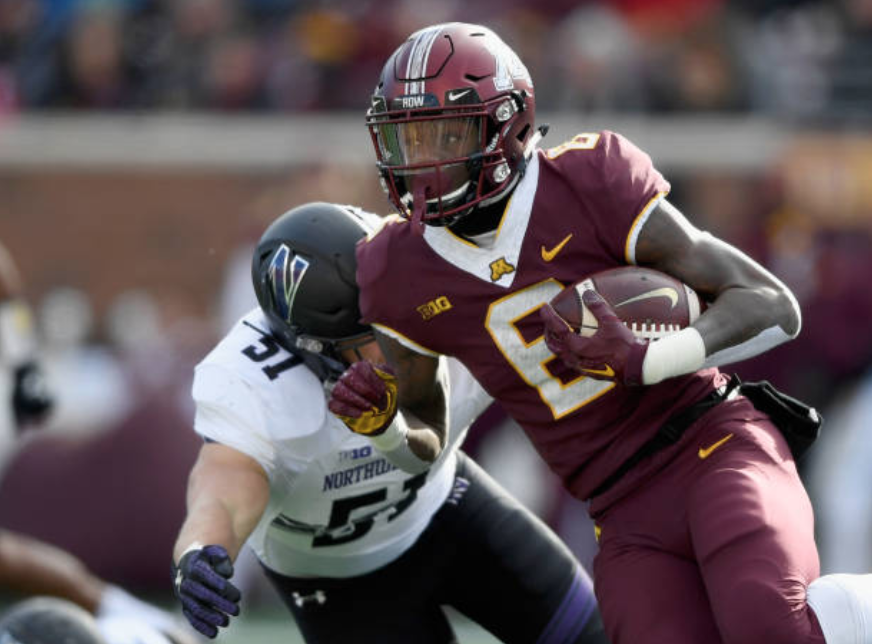 They say the final day of the draft is the most important one. This is where you can pick up a real gem, who could go on to be a real game-changer for your franchise.
Tampa Bay Buccaneers picked up Minnesota wide receiver Tyler Johnson in the fifth round and head coach Bruce Arians is "really, really excited" about the rookie.
It's been an offseason like no other for the team after signing both quarterback Tom Brady and tight end Rob Gronkowski, but the Bucs followed that up by having a strong draft.
Buccaneers picked up Johnson in the fifth round of the draft
Johnson first caught the eye of the Tampa Bay coaches, especially Arians, when he rounded off his college football career by having one of his stand-out games in the Outback Bowl at the start of the year.
Minnesota beat Auburn, at Raymond James Stadium, and Johnson was the star of the show that game. The receiver had 12 receptions for 204 yards and two touchdowns, which set the Gophers up for their 31-24 win. Arians admitted that he was waiting nervously in the fifth round, but was relieved when the Bucs got their player.
"I can't tell you how long I was waiting to see that," Arians told the Buccaneers website. "I was just shaking waiting on that one cause I actually sat here and watched that game (2020 Outback Bowl) here in Tampa with my son, and I would say, 'I've got to get this guy'.
"We really wanted him, and we had a high grade. Guys were coming and going, and it was like, 'phew, we finally got him', and I was really, really excited."
2020 draft class has "confidence" that Buccaneers look for
Tampa Bay made seven selections in the 2020 NFL Draft, which started with offensive tackle Tristan Wirfs from Iowa to running back Raymond Calais from Louisiana-Lafayette.
The Buccaneers will be hoping for progression in 2020, after a terrific offseason, and General Manager Jason Licht believes their draft picks have the "confidence" that the franchise is looking for.
"I think there's a lot of humility in these guys," Licht said. "But I think at the same time, these guys have that confidence that we look for, you know.
"They're good football players. They wanted to come to a place where they could win. They were confident that they can. They were all excited that they were coming here with the team that we have, the coach, the coaching staff that we have."
Tampa Bay Buccaneers 2020 Draft Class
Round 1: Tristan Wirfs, OT, Iowa
Round 2: Antoine Winfield Jr., S, Minnesota
Round 3: Ke'Shawn Vaughn, RB, Vanderbilt
Round 5: Tyler Johnson, WR, Minnesota
Round 6: Khalil Davis, IDL, Nebraska
Round 7: Chapelle Russell, LB, Temple
Round 7: Raymond Calais, RB, Louisiana-Lafayette