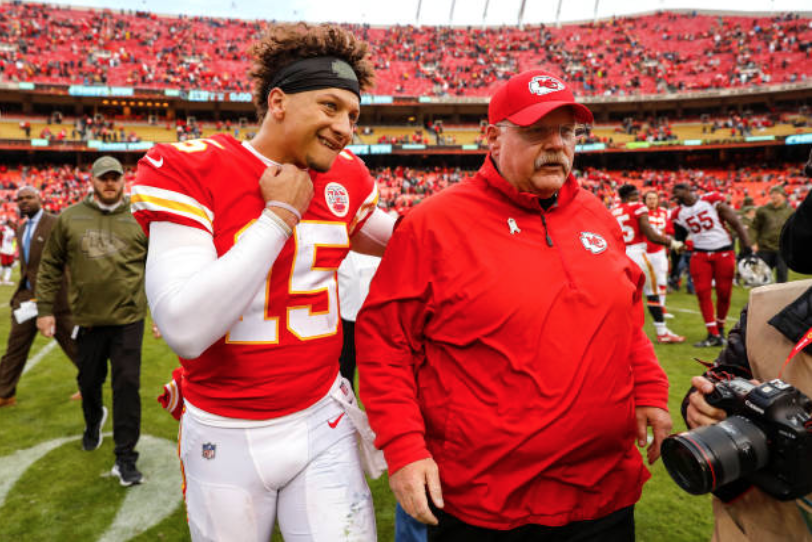 The Kansas City Chiefs have exercised the fifth-year option on the contract of quarterback Patrick Mahomes, which extends his contract through the 2021 season.
It's a move, this offseason, that comes as no surprise at all after Mahomes led the Chiefs on a fourth quarter comeback to win the Super Bowl last season, their first championship in 50 years.
Mahomes was the 10th overall pick in the 2017 draft and is heading into the final year of his rookie deal. The fifth-year option would mean the 2018 MVP would make $24.8 million in 2021, but it set to earn much more in his next contract.
Chiefs tie up Mahomes through the 2021 season
Leading the Chiefs to their first Super Bowl championship in half-a-century has cemented Mahomes' legacy with the franchise, but the quarterback will want to achieve much more in the coming years.
Mahomes was Alex Smith's backup in his rookie season, learning on the side-line, before bursting onto the scene in his first year as a starter. After completing 66 per cent of his throws for 5,097 yards and 50 touchdowns, he was named the league's Most Valuable Player.
"Pat wants to certainly create his own legacy and he wants to do that in Kansas City and we want to establish a long line of winning Super Bowls here," general manager Brett Veach told reporters.
He continued: "Like I said, the good thing is there isn't a kid that believes in team more than Pat and we'll have a lot of time. The fact that there's dialogue, and there will continue to be dialogue, and there's a lot of trust and faith in each other I think will help us as we navigate the next few months."
The quarterback has a 24-7 record as the Chiefs starting quarterback and has thrown for 9,412 yards with 76 touchdowns and 18 interceptions. Kansas City trailed 20-10 in the fourth quarter of the Super Bowl against the San Francisco 49ers.
Up stepped Mahomes to lead the offense on three scoring drives to turn the game around and secure a 31-20 victory in Miami. The quarterback was then named the Super Bowl MVP after completing 26 of 42 throws for 286 yards and two touchdowns.