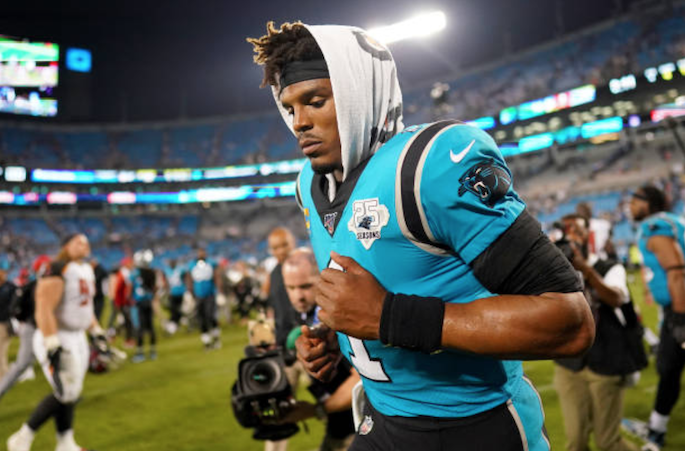 Washington Redskins head coach Ron Rivera admitted that signing Cam Newton has ran through his head, but it "depends on circumstances".
The Redskins have two young quarterbacks on their roster after trading with the Carolina Panthers for Kyle Allen, who played 13 games during his second season in the NFL last year.
Newton, who missed most of last season due to an injury, remains a free agent after being released by the Panthers in March and it remains unsure which team will sign the quarterback.
Rivera is unsure whether he would bring Newton to Redskins
Newton was first overall pick in the 2011 Draft and spent his entire career working with Rivera, who was hired by the Redskins back in January.
Back in the 2015 season, Newton guided the Panthers to the Super Bowl, where they eventually lost against the Denver Broncos, but the quarterback was named the league's MVP that year.
The former Panthers quarterback has played 125 games in the NFL, throwing for 29,041 yards, 182 touchdowns and 108 interceptions. When asked about signing Newton, Rivers admitted that he is unsure whether he would or wouldn't bring him to Washington.
"You know, the thing about Cam really is the situation," Rivera said during an interview on Good Morning Football. "We're in a situation where we've got two really young quarterbacks, one that's been with us, been in the system, understands how we want things done and the other one is a guy who was taken last year in the first round and shows some promise.
"I think with Cam, and I have thought about it, I mean, it's something that's run through my mind, and it's about the situation and circumstances. I'm not sure I would do it. I'm not sure if I wouldn't do it. It depends on circumstances."
As it stands in Washington, Dwayne Haskins and Allen will go head-to-head for the starting quarterback position. Whether the Redskins pick up Newton or another free agent is a question that only the team can answer.