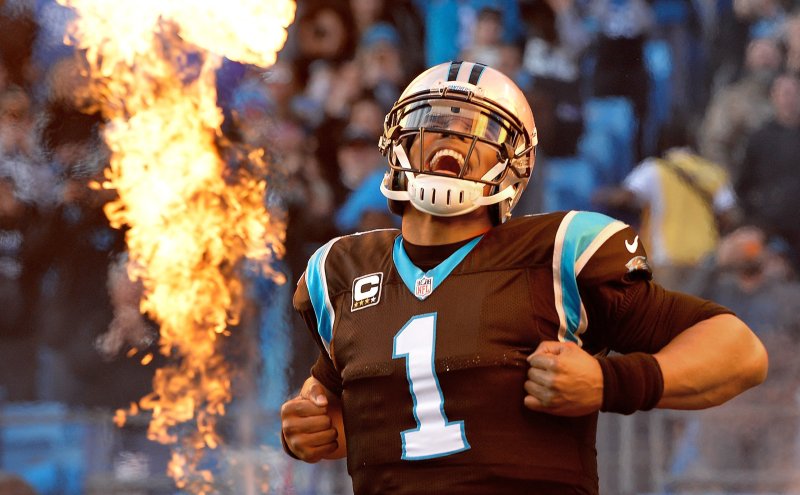 Cam Newton and the New England Patriots have agreed to a one-year deal according to the ESPN's Chris Mortenson and Adam Schefter. Newton has been on the free-agent market since he was released from the Carolina Panthers March 24 after nine years with the team.
The Patriots have been one of the teams rumored to be interested in Newton's services given their current quarterback situation. Longtime quarterback Tom Brady left the team to sign with the Tampa Bay Buccaneers this offseason, which left New England looking for a replacement for him. The current QBs on the Patriots roster are Brian Hoyer, J'Mar Smith, Brian Lewerke, and Jarrett Stidham. Stidham is projected to at least compete for the starting job, along with newly signed Newton.
The one year deal is an "incentive-laden deal," according to Schefter and Mortenson. Newton has dealt with injuries over the past year, including a Lisfranc injury that caused him to miss the final 14 games of the 2019 season. He has been rehabbing the injury during the offseason, but due to the coronavirus pandemic, he hasn't been able to visit with teams in person to show that he is completely healed from his ailments.
The injuries Newton has sustained were a factor in his release from the Panthers. Carolina signed former New Orleans Saints quarterback Teddy Bridgewater to a three-year contract as the successor to Newton under new head coach Matt Rhule. The Panthers did help coordinate a physical for Cam Newton along with his agency in March. He passed the physical and was deemed healthy.
The dual-threat quarterback has been active on social media during his time as a free agent, posting workout videos on his Instagram page to show teams that he is motivated and hungry for a fresh start. When healthy, Newton can be a serviceable quarterback, throwing for at least 3,000 yards and rushing for at least 300 yards from 2011-2018. His running ability adds a new dimension to the Patriots' offense, something they didn't have with Tom Brady.
Reaction to New England signing the former MVP has come from some of their players. Superstar defensive backs Stephen Gilmore, Devin, and Jason McCourty all tweeted eye emojis on their Twitter accounts. Patriots running back Jason White also tweeted out eye emojis in response to the news. Saints defensive end Cam Jordan also tweeted out "AFC issues now...Healthy Newton a PROBLEM." New York Jets safety Jamal Adams also tweeted that he salutes Patriots coach Bill Belichick for the move, also adding "Congratulations Cam!"
With the former all-pro quarterback in New England, it makes the starting quarterback competition more interesting. At 31 years of age, Newton can become the starter and prove to not only the Patriots but the other 31 NFL teams that he still has what it takes to be an above-average signal-caller in the NFL. With training camps scheduled to start in late July, it will be a matter of time before Cam is able to showcase his talents, swagger, and charisma to his new teammates and coaches in Foxborough.