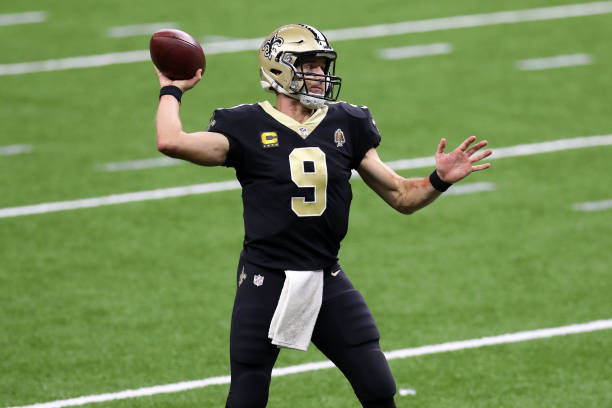 The battle of future Hall of Fame quarterbacks went to Drew Brees as the New Orleans Saints opened the season with a 34-23 victory over the Tampa Bay Buccaneers in Tom Brady's debut with the team.
Brees completed 18 of 30 passes for 160 yards and two touchdowns. His ninth pass attempt surpassed Brett Favre for most pass attempts in NFL history with 10,169.
Brady, who spent 20 years with the New England Patriots, was 23 of 36 for 239 yards with two touchdowns but also two interceptions and three sacks in the first matchup of 40-year old quarterbacks in league history.
Brees, Saints defense lead New Orleans to opening day win
After the Saints punted on their opening drive of the game, Brady led Tampa Bay on a nine play, 85-yard drive that he finished with a quarterback sneak from two yards out to give the Buccaneers a 7-0 lead.
From there, it was all New Orleans as Brees hooked up with Alvin Kamara on a 12-yard strike to tie the game at 7-7 less than four minutes into the second quarter. The Saints defense then went to work as Marcus Williams picked off Brady.
That set up Kamara's second touchdown of the game, this one coming from six yards out to put the home team ahead 14-7. Brady then led Tampa Bay on a 12 play drive that resulted in no points as Ryan Succop saw his 54-yard field goal blocked.
New Orleans took advantage as they capped their own ten play drive that culminated in a 29-yard field goal by Wil Lutz to extend their lead to 17-7. The key moment in the game came on the Buccaneers' first drive of the third quarter.
On second and 15 from the Saints, Brady was intercepted by Janoris Jenkins, who intercepted him and returned it 65 yards for a score to make it 24-7 New Orleans when it looked as though Tampa Bay would pull to within at least a touchdown.
Aided by a pass interference call on Williams that put the ball on the Saints 30, Brady found tight end O.J. Howard from nine yards out to cut the score to 24-14. Succop added a 38-yard field goal to trim the deficit heading into the fourth quarter.
On New Orleans' initial possession of the fourth quarter, Brees hit tight end Jared Cook for 46 yards to the Tampa Bay 15 and four plays later, he hooked up with free agent signing Emmanuel Sanders from five yards out to extend the lead to 31-17.
After Lutz added his second field goal to make it 34-17, the Buccaneers scored a late touchdown on an 11 play, 90 yard drive as Brady found Mike Evans for a two-yard score to make the score 34-23 with 2:41 remaining, the two-point conversion failed.
New Orleans essentially ran out the clock and took this key early-season matchup.