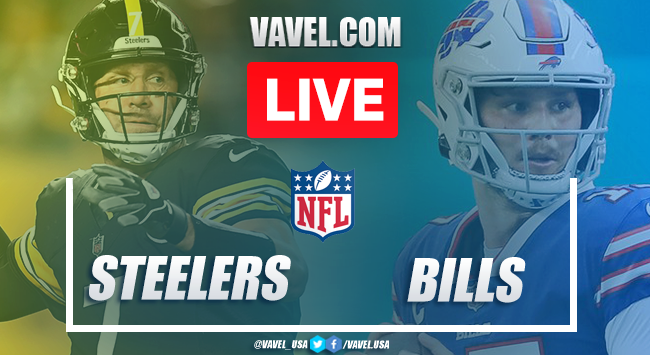 4Q | 00:00
4Q | 1:03
4Q | 2:00
4Q | 4:10
4Q | 5:44
4Q | 7:01
4Q | 8:07
4Q | 10:33
4Q | 11:25
4Q | 12:18
4Q | 14:18
3Q | 00:00
3Q | 1:14
3Q | 2:41
3Q | 4:55
3Q | 5:40
TD Bills 7 - 23
3Q | 7:02
3Q | 8:18
3Q | 8:59
3Q | 9:53
TD Bills 7 - 16
3Q | 10:23
3Q | 11:33
3Q | 12:15
3Q | 13:29
3Q | 15:00
2Q | 00:00
TD Bills 7 - 9
2Q | 0:52
2Q | 1:08
2Q | 1:42
2Q | 2:00
2Q | 2:37
2Q | 4:03
2Q | 5:04
2Q | 7:15
2Q | 8:21
2Q | 9:01
2Q | 9:36
2Q | 10:29
2Q | 11:52
2Q | 13:50
2Q | 12:40
2Q | 14:54
1Q | 00:00
1Q | 1:02
1Q | 2:23
1Q | 4:18
1Q | 5:37
1Q | 6:22
1Q | 7:52
1Q | 9:22
1Q | 10:04
1Q | 10:40
1Q | 12:37
1Q | 12:52
1Q | 14:10
1Q | 15:00
Josh Allen is about to take the field
Big Ben Time
Which of the division leaders will fall tonight?
The Steelers already warm up at the Ralph Wilson Stadium
This was the arrival of the Bills at their stadium
Tonight's inactive Steelers
Inactive players for Buffalo tonight
Pittsburgh will not count with Vince Williams
The Edmunds brothers, Tremaine and Terrell, are facing each other tonight
Maurkice Pouncey is back
Follow it here
Who you got?
Looking for some breathing room
To remain the number one seed
How to Watch Pittsburgh Steelers vs Buffalo Bills Live TV and Stream
Keeping up the good run
The undefeated streak is over
Latest face-off
Key player Buffalo
Key player Pittsbrgh
Divisional leaders face-off
Good afternoon to all VAVEL readers!