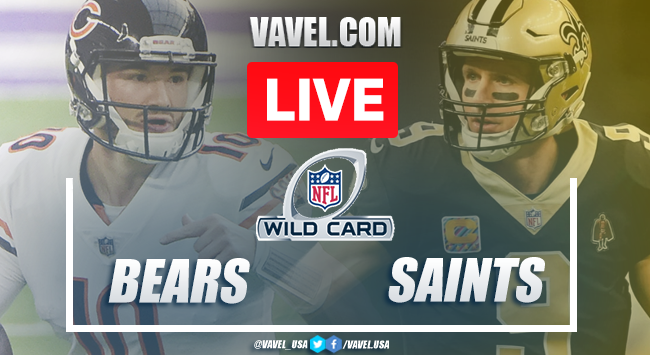 Highlights
Thank you
Simple victory
End game
4Q 00:00
4Q 00:40
4Q 01:20
4Q 01:53
4Q 02:00
4Q 02:09
4Q 02:19
4Q 02:20
4Q 03:09
4Q 03:16
4Q 05:33
4Q 07:07
4Q 07:45
TD Saints 21-3
4Q 08:50
4Q 08:53
4Q 10:38
3Q 11:55
3Q 13:00
4Q 14:52
Final third quarter
3Q 01:24
3Q 02:22
TD Saints 14-3
3Q 04:08
3Q 05:07
3Q 07:07
3Q 10:08
3Q 11:44
3Q 13:28
3Q 15:00
Half time
2Q 00:56
2Q 01:55
2Q 02:00
2Q 03:17
2Q 04:21
2Q 04:21
2Q 06:06
FG Bears 3-7
2Q 06:22
2Q 07:27
2Q 08:07
2Q 08:57
2Q 10:59
2Q 11:30
2Q 12:10
2Q 13:03
2Q 13:10
2Q 14:09
2Q 14:50
2Q 14:48
2Q 14:48
Final first quarter
1Q 00:40
1Q 01:45
1Q 02:05
1Q 02:12
1Q 02:48
1Q 03:53
1Q 03:59
TD Saints 7-0
1Q 05:09
1Q 05:52
1Q 06:38
1Q 08:42
1Q 09:37
1Q 10:48
1Q 12:27
1Q 14:19
1Q 15:00
Minutes away
Don't lose the ball
Power over land
Two consecutive defeats
Medical work is recognized
Chicago dominates in the postseason
They are already warming up
How did Chicago come about?
How did you get to New Orleans?
Will it be your last game?
Through the back door
Favourite in Las Vegas
They will play
In the visitor's uniform
This is how they came
Inactive Chicago
We started
Follow it here
Lastest games
How to watch Chicago Bears vs New Orleans Saints Live TV and Stream
Key player New Orleans
Key player Chicago
Last result New Orleans
Last result Bears
Saints: putting pressure on QB
Bears: stopping the ground game
The most unbalanced game
Kick-off time
Welcome to VAVEL.com LIVE coverage of the 2020 NFL season game: ChicagoBears vs New Orleans Saints!